Data Point
Cox Automotive Analysis: Hyundai Motor America's Quarterly Market Performance
Wednesday July 20, 2022
Article Highlights
Hyundai's quarterly sales fell 19% from a year ago for a 10.8% market share.
Hyundai slashed incentives by 73% to an average of $618 per vehicle.
Hyundai's average transaction price rose 16% to $36,124.
South Korean automaker Hyundai Motor, which includes the Hyundai, Kia and Genesis brands, is expected to deliver record profits when it reports quarterly earnings on Thursday, July 21.
Analysts predict the automaker will earn a record $1.7 billion in operating profit as a richer product mix, reduced incentive spending and weakening Korean won are expected to offset soaring raw material costs, chip shortages and other challenges experienced in the quarter.
In the U.S., sales for Hyundai Motor brands in total fell slightly less than the overall market, and sales of luxury Genesis models rose significantly. Profits from U.S. operations should also be helped by an average transaction price (ATP) for the company in total that rose 16% and incentives that were slashed by 73% to a scant $618 per vehicle on average. While unlikely to be money-makers yet, electrified vehicles from the Hyundai and Kia brands are gaining momentum.
Here are some additional data points from Cox Automotive on the quarterly market performance of the Hyundai, Kia and Genesis brands in the U.S., one of the automaker's most important markets.
SALES AND MARKET SHARE
Hyundai Motor sales in total fell 19% to 380,282 vehicles sold. That compares to the overall market being down 20%. That pushed the automaker's total market share to 10.8%. That is double the market share of Nissan and Infiniti, which once had aspired to 10% market share in the U.S. It is higher than Honda's share and closing in on Stellantis' market share.
Hyundai Motor Company U.S. Sales Performance for Q2 2022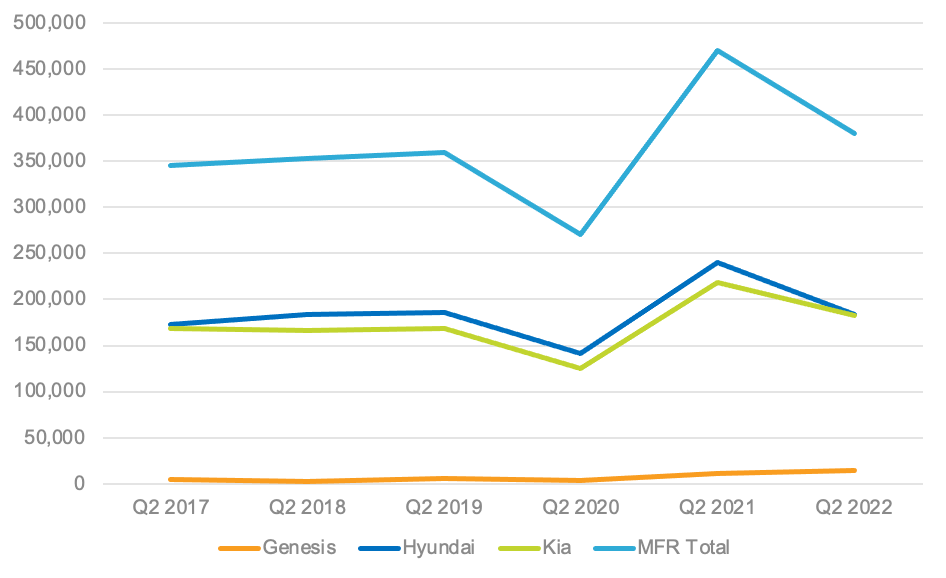 Hyundai brand sales totaled 184,191 vehicles in the quarter, down 23%. Market share dipped by 0.2% for the quarter to 5.2%. Hyundai's electric and hybrid vehicles, the Ioniq and the Nexo, each saw sales increase for the quarter by 8% and 88%, driven by new model introductions and higher gas prices that increased interest in alternate fuel vehicles.
The rest of Hyundai's lineup saw sales decline in the quarter. Most notably, sales for the Elantra were down 44%, Kona sales fell 39%, Sonata sales plummeted by 65%, and the Venue saw a decrease of 34%.
During the quarter, Hyundai announced it would trim its upcoming product line. For the 2023 model year, Hyundai will drop the Accent, the Veloster N hatchback and the hybrid and plug-in hybrid variants of the Ioniq, still available as an EV.
Kia sales dropped by 17% to 182,146 units. Its market share seemed to pick up what Hyundai lost, rising from 0.2% to 5.2%. Only three Kia models showed sales increases this quarter. Niro increased 12%, the Sportage SUV was up 16%, and the Telluride SUV rose 5%. All other models saw double-digit declines. Throughout the quarter, Kia was near the bottom among brands with the lowest inventories in the U.S.
Unlike its siblings, the Genesis brand saw a 26% sales increase, with a total of 13,945 units sold in the quarter. The G70 luxury car saw a rise of 33%. The GV70 performance SUV was up 627%, albeit on a small base of 4,199 units sold.
INCENTIVES AND PRICES
Hyundai slashed incentives as demand was high and inventories constrained. In total, Hyundai Motor cut incentives by 73% to an average of $618 per vehicle, according to Cox Automotive calculations. It was the first time since 2017 that incentives averaged below $1,000 per vehicle for the quarter. In fact, the automaker's incentives have generally been above $2,500 and even exceeded $3,000 on average per vehicle in recent years.
Hyundai Motor Company U.S. Incentive Spending for Q2 2022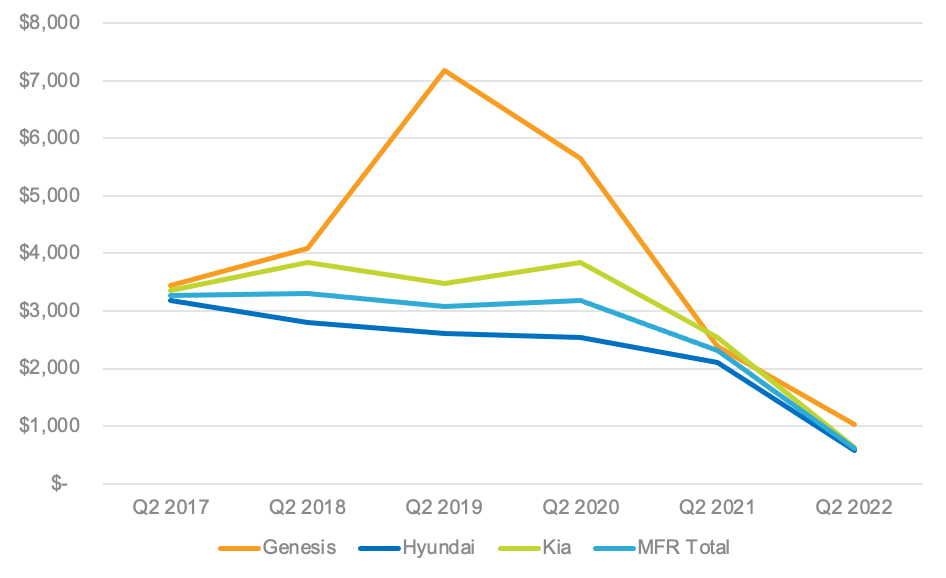 Hyundai brand incentives were drastically reduced by 73% to an average of $571 per vehicle, perhaps the most significant drop in incentives ever. Between 2017 and 2021, Hyundai brand incentives were above $1,000.
Kia incentives dropped by 75% to an average of $633 per vehicle, a $1,698 decrease from the first quarter of 2021. Genesis incentives were down 57% for the quarter to an average of $1,032 per vehicle versus the 2019 high of $7,178.
AVERAGE TRANSACTION PRICES
Hyundai Motor's overall average transaction price rose 18% to $35,724, according to Cox Automotive calculations. Almost all Hyundai brand vehicles saw price increases, from a 7% rise on the Palisade to a 79% hike on the Ioniq EV. Only the Nexo had a lower ATP, down 5% to $57,559 from $60,648 in 2021.
All Kia brand vehicles saw price increases, ranging from 1% on the Carnival to 14% on the Forte.
Genesis brand vehicles – G70, G90, and GV80 – saw ATP increases of more than 3%, while the GV70 had a 14% decrease.
---
Michelle Krebs is executive analyst for Cox Automotive.
Tags