Data Point
Cox Automotive Analysis: Stellantis' Q2 2022 Market Performance
Wednesday July 27, 2022
Article Highlights
Stellantis' sales fell 16%, a smaller drop than the overall market, on the strength of Jeep and Chrysler.
Stellantis nearly halved incentives to an average of $1,906 per vehicle.
Stellantis' average transaction price increased 12% to $54,065.
Stellantis, parent company to Jeep, Ram and a host of other brands, will report quarterly earnings before the stock market opens on Thursday, July 28. The quarterly results will indicate how well the automaker is managing the chip shortage and other supply chain disruptions.
In Europe, an Italian labor union warned that the automaker could lose 200,000 units of production this year to the chip shortage. In the U.S., the automaker's other most important market, Stellantis has had beefier inventories than most competitors, especially for its volume-selling Jeep and Ram models. Stellantis outperformed the U.S. industry in sales in the quarter while it slashed by nearly half its incentive spending and average transaction price rose to more than $50,000.
Earnings results will show if Stellantis' performance in the U.S. is enough to offset supply chain problems in its European operations and China operations hit by COVID lockdowns.
Here are some data points from Cox Automotive on Stellantis' second-quarter market performance in the U.S., where the company derives most of its profits.
Sales and market share
Stellantis' U.S. sales totaled 408,521 vehicles, down 16% from the second quarter of 2021. Stellantis outperformed the total market, which fell by 21%. That put Stellantis' total market share at 11.6%, up 0.6 percentage points, but still lower than the average share from 2017-2020. Five Stellantis brands posted lower sales than a year ago, some significantly, except for Chrysler, which was up 95%.
STELLANTIS U.S. SALES PERFORMANCE FOR Q2 2022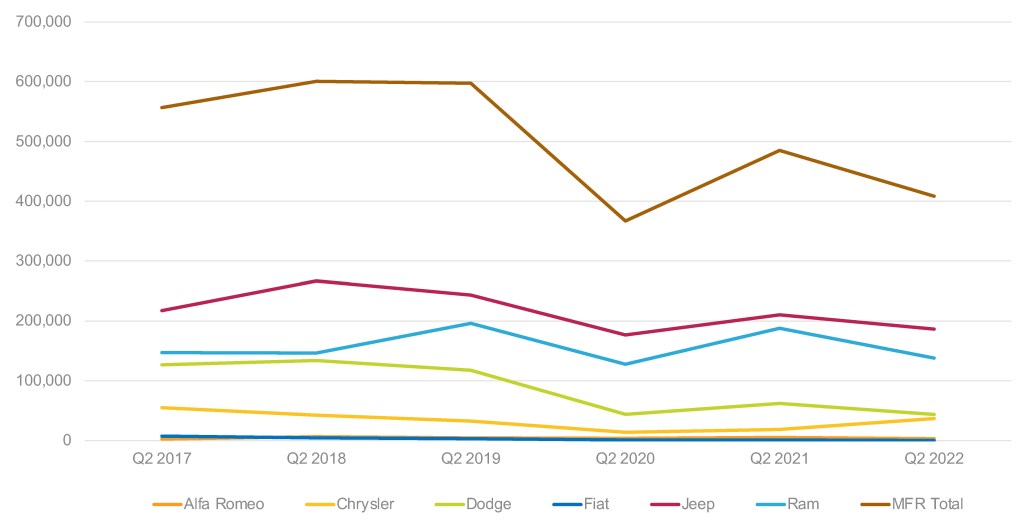 Jeep sales were off 11% to 186,665 vehicles in the quarter. Its market share rose half a percentage point to 5.3%, well below the 6% share of 2020. The volume-leading Grand Cherokee had a 12% increase in sales to 59,252 units. The model's previous high sales mark for the quarter was in 2019, with just over 65,000 units sold. The new Grand Wagoneer kicked in 3,932 units of sales; the Wagoneer added 10,220. The Compass showed strong sales of 21,927 units, up 55% for the quarter.
Ram sales fell 27% to 137,872 units, above the low of the second quarter of 2020 Its market share was down slightly from a year ago at 3.9%. The volume-leading Ram pickup slipped 28%, despite hefty inventories that nearly matched pre-Covid levels.
Dodge sales fell 30% to 43,718 units, a far cry from 133,962 in the same quarter in 2018. Dodge's market share declined to 1.2%, compared with 3% in 2017 and 2018. Challenger and Durango sales were down 3% and 66%, respectively. Charger sales were up 3%, the only model with positive sales.
Chrysler brand sales were up 95% to 36,934. Its market share increased to 0.6%, the second-highest share behind 2017. The Chrysler Pacifica minivan had a substantial improvement of 143% against the year-ago quarter. Sales of the 300 sedan were down 15% to a scant 4,837 cars.
Alfa Romeo sales declined 39% to a mere 3,083 vehicles. It was Alfa's lowest sales for the quarter since 2017. The brand's market share was .01%, flat compared to a year ago. Giulia sales plummeted nearly 47%. Stelvio sales were off 31%.
Fiat had the biggest decline – down 72% – a barely in business 249 units for the entire quarter. At its highest point for a first quarter, Fiat sold 7,231 cars in 2017. It has been a downward slide since then.
INCENTIVES AND PRICES
In total, Stellantis slashed incentives almost in half – by 47% – to an average of $1,906 per vehicle, according to Cox Automotive calculations.
STELLANTIS U.S. INCENTIVES FOR Q2 2022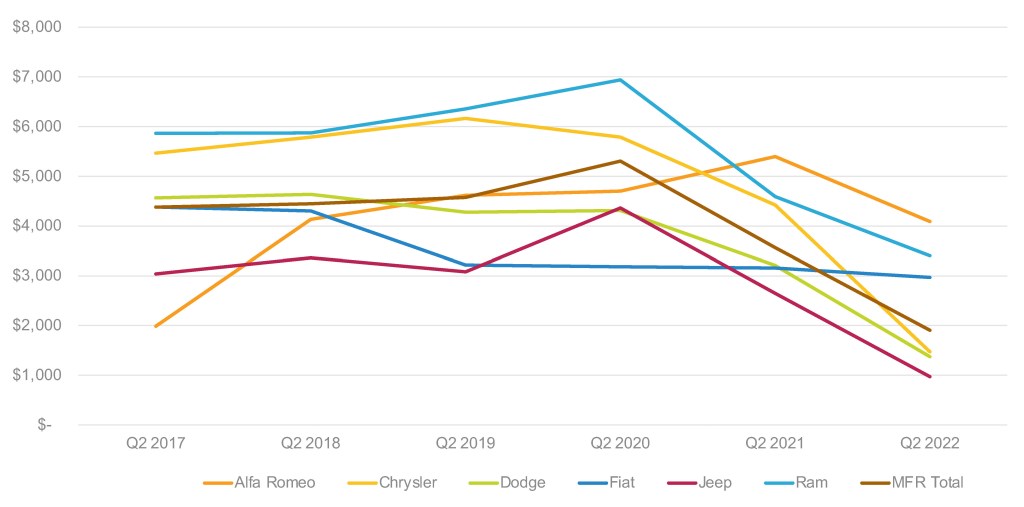 Incentives for Jeep decreased by a whopping 63% from a year ago to an average of $972 per vehicle. For the past six years for the quarter, Jeep has never fallen below an average of $2,000 per vehicle for incentives.
Ram incentives were cut by more than a quarter to an average of $3,403 per vehicle. They had not been below $4,000 for the quarter in at least seven years.
Chrysler brand got the most significant cut, down 67% to an average of $1,473. Its incentives had not been below $4,000 for the quarter in at least six years.
Dodge also got a big cut, down 57%, to an average of $1,374 per vehicle. Before the first quarter of 2022, the per-vehicle incentive had only fallen below $4,000 once in the last seven years.
Alfa Romeo had the highest incentives at $4,092 per vehicle though that was down 24%. Fiat had the lowest dip, down 6%, to $2,969 per vehicle. However, Fiat has the lowest average transaction price of all Stellantis' brands sold in the U.S. at under $30,000. Incentive spending of 10% of ATP far exceeds the industry average of 2.3%.
Average Transaction Price
Stellantis' overall ATP was up 12% to $54,065, according to Cox Automotive calculations.
Jeep's plan to move upmarket is working with five of its models transacting at more than $50,000. The Jeep Grand Wagoneer, with an ATP of $93,436, was the highest-priced model for Stellantis in the quarter, followed by the Jeep Wagoneer at $79,454. The next highest was the Grand Cherokee at $55,009. The Jeep Gladiator truck was just below that at $54,498. The lowest-priced model from Stellantis, excluding its Ram Promaster delivery van and the Fiat brand, was also a Jeep, the Jeep Renegade, at $31,921.
The high-volume Ram pickup had an 8% gain in ATP to $62,686. The Promaster City van had the biggest increase in ATP at 26% to $33,654, the highest ever for the second quarter.
At Dodge, the Challenger had a beefy ATP hike of 12% to $47,579. Durango was up 0.6% to $48,835. The Charger had a 9% rise to $44,702.
The Chrysler Pacifica minivan had a 10% rise in ATP to $48,366. The 300 sedan was up 12% to $41,738.
Both models offered by Alfa Romeo now transact at more than $50,000. On the other end of the scale, the Fiat 500X had a transaction price of $30,202, among the lowest across the Stellantis line.
---
Michelle Krebs is executive analyst at Cox Automotive.
Tags