Data Point
Cox Automotive Analysis: Stellantis' Q3 2022 Market Performance
Tuesday November 1, 2022
Article Highlights
Stellantis posted a 6.1% decline in sales in Q3 for an 11.3% market share.
Stellantis slashed incentive spending by a quarter to an average of $2,284 per vehicle, double the national average.
Stellantis' Average Transaction Price soared by 11.5% to $54,808.
Stellantis has steered through the global computer chip shortage, maintaining the most abundant vehicle inventory in the U.S. industry for the past year while other automakers struggled with skimpy supply. Still, Stellantis posted a decline in U.S. sales in the third quarter, while incentives were more than twice the industrywide average. Its average transaction price rose significantly to nearly $55,000, thanks mostly to a pair of pricey new Jeeps.
Europe and the U.S. are Stellantis' most important markets. Here are some data points from Cox Automotive's U.S. Q3 market performance.
Stellantis' Q3 Sales Pulled Down by Jeep
Stellantis Q3 sales totaled 385,665 vehicles, down 6.1% from Q3 2021. That compares with a high of 565,034 sales in pre-pandemic Q3 2019.
STELLANTIS U.S. SALES PERFORMANCE FOR Q3 2022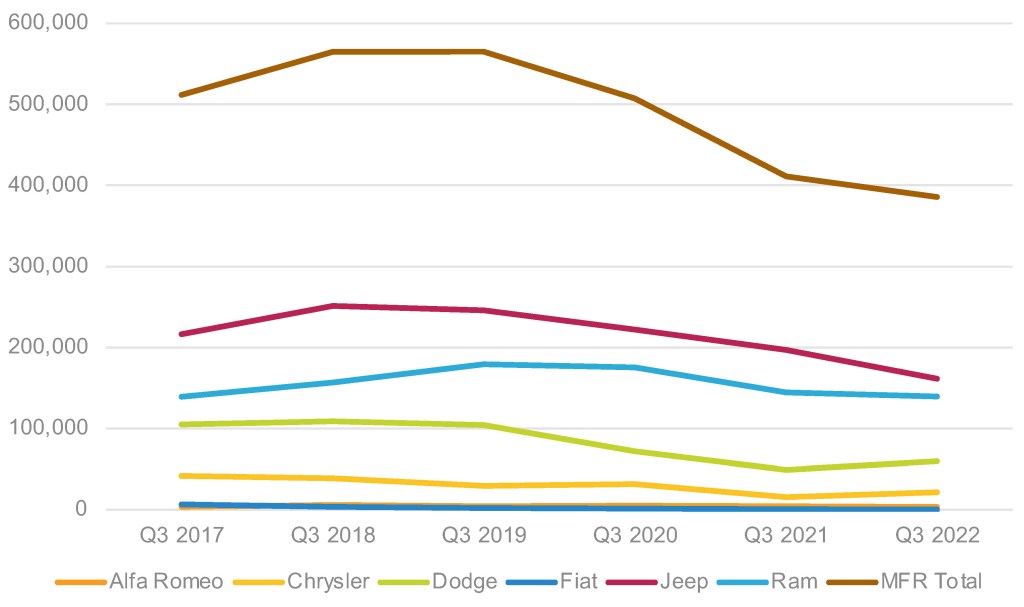 Jeep, Stellantis' highest-volume brand, saw a significant sales decline of 18% to 161,351 vehicles. That was its lowest sales for the quarter in at least six years. Pre-pandemic, Jeep sold about 250,000 in the quarter.
The decline was largely due to the Grand Cherokee, with sales down 53% to 38,176 units. Gladiator truck sales slipped by 5%. Wrangler was Jeep's volume leader, with sales of 47,659, up 4%. The new Wagoneer posted 13,001 units, likely eating into Grand Cherokee sales. The pricier Grand Wagoneer had 2,353 sales. Lower-priced Jeeps had lower or flat sales in the quarter.
Ram sales, buoyed by higher incentives, dipped by 4% to 139,296 units. That compares to the six-year high of nearly 180,000 in 2019 but on par with 2017. The volume-leading Ram 1500 pickup truck posted a 3% sales gain to 118,106 units. Promaster van sales fell 17% to 16,742.
Dodge sales jumped by 22% to 59,756. All three of the brand's models soared by double digits: Charger was up 25% to 24,201 cars; Durango sales climbed 32% to 19,104 SUVs, and Challenger rose 17% to 16,412 units.
The Chrysler brand, with only two models, had sales up a hefty 39% to 21,614 units, on the strength of the Pacifica, with its sales up 46% to 17,439 minivans. Sales of the 300 sedan were up 17%, likely due to higher fleet sales.
Alfa Romeo sales fell 24% to 3,440 vehicles. Fiat is virtually out of business, with sales of a mere 208 units in the quarter, down 48% from a year ago.
Stellantis sales dropped more than the industry, which was flat with the year-ago quarter, causing its market share to slip. Total Stellantis share was 11.3%, the lowest in at least six years. Market share slipped for Stellantis' highest-volume brands. Jeep share was 4.7%, down a full percentage point from a year ago. Ram dipped 0.2 percentage points to 4.1%. The rest of Stellantis' brands had flat market share.
Incentive Spending Slashed to Lowest Level in Six Years
Stellantis slashed incentive spending by a quarter. Its average incentive was $2,284 per vehicle, according to Cox Automotive calculations. That's the lowest in six years by a wide margin. In the pre-pandemic Q3 2019, Stellantis spent nearly $5,000 per vehicle on incentives. Still, Stellantis' Q3 average was more than twice the industry average of $1,079 per vehicle.
STELLANTIS U.S. INCENTIVES FOR Q3 2022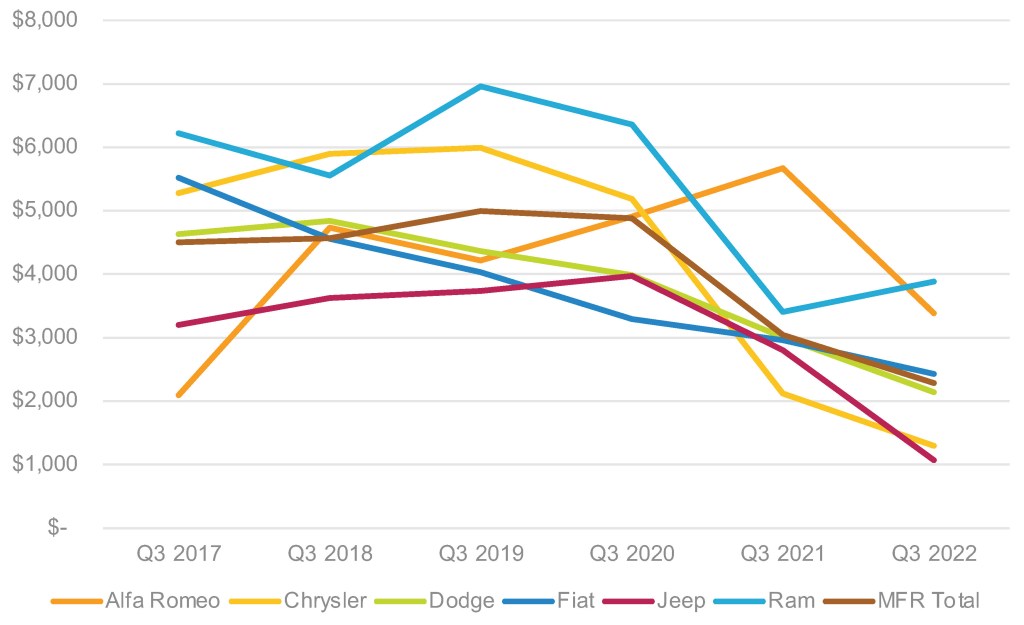 Stellantis significantly cut incentives for every brand except Ram. It increased incentive spending for Ram by 14% to an average of $3,881 per vehicle. That was still lower than the nearly $7,000 in pre-pandemic Q3 2019 but well above the national average.
Jeep incentives were more in line with the national average at $1,069, down 62% from the year earlier and about a third of what was spent in the third quarter for the previous six years.
Alfa Romeo had the next biggest cut in incentives, down 40%, but was still high at an average of $3,383 per vehicle. Chrysler brand incentives also were cut by nearly 40% to $1,295 per vehicle. Dodge spending was down 29% to $2,140 per vehicle.
Average Transaction Prices Jump to Over $54,000
Stellantis' Average Transaction Price (ATP) jumped nearly 12% to $54,808, according to Cox Automotive calculations. By comparison, Stellantis' ATP was $37,800 in Q3 2017.
Ram generates the highest ATPs, up 10% to $60,342. The Ram 1500 got a 9% boost to $63,068. Promaster gained 17% to $48,022.
Jeep's ATP jumped 15% to $53,462 on the strength of the new higher-priced Wagoneer, with its ATP of $76,539, and even pricier Grand Wagoneer at $96,101. Grand Cherokee, despite lower sales, had an 11% gain in ATP to %54,877. ATPs for Wrangler and Gladiator also rose.
All three Dodge models had healthy increases, putting the brand's ATP at $48,192, up 9% from a year ago. The Challenger had the biggest increase, up 11% to $47,407. The Durango had the highest ATP at $52,436, up 7%.
The Chrysler Pacifica had a 7% increase in its ATP, pushing it to $49,417.
Read more from Brian Finkelmeyer, senior director of new-vehicle solutions at Cox Automotive, in his latest article: Are New-Vehicle Prices Falling? It Depends on Where You Look.
---
Michelle Krebs is executive analyst at Cox Automotive.
Tags