Smoke on Cars
Cox Automotive Ten Predictions for 2022 Get 'B+' Grade in Q1
Thursday March 31, 2022
With the first quarter ending, we are looking back at the 10 trends that the Cox Automotive Industry Insights team laid out in the early days of 2022 that are shaping the auto industry this year. Overall, the Cox Automotive team remains optimistic about the industry. The overall conditions are right for higher sales, but vehicle sales remain relatively weak due to the low inventory level and will not improve until more supply is available. In addition to the chip shortage and supply chain issues carried over from last year, the Russian invasion of Ukraine has created new supply challenges.
So, with three months behind us, we took out a red pen and assessed our 2022 predictions so far. Here's a look at our Q1 grade.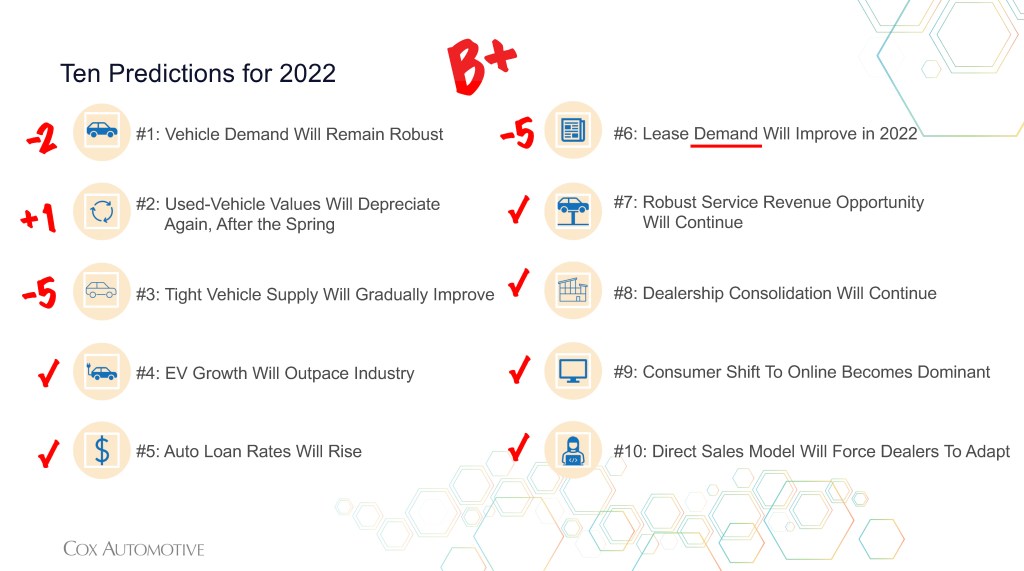 With all of the unknowns faced by the auto industry in the first quarter, a B+ is definitely a solid grade. We ding our call on vehicle demand remaining robust as the first quarter has been off the momentum from last year and what we expected. However, we expect Q2 to be the best quarter of the year, especially with tax refunds being 3-4 weeks behind normal and therefore delivering more demand than usual in Q2.
Vehicle values will decline again after we get past tax refund season. We're claiming a bonus point for the depreciation already seen. We also think our call for not expecting a price crash in 2022, just depreciation, is still very likely given the tightening supply conditions.
Our expectation for supply to gradually improve is clearly wrong, especially for the first half of the year. It was true in January and, at best, could be true for the final quarter of the year. But it's going to get worse before it gets better.
The other call out that is tied to this tight supply is that lease demand will improve. Well, lease demand has probably grown but the problem is that lease offers are very unattractive as OEMs do not need to offer incentives with such low supply. As a result, leasing is declining not improving, and this is one of the biggest negative revisions we've made in our forecasts, which have been updated for Q2.
As for the other points, we are certainly on course with the information we have today and will revisit all our predictions again next quarter. A few on-track trends are worth calling out. Interest in EVs is growing faster than expected thanks to high gas prices and as expected, the Federal Reserve is expecting to raise rates at least six more times this year, having already raised once in March. And, our latest metrics show that service revenue is continuing to climb month over month, averaging a record $500 per service ticket.
---
Jonathan Smoke is the chief economist at Cox Automotive.