Data Point
2021 CPO Sales Narrowly Miss Record
Friday January 14, 2022
2021 certified pre-owned (CPO) sales nearly reached Cox Automotive's forecast of 2.8 million, narrowly missing 2019's record-breaking performance by only 2.2%. With 2,748,164 units sold in 2021, CPO sales outpaced 2020 with a 5.4% increase.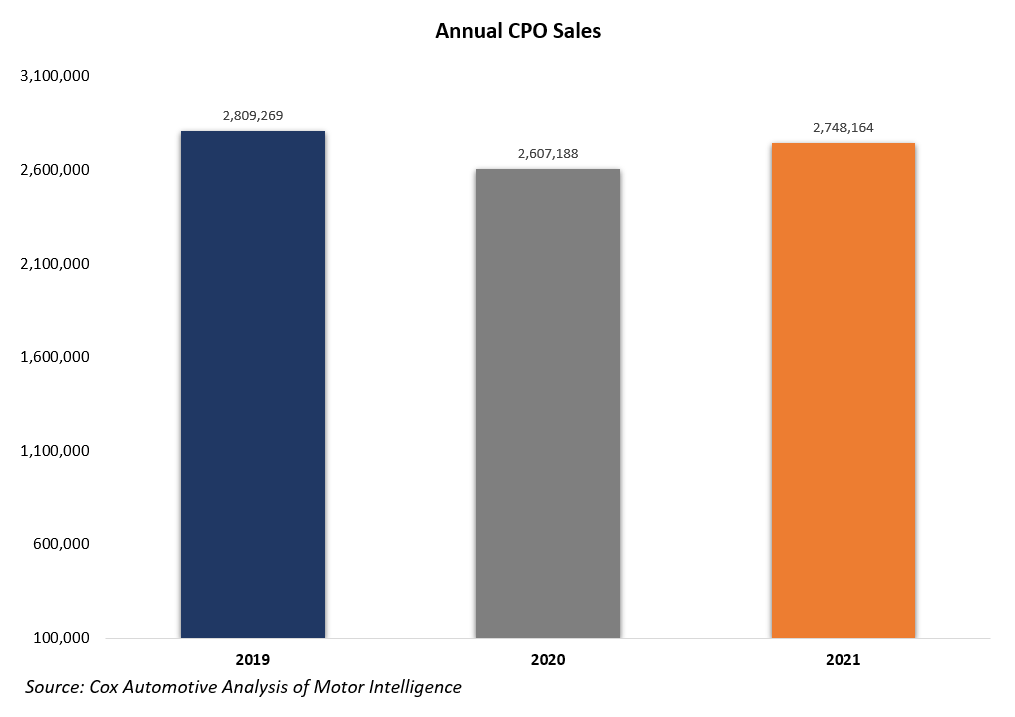 "We lost ground in the last part of 2021, but we are forecasting a record in 2022," said Cox Automotive Chief Economist Jonathan Smoke. "The demand is there, and CPO fits a very important sweet spot. It is the best alternative to a new vehicle. It's something that is a win for the manufacturer, and many manufacturers are focused on CPO as a strategic segment to introduce consumers to their brands. Consumers who have good credit and qualify for certified pre-owned loans see substantially better terms or rates that make a big difference in their payment and that more than compensates for the higher price of a certified pre-owned unit. And it's a win for the dealer because on average they are commanding a higher price and higher margin even with the higher certification cost."
Looking ahead, Cox Automotive's CPO forecast for 2022 is 3.0 million, an increase year over year and above 2019. This year will probably be the last year that record CPO sales are possible based on declining lease maturities after 2022. This forecast is supported by what is expected to be a record tax refund season and the attractiveness of certified pre-owned vehicles to consumers desiring like-new vehicles.
December 2021 CPO Sales
Certified pre-owned (CPO) sales marginally rose to 186,748 units in December. This sales level reflects a 3% month-over-month increase and a 19% year-over-year decrease. December CPO sales increased after two months of falling, following a strong performance during the first three quarters of the year.
According to Cox Automotive estimates, total used-vehicle sales were down 3.8% year over year in December. December used seasonally adjusted annual rate (SAAR) is estimated to be 39.1 million, down from 40.6 million last December and flat compared to November's 39.1 SAAR. The December used retail SAAR estimate is 20.4 million, down from 21.6 million last year.
---
The Annual CPO Sales chart has been corrected.
Tags