Data Point
Fleet Sales Improve Slightly in December, End Year Down 4%
Thursday January 6, 2022
In December, 113,195 fleet units were sold, a 9% month-over-month increase compared to 104,227 in November but a drop of 32% from December 2020. With December in the books, the 2021 year-to-date total of combined large rental, commercial, and government purchases of new vehicles is approximately 1.6 million units, a 4% decrease from full-year 2020 when 1.7 million units were sold. Notably, though, fleet sales year to date are down 42% from the same time in 2019 when 2.8 million units were sold.
DECEMBER FLEET SALES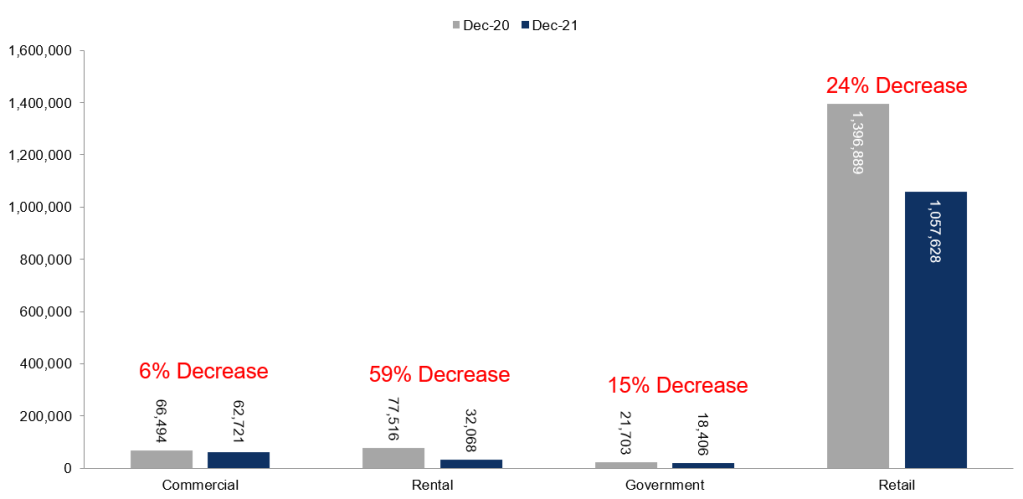 Sales into rental decreased 59% year over year in December and are down 9% year to date for full-year 2021. Commercial sales were down 6% year over year in December and are up 10% year to date in 2021. Including an estimate for fleet deliveries into the dealer and manufacturer channel, the remaining retail sales are estimated to be down 23% year over year in December, leading to an estimated retail SAAR of 11.0 million, which was down from 13.9 million last December and down from December 2019's 13.6 million rate.
December total new-vehicle sales were down 26% year over year, with one more selling day compared to December 2020. Month over month, December new-vehicle sales were up 19%. The December SAAR came in at 12.4 million, a decrease from last year's 16.3 million and December 2019's 16.9 million rate.
Looking at automakers, year-over-year changes in fleet sales differed by manufacturer, with declines ranging from 47% to 6%. Ford saw the smallest decline in fleet sales year over year in December with more than 38,000 deliveries; Toyota posted the largest decrease compared to December 2020.
Tags