Data Point
Factory Incentive Programs Level off After Reaching Record
Tuesday March 3, 2020
After incentive program volume records last month, the OEM volume in February dropped back down to average levels and below both 2018 and 2019 levels. After a year of strong incentives, we will likely see a reduction of guaranteed money and more conditional (consumer qualified offers) in CY2020.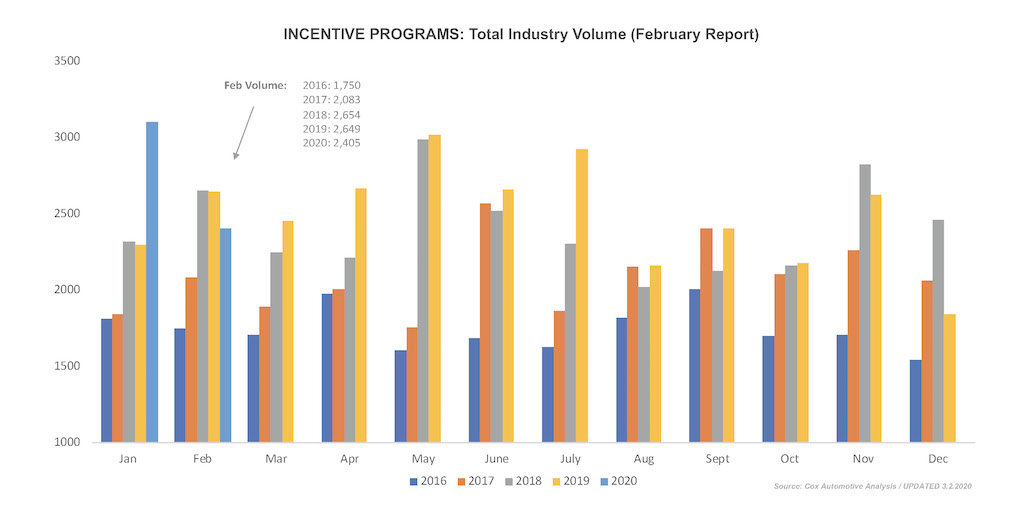 Dealer inventory levels appear to be at acceptable levels, which is cause for many automakers to reduce their incentive spending. The transition from guaranteed rebates to conditional offers is leading some dealers to feel they are being restricted in the ability to close all deals and could be a reason for auto sales in February coming in at a sales pace closer to Cox Automotive's full-year forecast of 16.6 million and down from the 17.0 million the market reached in 2019.
Brad Korner is general manager of Cox Automotive Rates & Incentives. The  Cox Automotive Rates & Incentives  (CAR&I) team has developed a methodology for measuring the accuracy of data used to calculate pricing and payment information presented through dealer service provider tools (e.g., dealer websites, inventory management, digital retailing & advertising, desking, equity, etc.). Approximately 17,500 individual dealerships –  rooftops, in automotive parlance –  in the U.S. rely on CAR&I  incentive  data  for powering  5 different software applications through Cox Automotive native software/sites and our many industry partners. In all, an estimated 90,000 applications are relying on CAR&I data in a given month, providing valuable information to 40 million shoppers.