Data Point
CPO Sales Continue to Grow in February
Tuesday March 14, 2023
After a strong January, certified pre-owned (CPO) sales in February rose another 1.9% month over month to finish at 205,946, up nearly 3,900 units. This total is up 7.3%, or over 14,000 units, compared to last February.
February CPO Sales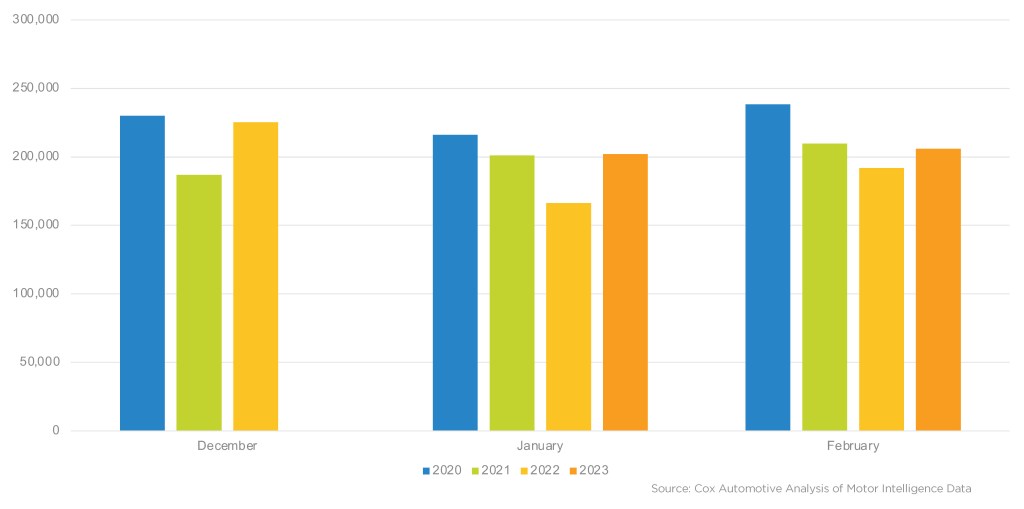 Used retail sales in February are estimated to be up 3.5% year over year finishing at an estimated 1.7 million units sold. However, the used retail sales pace ticked down to 18.8 million in February from January's revised 19.9 million level.
According to Charlie Chesbrough, senior director of economic and industry insights at Cox Automotive: "Our initial forecast was for CPO sales to fall a bit this year, but the numbers are not supporting that drop. CPO sales are up nearly 14%, meaning almost 50,000 more CPO units have been sold in the first two months of the year compared to the same time in 2022. With younger off-lease units in short supply, automakers are expanding their CPO programs to include older vehicles. As a result, the CPO sales pace so far this year is running hotter than expected."
Among the large manufacturers, Toyota had the highest CPO sales volume in February. Meanwhile, Honda and Hyundai had the largest year-over-year gains in CPO sales, followed by Ford.
After seeing a 10% drop in 2022, Cox Automotive is forecasting CPO sales to decline an additional 11% in 2023 to 2.2 million units, which would be the lowest CPO volume in 10 years. Based on the current sales pace, the CPO forecast will be revisited at the end of the first quarter to determine if an upward revision is in order.
Tags