Fleet
Fleet Purchases Rise in 2018; Expected to Increase Marginally in 2019
Friday February 1, 2019
Fleet purchases unexpectedly drove total new-vehicle sales higher in 2018, thanks to last year's tax reform package that made it beneficial to businesses to replace or add vehicles to their fleets.
Total fleet sales finished 2018 at more than 3.1 million units, up 4.1% from 2017, a year in which fleet sales fell from the year earlier for the first time since the Great Recession.
Cox Automotive estimates total fleet sales will see a marginal increase in 2019 driven by continued support from tax reform.
In 2018, commercial fleets saw the largest gain, up nearly 6% from 2017. Following the pattern of the retail market, fleet purchases favored light trucks.
After some down years, sales to daily rental fleets rose 9% to 1.7 million units in 2018. Similarly, the increase came from light-truck purchases, up 24%, as rental car companies look for "retail ready" vehicles to optimize their inventory. These vehicles are more aligned with the new retail market, which allows them to be off-loaded upstream and directly to consumers.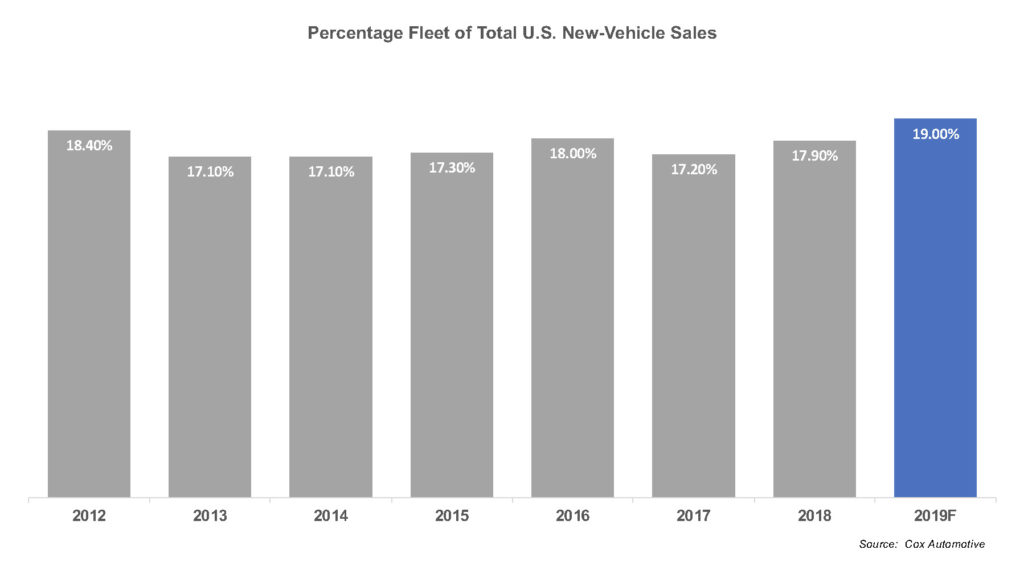 With fleet sales in total higher in 2018, performance by automakers varied. Mazda posted a 100-percent increase in fleet sales to about 27,000 units. Mazda has been in the fleet business at a low level, and its base remains small compared to its competitors, including Nissan at 378,000 units. About 98 percent of Mazda's fleet sales were to daily rental car companies; the remaining 2 percent went into commercial fleets.
A major fleet player, Fiat Chrysler was another big gainer in 2018 with fleet sales up 18.8 percent from 2017. Toyota also increased fleet sales significantly by 14.3 percent. Nissan saw a 9.8-percent increase. In contrast, Hyundai decreased fleet sales by 5 percent.
In terms of market share leaders, Ford had the largest market share in commercial and government fleets while Nissan had the largest market share in rental fleets.
2019 Cox Automotive forecast updated 05/18/19
Tags