Data Point
Hot-Selling Pickups Are in Extremely Short Supply
Thursday July 16, 2020
U.S. inventories of new pickup trucks – large and small – are extremely low, with Toyota having barely any supply of the popular Tacoma and Tundra, according to a Cox Automotive analysis of vAuto Available Inventory data.
Full-size pickups trucks had only a 69 days' supply as of July 6, according to Cox Automotive data. Mid-size trucks had a scant 45 days' supply. Typically, automakers prefer to have a higher days' supply of trucks than cars or SUVs because trucks come in so many variations. A days' supply of 80 to 90 is considered healthy.
"Buyers were scooping up pickups when the business shifted to zero-percent financing deals as the pandemic started and, even though plants are now up and running, automakers are having a tough time catching up," said Charlie Chesbrough, Cox Automotive senior economist. "Anyone looking for a great deal on a pickup truck will be hard-pressed to get one now – if they can even find the exact truck they want."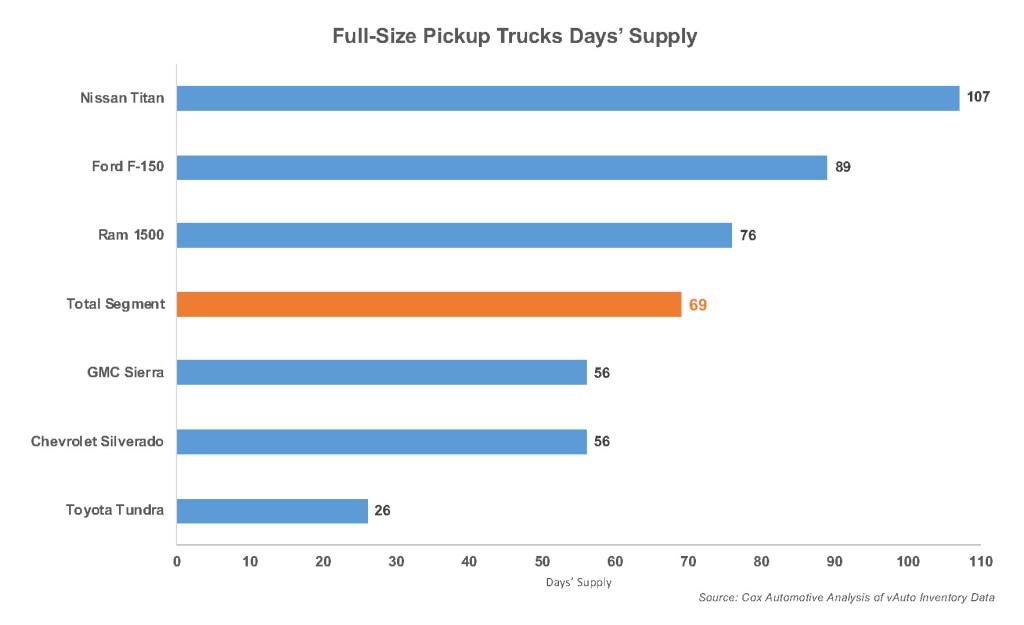 Toyota is in the worst shape in terms of inventory – it has nearly none. The full-size Tundra is down to a 26 days' supply. Worse, Tacoma, the best-selling midsize pickup for 14 years, has only a 19 days' supply. Both trucks are built at Toyota's plant in San Antonio, Texas, a state recently hit hard by the coronavirus. Toyota announced a major investment in the plant and will move all Tacoma production to Mexico in 2021 to make room for the Sequoia SUV at the Texas plant.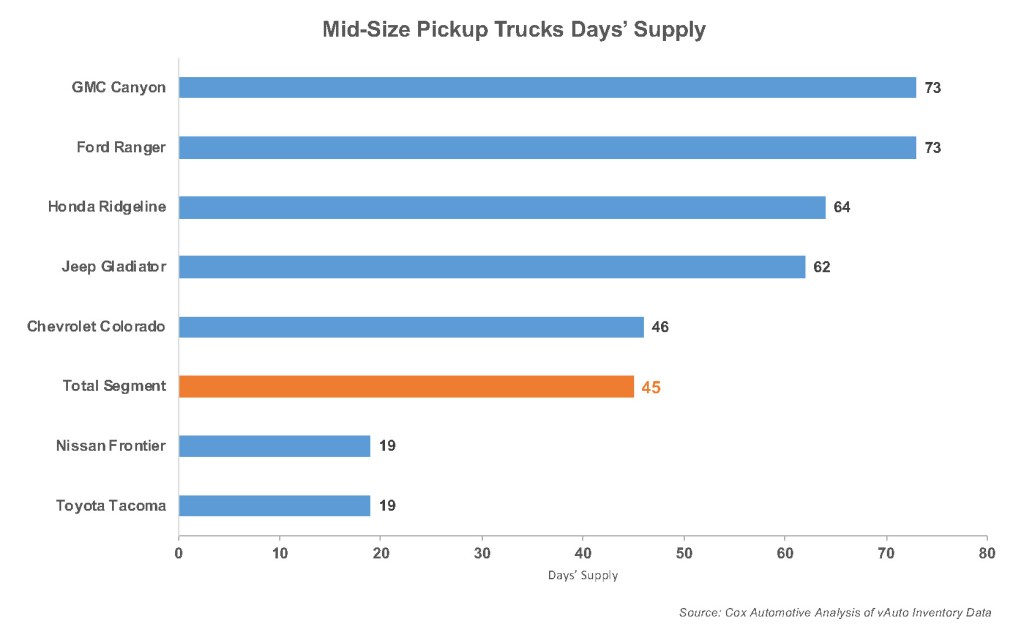 General Motors isn't in much better shape. Both the full-size Chevrolet Silverado and GMC Sierra are down to a measly 56 days' supply. The midsize Chevrolet Colorado and GMC Canyon have even less inventory, with days' supply of 46 on the Chevy and 53 on the GMC.
The situation could worsen as General Motors temporarily halted the third shift at its Wentzville, Mo., plant, which makes the popular Chevrolet Colorado and GMC Canyon, due to high worker absenteeism in an area where COVID-19 cases have increased. GM has not said when it will call back the shift and its 1,250 now laid-off workers.
Ford and Ram have higher inventories. Ford needs a cushion as it converts to the next-generation F-150 in the fall.
Read more: Total new-vehicle inventories in the U.S. ended the first week of July even lower than they were at the end of June, according to a Cox Automotive analysis of vAuto Available Inventory data.