Data Point
Incentive Spend Is Up in 2020, but Not For Everyone
Monday August 3, 2020
Article Highlights
2020 sees fewer incentives programs but higher amounts as a percentage of ATP.
Hyundai stands out for lower incentives versus higher ATPs
Most brands raise incentive spending to buoy sales.
Almost immediately after COVID-19 was declared a global pandemic, automakers pulled out their playbook from the Great Recession and quickly put in place aggressive incentives like zero-percent financing for 84 months to buoy sales. Now, as vehicle sales are recovering and production can't keep up with demand, automakers and dealers are dialing back the spiffs.
By sheer volume of programs, the number of incentives offered is down so far in 2020 compared with a year ago. But by amount, incentives measured as a percentage of the Average Transaction Price (ATP) are up. In other words, while there may be few offers, the offers are bigger, according to an analysis by the Cox Automotive Industry Insights team.
For the industry, incentives as a percentage of ATP are running at 11.4% so far this year, up from 11.1% in all of 2019 with most automakers averaging a higher percentage of incentives spending versus ATP than in 2019. Of the 32 brands tracked by the Cox Automotive Industry Insights team, 20 had an increase in incentive spending, while two brands — Buick and Toyota — remain unchanged. Some were up by a large amount, notably luxury makers Acura, Audi and Volvo.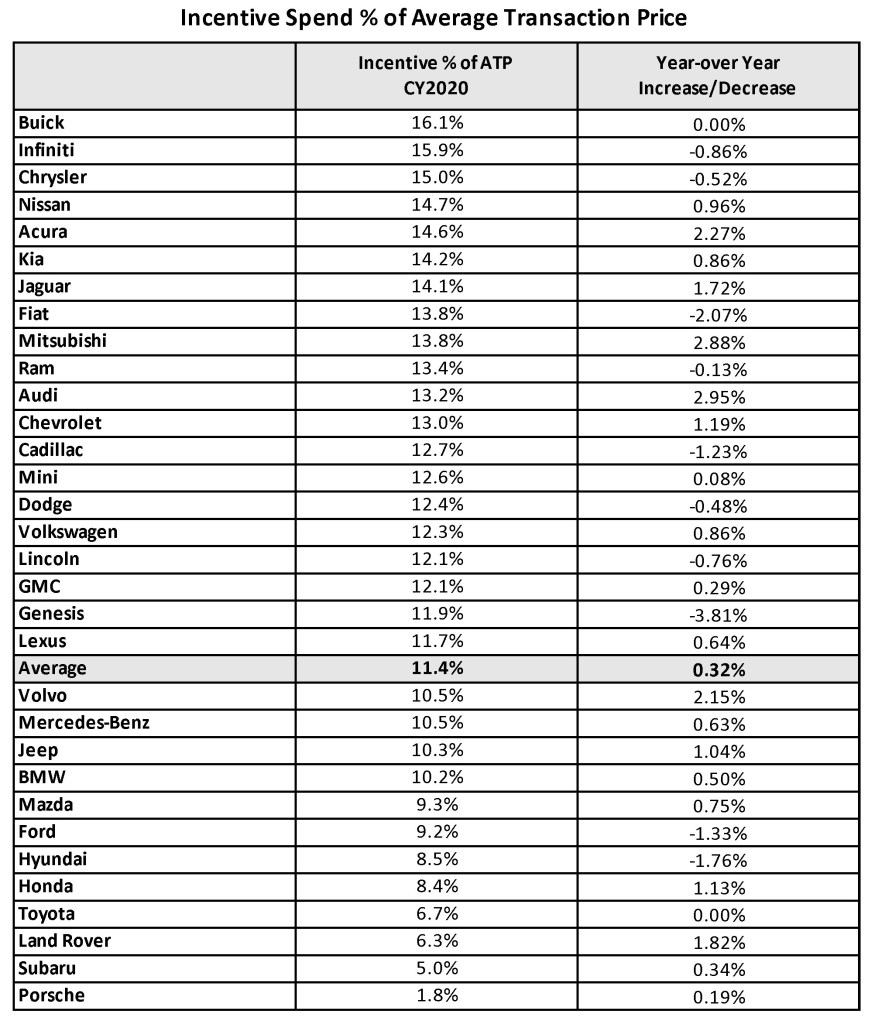 In contrast, 10 brands were able to decrease their incentive spending versus prices this year. Fiat and Genesis have lowered their incentive spend significantly through July 2020.
Fiat incentive spend has been industry leading over the past five years, but they haven't moved the needle. Fiat sales were down more than 50% in the first half. The brand is selling roughly 1,000 vehicles a month. At that rate, incentives hardly matter and clearly aren't working. It appears that management has thrown in the towel, dialing back to stem losses.
Genesis, on the other hand, is reigning in incentive spending, which had jumped up notably in 2019. This year, despite a pandemic, the brand's incentive spend versus ATP has dropped nearly 4 percentage points, heading back toward a more normal level for the South Korean luxury brand. Year-to-date sales for the luxury make has been roughly aligned with the industry.
Hyundai is this year's notable standout. Hyundai actually reported higher sales this July than last, while most automakers posted lower sales. That puts Hyundai sales down less than 16% for the first seven months of the year, in a market down roughly twice that amount.
Hyundai achieved its first monthly year-over-year sales increase in July on the strength of retail, not fleet, sales, and on the strength of solid new products like the Palisade and Kona. It also is spending less on incentives while generating higher prices.
According to Kelley Blue Book calculations, Hyundai's ATP has risen nearly 15% so far this year, surpassing the $30,000 mark. At the same time, Hyundai, which has been on a downward trajectory of incentive spending versus ATP since 2017, has been spending an even lower percentage in 2020. About 8.5% of ATP goes to incentive spending, well below the industry average of 11.4% so far this, a percentage that has been rising since 2017.
The only mainstream brands with a lower incentive spend as a percent of ATP are Honda, which still spends less percentage-wise than many other brands but has been boosting its spend to new highs this year; Toyota; and Subaru. Luxury brands Land Rover and Porsche are lower.
Tags