Data Point
CPO Sales Get Off to a Slow Start in January
Friday February 11, 2022
Certified pre-owned (CPO) sales in January fell to 166,309 units. This total is down nearly 11% from December's 186,748 and down nearly 17% from January 2021. January's CPO result is the lowest monthly total since April 2020. CPO sales have been in decline since having strong sales in Q2 and Q3 of 2021.
January 2022 CPO Sales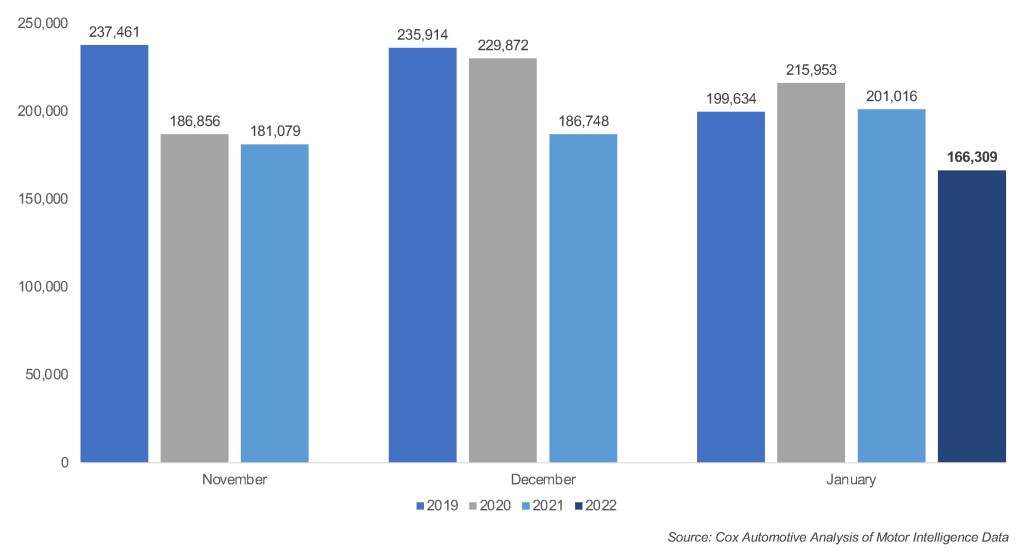 With record numbers of lease-holders choosing to keep, rather than return, their leased vehicles, the pool of available CPO-eligible inventory is lower than usual. At the same time, with high wholesale values, and costs required to put a CPO badge on a vehicle, these are some of the highest-priced used vehicles available, which might be crimping CPO sales activity.
"Used vehicle demand is strong right now, so many dealers have decided they don't need to push the CPO program to propel sales," said Brian Finkelmeyer, senior director of new-car solutions, Cox Automotive. "Plus, used vehicle values are sky-high, so there is not a lot of 'room' left in the deal. To hold prices down, dealers are foregoing the CPO process."
While January CPO sales are slower than might be expected, Cox Automotive is still forecasting a strong year for CPO at 3.0 million units, an increase year over year and above the record set in 2019. This forecast is supported by what is expected to be a record tax refund season and the attractiveness of certified pre-owned vehicles to consumers desiring like-new vehicles.
Tags