Data Point
CPO Sales Get Off to a Strong Start in January
Tuesday February 14, 2023
Certified pre-owned (CPO) sales in January rose 21.5%, nearly 36,000 units, over last January to finish at 202,074. This total is down month over month by over 23,000 units, or down 10%, compared to December 2022. January CPO sales typically show a decline month over month.
January CPO Sales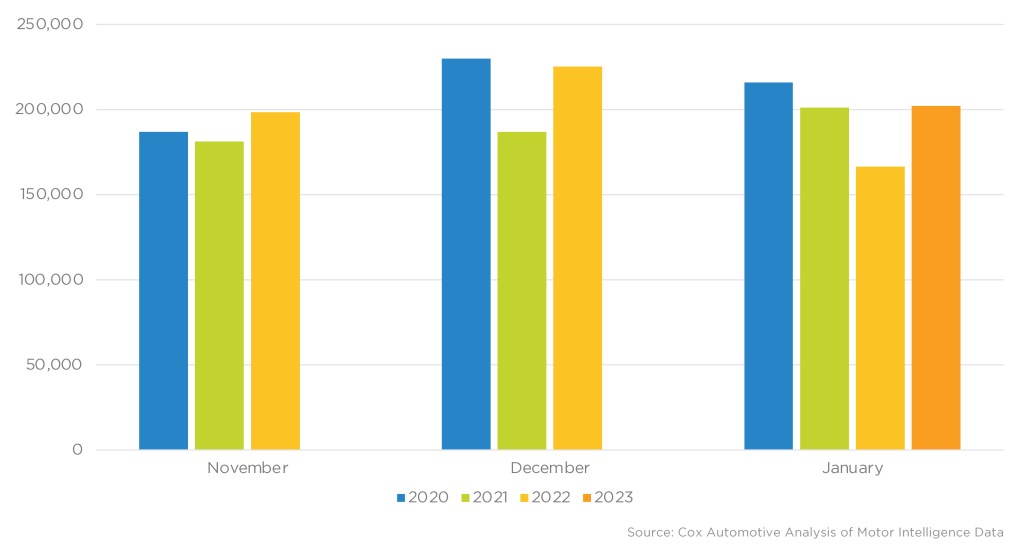 Used retail sales in January are estimated to be down 7.5% year over year finishing at an estimated 1.5 million units sold. The used retail sales pace, however, ticked up to 19.0 million in January from December's revised 18.3 million level.
According to Chris Frey, senior manager of economic and industry insights at Cox Automotive: "We have seen some automakers – such as Ford, Honda and Nissan – expand their CPO programs to include 9-and-10-year-old vehicles. Plus, Ford offers 84-month loans for certified vehicles up to three years old. The strong January CPO numbers may be reflecting these CPO program changes, which improve options for consumers as the pool of gently used vehicles shrinks."
Among the large manufacturers, Toyota had the highest CPO sales volume in January. Toyota and Honda had the largest year-over-year gains in CPO sales, followed by Hyundai and Ford.
CPO sales finished 2022 at nearly 2.47 million units, a decline of nearly 280,000 units, or 10.2% from 2021 CPO sales. After seeing a 10% drop in 2022, Cox Automotive is forecasting CPO sales to decline an additional 11% in 2023 to 2.2 million units, which would be the lowest CPO volume in 10 years. Limited availability of CPO units will be a key driver of the lower sales in 2023.
Tags