Data Point
Japanese Hybrids Dominate Electrification in Shopping, Sales
Wednesday March 3, 2021
Article Highlights
U.S. consumers favor hybrids over EVs.
Japanese brands Toyota, Honda and Subaru dominated electrification with hybrids.
In the U.S., Tesla IS the EV market.
New EVs – 100% battery-powered vehicles – are generating a lot of buzz and excitement in the market right now, but in fact, U.S. consumers seem to favor hybrids and plug-in hybrids when shopping and buying electrified vehicles, specifically those from Toyota and Honda, according to Cox Automotive data. February sales were further proof.
While Toyota's February sales were down overall, it sold 41,706 electrified vehicles, the most it has ever sold and an 82% increase from a year ago. In February, electrified vehicles – including hybrids of all sorts, fuel-cell vehicles and EVs – accounted for nearly 23% of Toyota's total sales. That represents a big jump from just one year ago and is a clear sign that all types of battery-powered vehicles, not just pure EVs, will grow at a significant pace in 2021 as more companies add electrified products.
Another case in point: Honda. They also posted lower overall sales this February than last, but Honda sold nearly 8,000 electrified vehicles, a 96% increase compared with the year earlier. Electrified models, which are hybrids for Honda, represent 7.5% of the automaker's total sales.
Strong February sales for Toyota and Honda hybrids should come as no surprise. The most-shopped electrified vehicles were Toyota, Honda and Subaru hybrid SUVs and sedans, according to the Q4 2020 Kelley Blue Book Brand Watch report. The most-shopped pure EVs, of course, were Tesla models.
Top Considered Electrified Models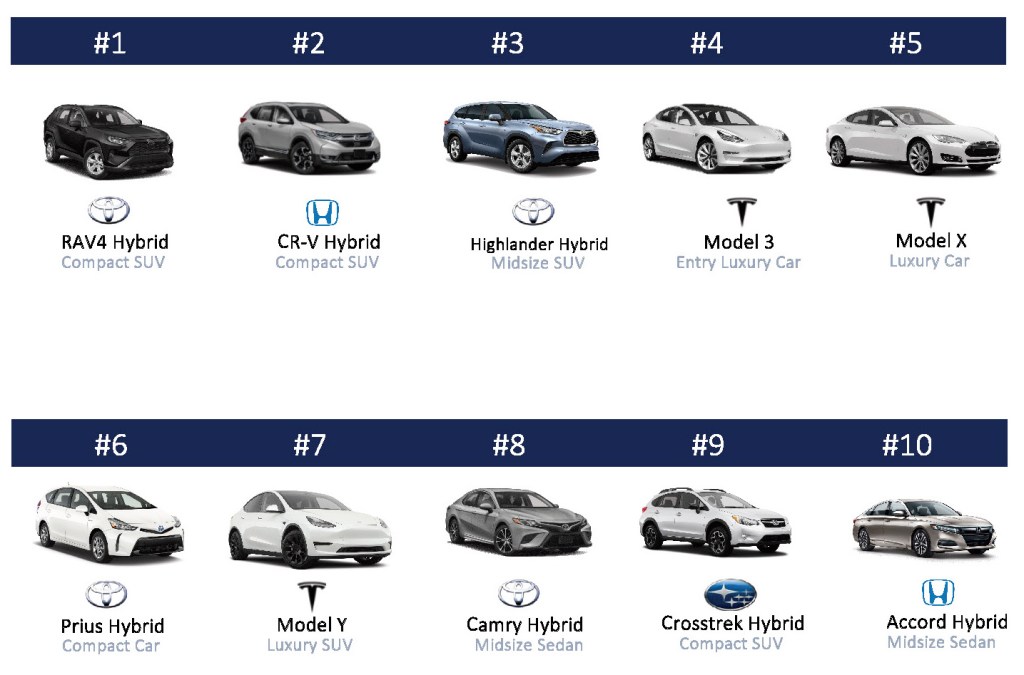 The Kelley Blue Book Brand Watch report is a consumer perception survey that also weaves in consumer shopping behavior to determine how a brand or model stacks up with its segment competitors on a dozen factors key to a consumer's buying decision. Kelley Blue Book produces separate Brand Watch reports each quarter for luxury and non-luxury brands.
How U.S. Consumers Shopped – Electrified
In Q4 2020, 17% of all new-vehicle shoppers considered an electrified vehicle, either a hybrid, a plug-in hybrid or a pure EV. That figure has fluctuated mostly in the 15% to 18% range since Q1 2018, peaking in Q3 2020 at 20%.
Shopping Consideration by Segment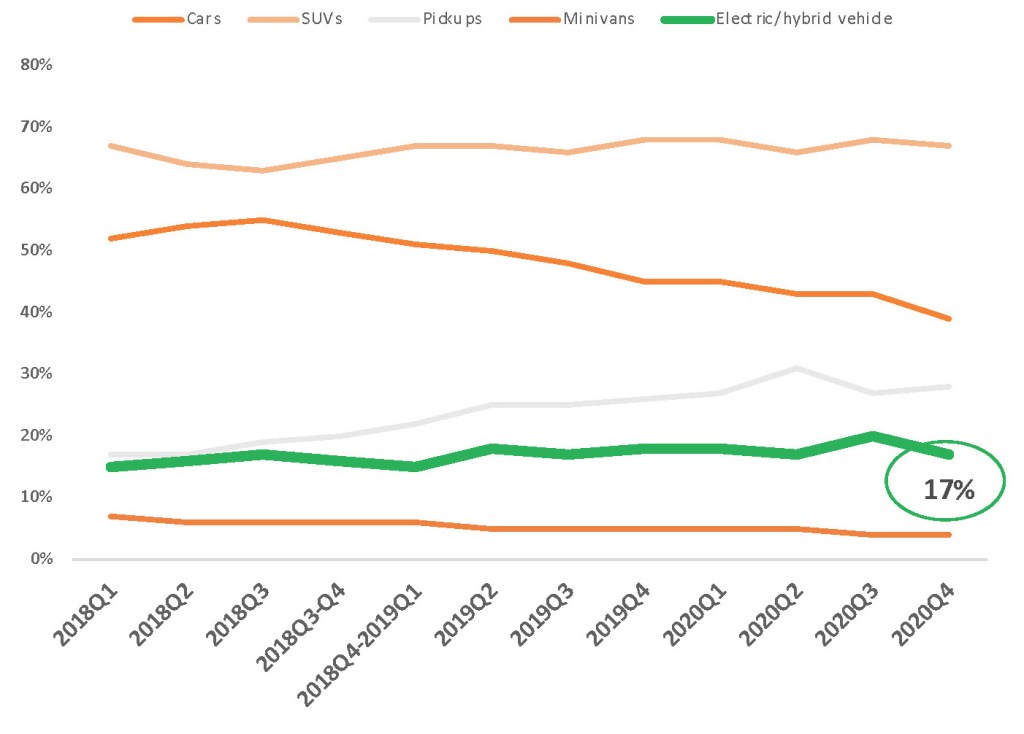 The most-shopped electrified vehicles were hybrid versions of the most popular Toyota and Honda models, according to the Kelley Blue Book Brand Watch. Hybrid versions of the Toyota RAV4, Honda CR-V and Toyota Highlander were the Top 3 most-shopped electrified vehicles in the fourth quarter. The Toyota Prius, which only comes as a hybrid, and the Subaru Crosstrek, available as a hybrid and non-hybrid, rounded out the Top 10 most-shopped electrified list.
Among all non-luxury vehicles, electrified or not, the Honda CR-V and Toyota RAV4 were No. 2 and No. 3, respectively, in shopping consideration behind No. 1 Ford F-150, according to the Kelley Blue Book Brand Watch for non-luxury vehicles in Q4 2020. Importantly, all three of those vehicles are now available with battery packs – as hybrids – and an all-electric F-150 is on the way.
Looking at the most-shopped electrified vehicles, the only EVs on the list were from Tesla, according to the Kelley Blue Book Brand Watch. The Model 3 was the fourth most-shopped electrified vehicle, the Model X was No. 5, and the Model Y was No. 7.
Shopping for electrified vehicles dipped from the Q3 2020 record, which suggests consumers were shopping in Q3 and bought in Q4 because market share for sales of electrified vehicles hit a new high in Q4. Of all new vehicles sold, 6.4% were electrified. Of that total, hybrids accounted for 4.4% of all sales; EVs represented 2% of all sales. The bulk of EVs wore a Tesla badge.
Share of Electrified Vehicles by Type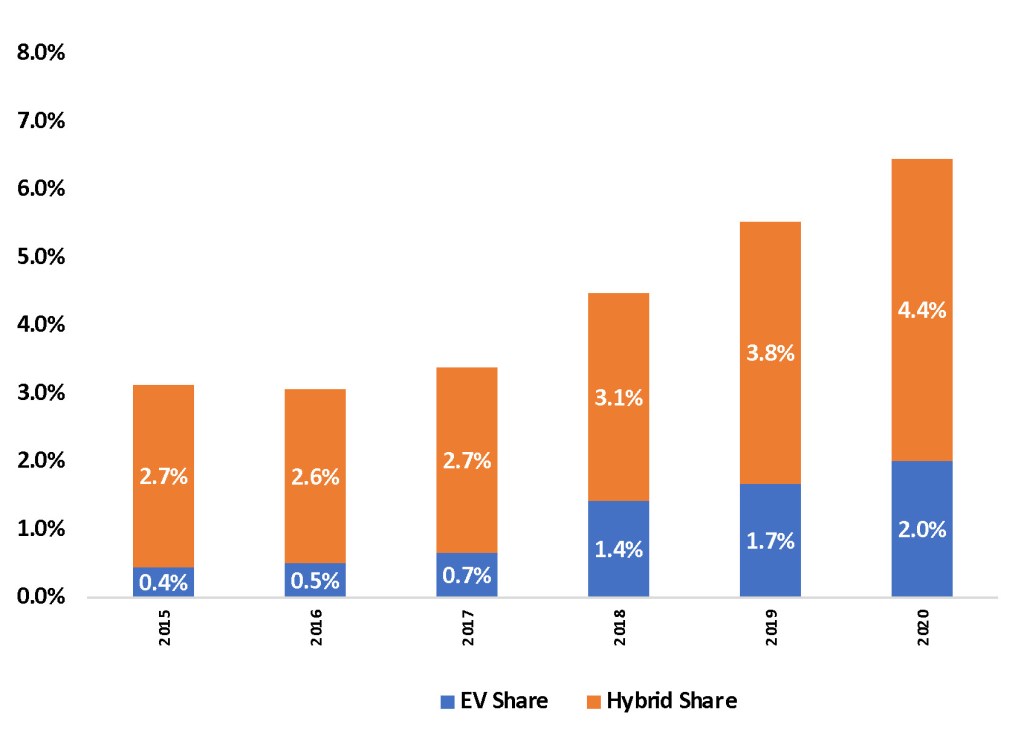 Growth Expected in 2021
Sales volumes of electrified vehicles are all but guaranteed to grow in 2021, with more models hitting the market this year from more players. Electrified versions of America's best-selling vehicles will drive the growth. Top example: Ford sold nearly 2,000 hybrid versions of their best-selling F-150 in February, but that is only the beginning as production is just getting underway. We expect volume to increase notably.
More than a dozen new EV models are coming to market from established automakers, including BMW, Ford, GM, Kia, Mercedes-Benz, Volkswagen, Volvo and others, as well as from EV startups like Lordstown Motors, Lucid, Rivian and, of course, Tesla. Honda and Toyota have plans for EVs next year.
On the hybrid side, we are seeing new models stretch into nearly every segment, from full-size pickups to minivans, with Toyota launching a Sienna minivan late last year that is offered only as a hybrid. Chrysler, too, offers a hybrid version of their best-selling Pacifica minivan, and the best-selling mid-size SUV in America – the Ford Explorer – is now offered as a hybrid.
Automakers have widely different strategies regarding electrification. General Motors, for instance, plans to go all-electric only in the future, skipping past hybrids. Ford and Toyota plan to offer both EVs and hybrids –a collection of electrified vehicles to meet any need. An executive from Toyota has said it wants to be "the Macy's department store of powertrains." Hyundai, which has aspirations for EV leadership, is also currently offering a mix of hybrids and EVs. It has paid off: In February, Hyundai increased electrified sales by 25% year over year.
The Biden Administration has ambitious plans to push sales of EVs and build an EV-charging infrastructure. Where hybrids fit is unclear, as is how successful the administration's efforts will be in getting Congress to fund the plan. But one thing is undeniable – the current market is experiencing rapid growth of vehicles equipped with big battery packs. It has taken a while, but electrified vehicles are becoming more mainstream.
---
More insights are available from Cox Automotive on the electrified market.
Tags