Data Point
Dealership Service Activity and Revenue Unexpectedly Decrease in July, according to Xtime Metrics, Likely Due to Labor and Parts Shortages
Monday August 22, 2022
Both service activity and service revenue at U.S. franchised dealerships decreased in July, according to the latest Cox Automotive analysis of Xtime metrics. The Repair Order Revenue Index decreased month over month again in July but remains up year over year. Meanwhile, the Repair Order Volume Index remained down both month over month and year over year.
The monthly Xtime volume and revenue metrics are designed to showcase average service department performance over time, with the information indexed to January 2019. The two top-line measures provide a glimpse into service department performance at franchised dealerships in the U.S. Xtime, a Cox Automotive brand, provides software that helps auto dealers facilitate more than 10 million service appointments monthly.
The July Repair Order Volume Index at 86.5 was down 6.0% month over month from June's downwardly revised number and was down 9.8% from July 2021.
Xtime Repair Order Volume Index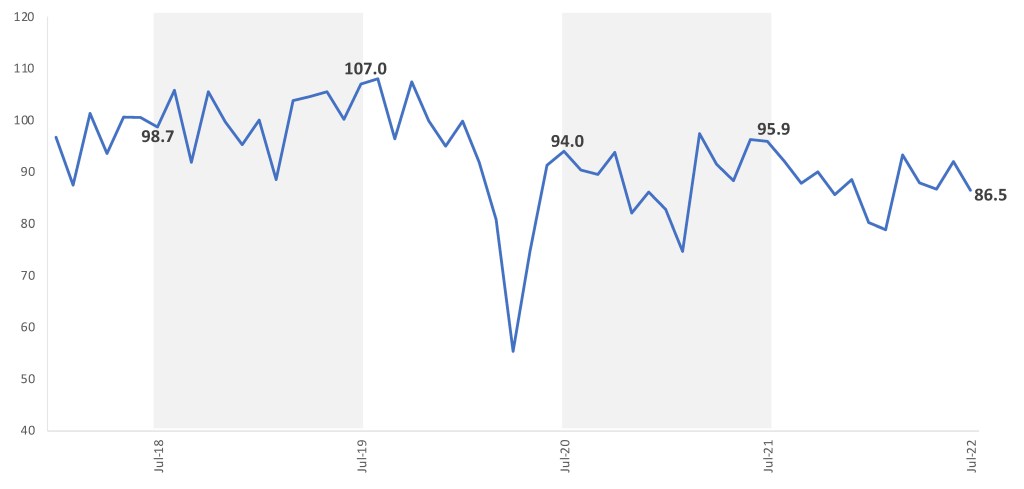 The average revenue generated per repair order decreased by $4, reaching its lowest level since February. At 125.4, the Repair Order Revenue Index for July was down 0.7% from June's upwardly revised reading but remained up 10.5% year over year.
Xtime Repair Order Revenue Index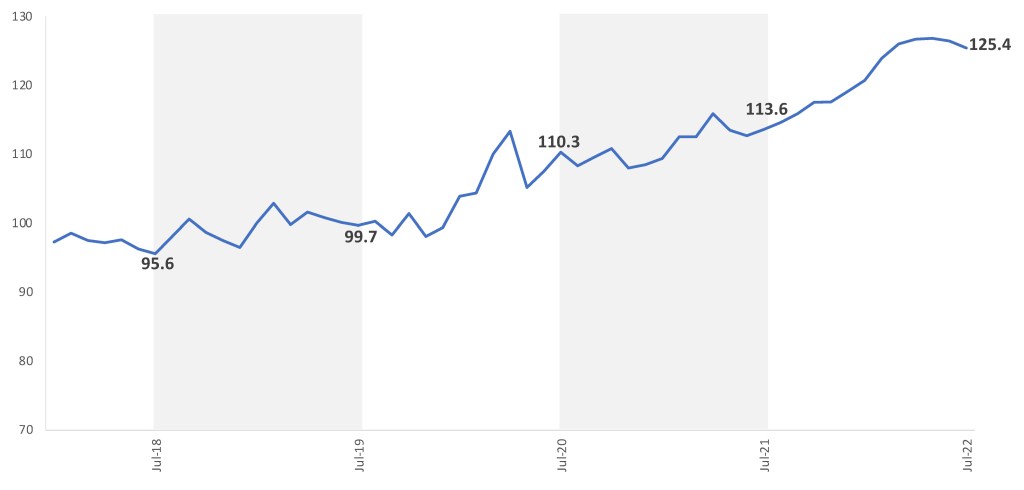 Note: Historical data are seeing revisions, but the previously reported pattern remains intact.
"In speaking with dealers, I am hearing that this unexpected decline in service appointments observed in July Xtime data is likely related to their own capacity and labor challenges," said Cox Automotive Chief Economist Jonathan Smoke. "This situation is creating wait times for consumers to get cars serviced. Technician shortages limit capacity, and at the same time ongoing supply chain issues are impacting the delivery of some parts. It is also a difficult time to get loaner or rental cars, and that may be creating an additional inconvenience. Consumers may be delaying service and repair appointments, hoping the situation will improve in the future."
Cox Automotive Industry Insights, with help from the Xtime data team, report the Repair Order Volume Index and Repair Order Revenue Index around the 20th of each month. For more information, reach out to the Cox Automotive Public Relations team.
---
Xtime is the leading end-to-end software solution that drives customer loyalty and revenue for automotive dealers in each stage of the service process. With easy-to-use technology and industry experts, Xtime helps dealers meet changing customer expectations. As an advanced, connected solution that provides exceptional support, Xtime is committed to helping dealers deliver the ultimate service experience. Through transparency, convenience, and trust, Xtime Spectrum — comprised of Schedule, Engage, Inspect, and Invite — facilitates more than ten million service appointments monthly. Xtime is a Cox Automotive™ brand.
Tags