Data Point
Certified Pre-Owned Sales Hold Steady in July
Friday August 12, 2022
Article Highlights
Sales of certified pre-owned (CPO) vehicles hold steady in July, with sales volume nearly equal to June.
Year-over-year CPO sales fall 17% in July, nearly in-line with used-retail sales.
Overall used-retail sales are down an estimated 16% year over year.
Certified pre-owned (CPO) sales in July fell to 206,346 units, a level nearly equal to June's volume of 206,443 and down 17% from July 2021. Since May, CPO sales have been remarkably stable. Sales of CPO are down nearly 17% year to date. Currently, they are on track to finish near 2.4 million in 2022.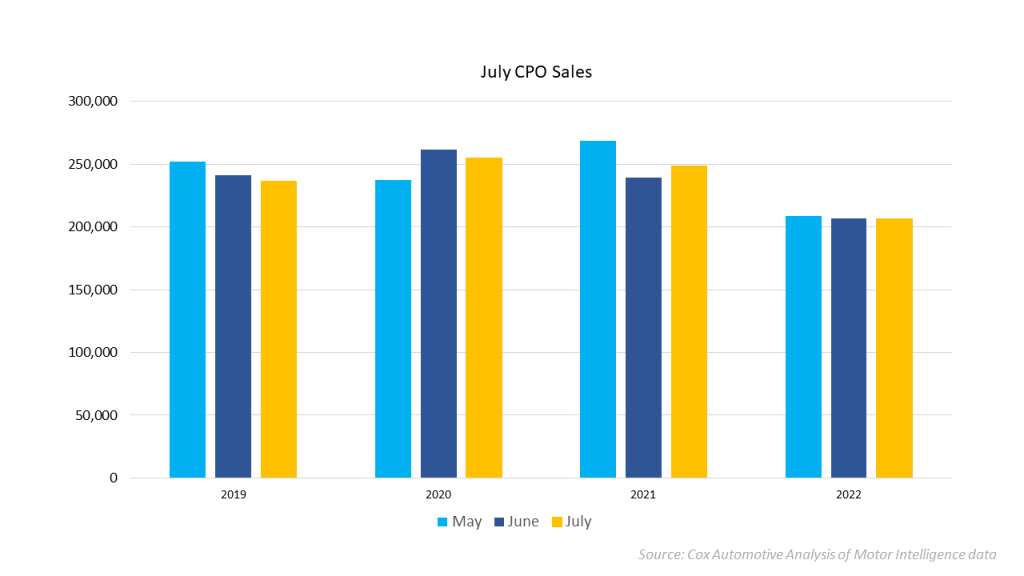 Using estimates from Dealertrack, used-vehicle retail sales declined 13% in July from June, and sales were down 16% year over year. Compared to 2019, used retail sales in July were down 29%, which was the worst comparison against 2019 since January.
"Used-vehicle sales and CPO sales in the summer of 2021 were particularly strong, so the year-over-year comparison is a tough one," said Chris Frey, senior manager of economic and industry insights at Cox Automotive. "Still, the used market this year is certainly feeling the impacts of high-inflation and elevated used-vehicle prices. Sales continue to be soft, but we not suggesting the market is under stress."
Tags