Data Point
New-Vehicle Transaction Prices Hit Fourth Straight Record High in July
Tuesday August 17, 2021
The average transaction price (ATP) for a new automobile in July 2021 hit a new record high in the United States at $42,736, according to the analysts at Kelley Blue Book. Transaction prices were up $3,223 (8.2%) from July 2020 and increased $402 (0.9%) from June 2021.
New-vehicle transaction prices have increased – and set new records – for four straight months. A tight supply of new vehicles and a market shift toward more expensive SUVs and pickup trucks are among the main drivers of higher ATPs. However, elevated prices may be cooling consumer demand; after robust sales in March, April and May, new-vehicle sales began to slow in June and July. The seasonally adjusted new-vehicle sales pace in July was the slowest in a year.
"While transaction prices marked new highs in July, new-vehicle incentives continue to fall," noted Cox Automotive Analyst Kayla Reynolds. "Last month, incentives amounted to just 5.9% of ATP, the lowest amount in more than a decade. Excellent new-vehicle deals are certainly hard to find."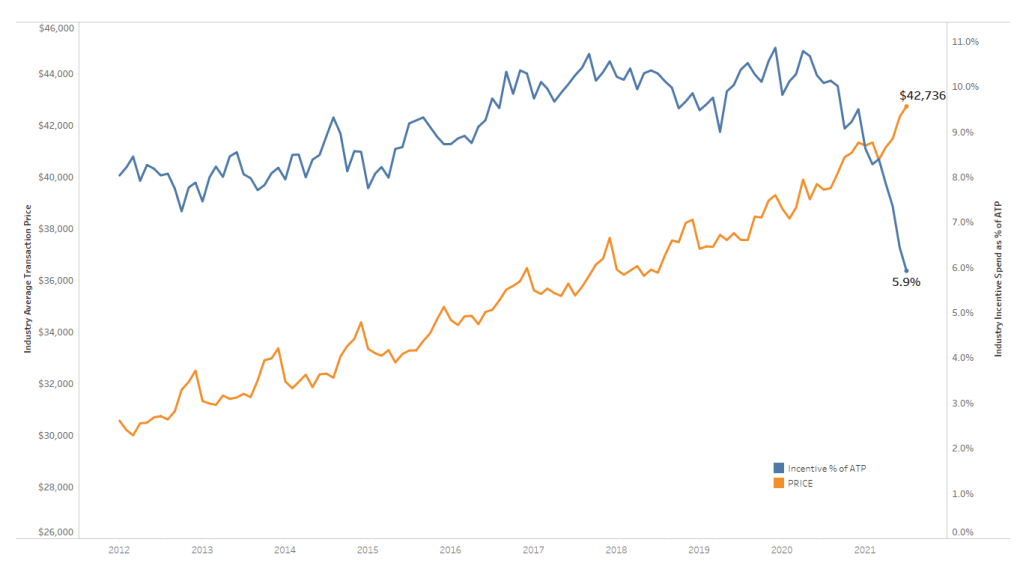 In July 2020, the average incentive amount stood at 10.1% of transaction price, according to the analysts at KBB.com. In July 2021, the average new-vehicle deal was above manufacturers' suggested retail price (MSRP).
Higher transaction prices and lower incentives have combined to drive the Cox Automotive/Moody Analytics Vehicle Affordability Index into uncharted territory. New-vehicle affordability has declined through the spring and set records in each of the last two months. The number of median weeks of income needed to purchase the average new vehicle in July increased to 37.4 weeks, up from 37.2 in June.
---
Tags