Commentary & Voices
Kelley Blue Book Q3 Brand Watch: SUVs, Tesla and Technology Headline Luxury Story
Wednesday November 13, 2019
Article Highlights
Tesla made big gains in shopping consideration - again.
Luxury SUV consideration outpaced luxury car consideration but by a narrowing margin. Acura RDX shopping tumbled, illustrating what's new isn't new for long.
Technology is rising in importance to buyers.
Luxury vehicle shopping was as robust in the third quarter as it was in the previous quarter or a year ago, driven by interest in SUVs and Tesla, according to the Q3 Kelley Blue Book Brand Watch™.
Kelley Blue Book Brand Watch is a consumer perception survey that also weaves in consumer shopping behavior to determine how a brand or model stacks up with its segment competitors on a dozen factors key to a consumer's buying decision. Kelley Blue Book produces quarterly Brand Watch reports for non-luxury and luxury brands.
Luxury vehicle shopping in Q3 was on par with year-ago and Q2 levels, and it translated into sales as luxury vehicle sales outpaced the overall market in the quarter and last year. The luxury buyer is more economically resilient than the average consumer, and a booming stock market always bodes well for luxury vehicle sales.
Shopping consideration for luxury SUVs grew significantly from a year ago, thanks to new offerings and continued interest in practical and versatile transportation. A new high of 61% of luxury vehicle shoppers considering an SUV was reached in Q3, compared with 56% a year ago.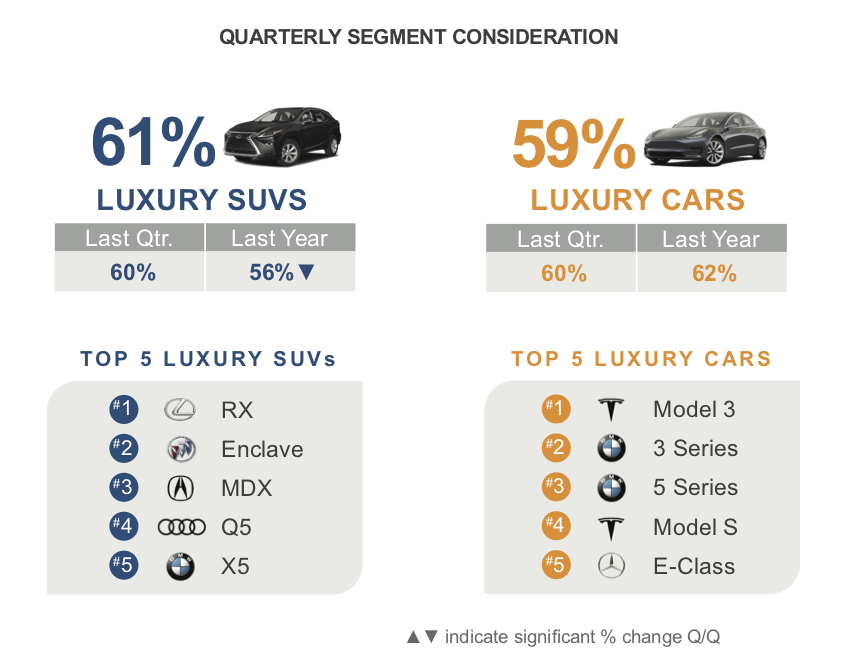 Luxury SUVs, which are proliferating, dominated the Top 10 – or 13, since three vehicles tied for No. 10 spot – most considered luxury vehicles by shoppers. The midsize SUV segment was particularly vibrant with more and redesigned models being introduced in record numbers.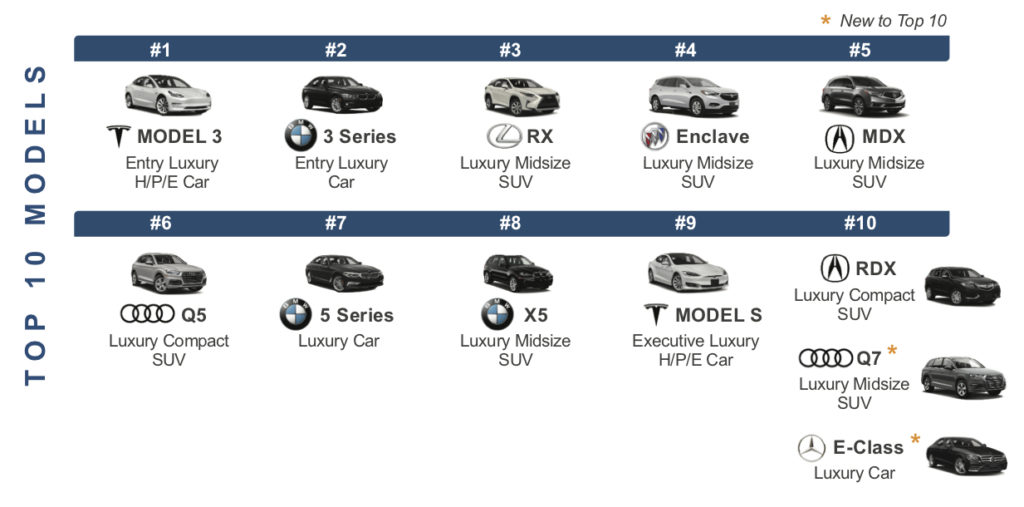 In contrast, luxury car shopping consideration slipped to 59% in Q3 from 62% a year ago.
However, unlike the non-luxury market, the gap between luxury SUV and luxury car shopping is less dramatic, and, in fact, the gap is closing, likely due to growing consideration of Tesla models, which are mostly cars. Only a 2-percentage point difference in Q3 2019 vs. a 6-percentage point difference a year ago separated luxury SUV and luxury car shopping. 
Lexus ranked tops in Q3 luxury sales but was second in consideration. BMW retained the No. 1 most-shopped luxury brand for the fifth straight quarter, thanks to surging 3 Series, 5 Series and X5 consideration. Expansion of its product line, its strength in SUVs and incentives also helped.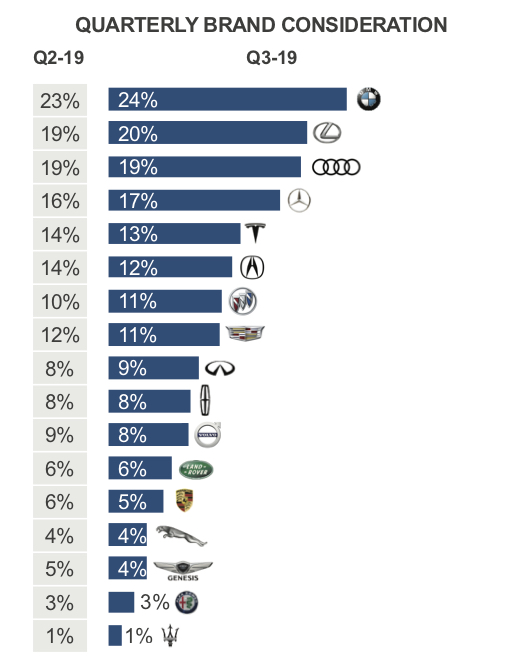 But it is Tesla that wrote yet another chapter in the luxury story of the year. Tesla posted the biggest gains in consideration in Q3 compared with a year ago, despite its more limited and car-heavy product portfolio. The Tesla Model 3 was the most shopped luxury vehicle again. The brand held on to the top spots in seven of the 12 most important factors for luxury vehicle shoppers again in Q3.
The consideration didn't translate into sales. Tesla's sales in the quarter were down 21% in the U.S., though the Model 3 maintained its luxury car sales leadership. However, Tesla said it had record global deliveries of about 97,000 vehicles, suggesting production was shipped to overseas markets.
Acura declined in consideration in Q3 due to the steep fall in interest of the Acura RDX that was not offset by higher consideration for the MDX.
The Top 5 most-shopped luxury vehicles were the same ones as in Q2, with minor ranking swaps.
The Lexus RX ranked the No. 1 most-considered SUV for the second straight quarter, thanks to its recent freshening. The Buick Enclave, the only domestic with a top ranking, climbed from No. 5 to No. 2, stealing the spot from Acura RDX, which fell precipitously. The Acura MDX improved shopping on affordable lease specials. The Audi Q5 held off midsize luxury SUV competition
Tesla and BMW had two models each in the Top 5 most-shopped luxury cars. The BMW 5 Series, which will be selling down before next year's new model arrives, eked out a lead over the Tesla Model S.
The Model S had lots of shoppers, but clearly many are window shoppers as its sales are falling. Some analysts have speculated that U.S. demand for the flagship Model S, the oldest Tesla, and the Model Y SUV, also in sales decline, have exhausted demand. Tesla plans no freshening of those models except for over-the-air tech updates.
The Acura RDX, which was new in summer 2018 and was soaring in shopping consideration and sales, has plummeted, illustrating the fact that a new SUV isn't new for very long with the onslaught of competitors.
Similar to the non-luxury market, luxury shoppers rated Durability/Reliability, Safety and Driving Comfort as, by far, the most important factors in their vehicle selection.
However, technology has become more important over the past five years driven by technology-leader Tesla and the introduction of more tech features introduced on luxury vehicles first.
Fuel Efficiency has fallen to No. 10 in importance from No. 7 over the past five years as gas prices have stayed relatively low. Plus, fuel efficiency has improved dramatically with every generation and all-new model introduced.
Interior Layout has risen importance, moving up two ranks. That is likely due to the increased amount of in-vehicle technology and consumer desire, as Cox Automotive studies show, for it to be laid out logically and operate intuitively. The fact that commute times are longer than ever may also have something to do with it.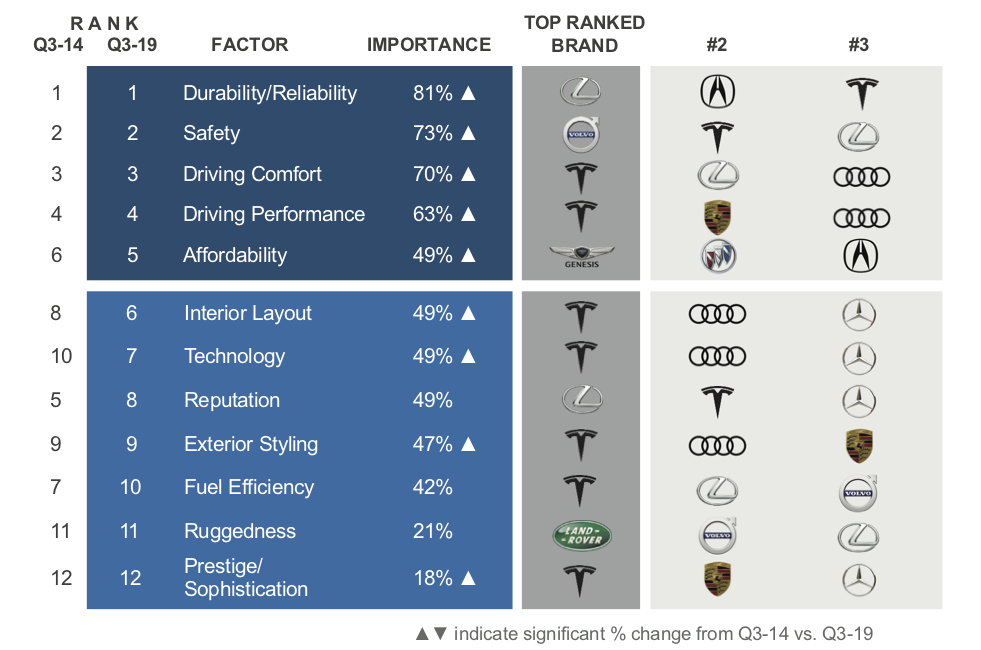 In Q3, Tesla continued to lead in most categories – 7 out of 12. It won in both emotional and practical factors. Genesis led in Affordability, a hallmark of value-focused South Korean automakers.
The Q3 Kelley Blue Book Brand Watch on non-luxury vehicles is also available.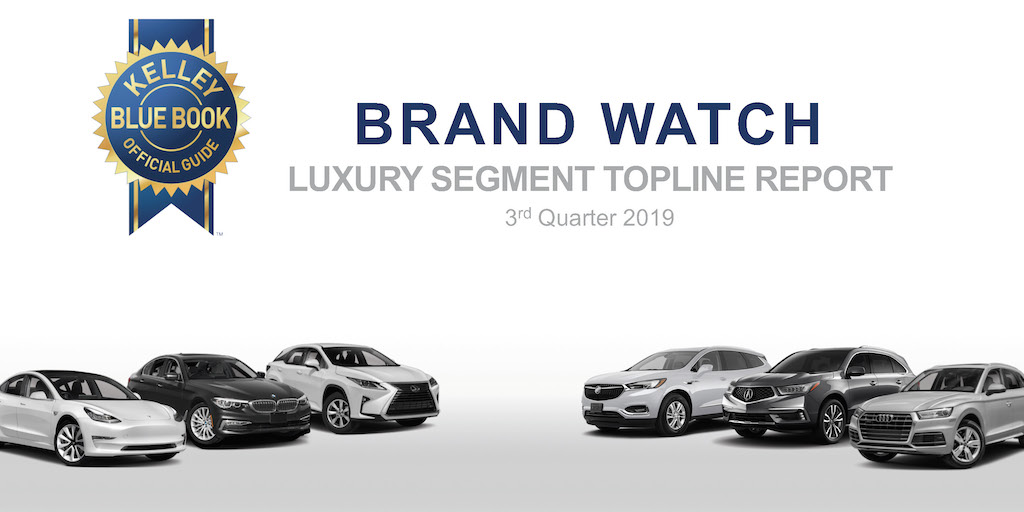 Q3 Kelley Blue Book Brand Watch - Luxury
Read the full report.
Download
Tags