Data Point
More Shoppers Consider Hybrids Than EVs, According to Kelley Blue Book
Wednesday March 1, 2023
Article Highlights
Toyota dominated shopping for electrified vehicles with its hybrids.
Tesla had only one model on the Top 10 most-shopped electrified list.
GM and Ford each had a model on the Top 10 list.
Shopping for electrified vehicles, which includes both hybrids and EVs, has stabilized, with almost 25% of new-vehicle shoppers considering an electrified model, according to the latest Kelley Blue Book Brand Watch™ report. However, when it comes to the specific type of electrified vehicle, hybrids seem to be more popular, with 18% of electrified shoppers considering a hybrid, compared to only 9% who were interested in EVs.
This could be due to a number of factors, including the higher price of EVs compared to hybrids, concerns over range anxiety, and limited charging infrastructure in certain areas. However, as EV technology continues to improve and more charging stations become available, it's likely that more consumers will begin to consider EVs as a viable option.
Overall Quarterly Consideration Trend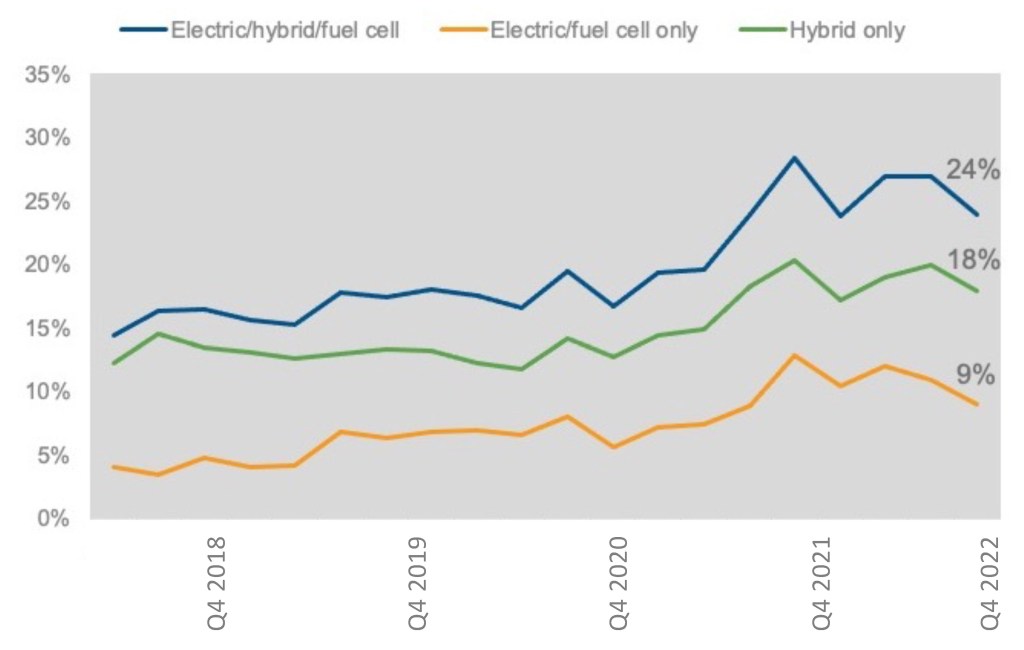 The Brand Watch report shows that hybrids from Toyota, followed by Honda, dominated consumer shopping for electrified vehicles in Q4 2022. Tesla, which has seen shopping consideration fall for two straight quarters though sales rose, had only one vehicle on the Top 10 most-shopped list. Ford lost some momentum also.
The Kelley Blue Book Brand Watch report is a consumer perception survey that also weaves in shopping behavior to determine how a brand or model stacks up with its segment competitors on a dozen factors key to a consumer's buying decision. Kelley Blue Book produces the quarter Brand Watch reports for non-luxury and luxury brands and assesses shopping for electrified vehicles.
Toyota Dominates Top 10 List of Most Shopped Electrified Vehicles
Toyota led the list of most-shopped electrified vehicles, all of them hybrids. Toyota RAV4 again was No. 1, followed by Toyota Highlander at No. 3, Toyota Camry at No. 6, Lexus RX at No. 9 and Toyota Prius at No. 10. Honda had two entries on the Top 10 list, the Honda CR-V at its usual place as No. 2 and the Accord at No. 5.
TOP 10 ELECTRIFIED MODELS CONSIDERED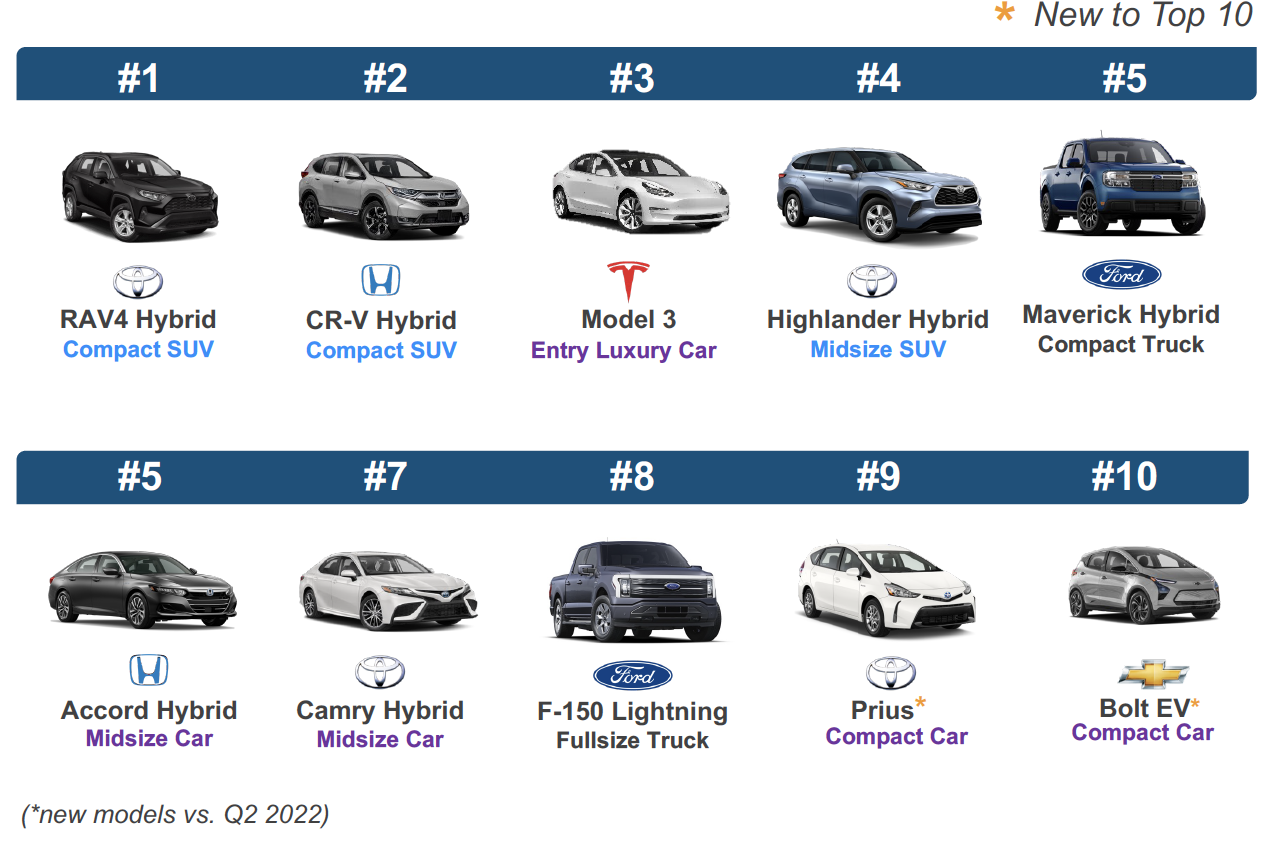 Only three fully electric vehicles were among the Top 10 most shopped electrified vehicles. They were the Chevrolet Bolt at No. 4, which had a price cut last fall, the Tesla Model 3 at No. 7 and the Ford F-150 Lightning at No. 8. Tesla's position may improve in the first quarter of this year after it cut prices in early January.
Two Fords – the Maverick pickup, which comes standard with a hybrid powertrain, and the F-150 Lightning – made the Top 10 list. The electric Mustang Mach-E didn't make the cut in the fourth quarter. That, too, could change, as Ford cut the price of the Mach-E in January to counter Tesla's price drops.
---
Michelle Krebs is the executive analyst at Cox Automotive.
Tags