Data Point
Never Waste a Crisis: Nissan Attacks Incentive Complexity
Wednesday November 11, 2020
Measured by sales, Nissan has had a pretty terrible year so far. Across their portfolio of cars, trucks and SUVs, there's hardly a bright spot, and at the end of the third quarter, Nissan sales were off 37.6% year to date. Enough said.

Companies can handle hard times in myriad ways. One option: Never waste a crisis, fix the foundation. In the past few years, Nissan has relied heavily on big incentives and fleet sales to hit unrealistic sales goals. Consumer cash, dealer cash, APR programs, stair-step incentives – Nissan has been throwing every tool possible to prop up their numbers. In doing so, Nissan has taught their consumers to buy the deal, not the product. It's a problem that needs fixing.
In a down year, it appears Nissan is taking steps to get their incentive addiction under control. Recently, Nissan's CEO told Automotive News that the company was "laser-focused on rebooting the U.S. business" and was working to emphasize quality, not quantity, when it comes to sales. The company is also working to improve fractured relationships with U.S. dealers. There's still work to do, but as Automotive News noted, one area the company is having success with is reducing incentive complexity.
The data bears that out. Over the past three years, we see a notable drop in the number of different incentive programs Nissan is offering each month. In fact, through October and along with General Motors and Subaru, Nissan stands out in 2020 in delivering among the largest monthly program volume reduction – down nearly 30% from their three-year average. Fewer programs, and fewer program changes in a given month, means less complexity at the dealer level.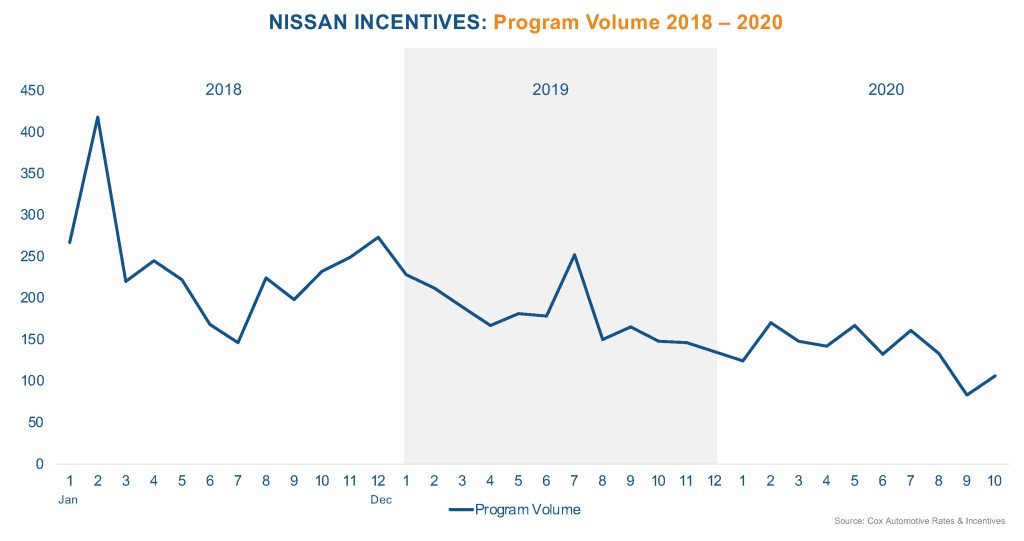 With fewer incentive programs, Nissan is also working to keep a lid on the value of the programs – the incentive spend per sale. And while Nissan's incentive spending is up slightly in 2020, the company actually reduced incentive spend in the U.S. in Q3, dropping 2.4% versus 2019 levels to $4,224. While Nissan may be improving, it's still far behind the poster child of incentive restraint: Honda, a company that routinely offers 60% fewer incentive programs in a given month than Nissan and, in Q3, spent half as much per sale.

But progress should be saluted. In a down year, we are sure Nissan dealers are glad to see incentive complexity drop as well.
Tags