Data Point
New-Vehicle Inventories Continue to Drop, Reach Record Low In May
Friday June 11, 2021
Article Highlights
Days' supply of unsold inventory fell to 35, a new low.
Listing prices soared to new highs of $40,000 plus.
Toyota, Lexus, Chevrolet, GMC had lowest inventories.
The auto industry entered June with historically low inventories of unsold new vehicles due to continued strong sales and further production disruptions caused mostly by the global computer chip shortage, according to a Cox Automotive analysis of the vAuto Available Inventory data.
---
$40,566
Average Listing Price
---
The total U.S. supply of available unsold new vehicles stood at 1.78 million units as the end of May approached, down from 2.24 million at the same time in April. Supply has been trending lower since mid-December. Inventory near the end of May was running 43% behind levels for the same period in 2020 and 54% below the same timeframe in 2019, according to a Cox Automotive analysis.
National Days' Supply By Brand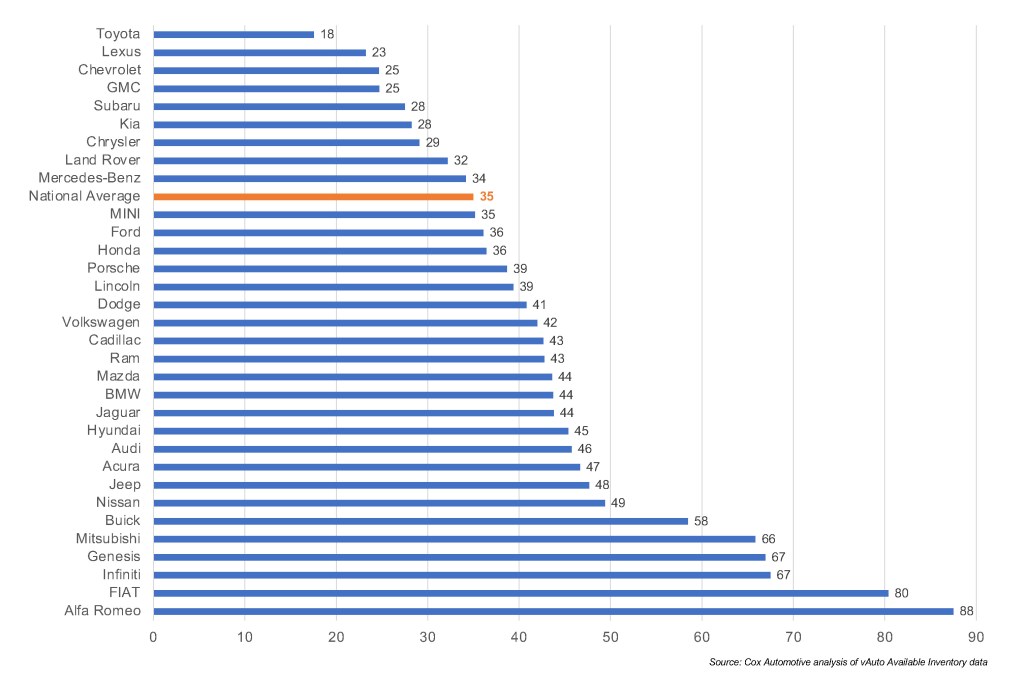 The decline in the days' supply was even more dramatic, falling to a record-low 35 days from 44 in the month-earlier period. Days' supply near the end of May was running 67% below the same period a year ago and 63% behind the same week in 2019.
Inventory of new non-luxury vehicles was down to 1.3 million vehicles for a 34 days' supply. That compares with 1.9 million vehicles for a 43 days' supply in the previous month. Days' supply of luxury vehicles was at 41, down from 49 in the same period in April.
The Cox Automotive days' supply is based on the daily sales rate for the most recent 30-day period. In May, new vehicle sales rose 41% over May 2020, putting the Seasonally Adjusted Annual Rate (SAAR) of sales at 17 million, well above May 2020's 12.1 million but down from April's 18.8 million and 17.3 million in May 2019.
"Supply was much lower in May than in April, but it is hard to say sales have been negatively impacted yet," said Charlie Chesbrough, Cox Automotive senior economist. "However, we expect that June's sales numbers to show less activity since dealers can't sell what they don't have."
While one question is how low can inventories go before sales are hurt, another question is how high can prices go.
Strong sales and further tightening of inventories resulted in even higher prices in May. As the month closed, the average listing price was $40,566, up from $39,633 for the same timeframe in April. Prices by end of May were running 5.5% ahead of 2020 and 10.3% ahead of 2019.
For luxury vehicles, the average listing price remained above the $60,000 mark, which it broke through for the first time in March and surpassed the $61,000 mark at $61,154, up from $60,691 a month earlier. The average listing price for non-luxury vehicles rose to $37,284, up from $36,477 a month earlier.
Incentives as a percentage of average transaction prices have been running at the lowest level since January 2015, according to Cox Automotive calculations.
Toyota, Lexus Had Lowest Inventories – Again
Yet again in May, Toyota and Lexus had the lowest day's supply among all brands at 18 days and 23 days, respectively. Despite low inventories, Toyota and Lexus have been maintaining sales and gaining market share.
Several Toyota models had less than 20 days' supply. They include volume leaders RAV4, Highlander, Corolla and Tacoma, which dominates the midsize truck market. The Toyota 4Runner SUV had only nine days' supply. The CH-R, which had production trimmed in Japan by the chip shortage, was at 14 days' supply. The new Sienna minivan was down to 13 days' supply. The new Venza was at 19 days' supply. Both the Sienna and Venza are hybrid only, and Toyota has dominated electrified sales.
Chevrolet and GMC had the next lowest inventories of mainstream brands, each with 25 days' supply. The Chevrolet Corvette, which has been beset with numerous production disruptions for parts shortages beyond chips, had the lowest inventory of any model at six days' supply. The Chevrolet Camaro, which has had a lengthy disruption in production, was down to 16 days' supply.
GM's relatively new full-size SUVs – Cadillac Escalade and Escalade ESV, Chevrolet Tahoe and Suburban and GMC Yukon and Yukon XL – each had under 20 days' supply. Same for Chevrolet Traverse and Trailblazer SUVs. Likewise, the full-size Chevrolet Silverado and GMC Sierra pickup trucks had less than 20 days' supply. On the bright side, GM re-started its Wentzville, Mo., plant, among others, which boosted the inventory of the midsize Chevrolet Colorado and GMC Canyon pickup trucks.
Similarly, Subaru's Indiana plant is back up and running and inventories improved, except for the popular CrossTrek, which had less than a 20 days' supply, the lowest of all Subaru models. In total, Subaru had a 28 days' supply, the next lowest after Toyota, Lexus, Chevrolet and GMC. Subaru always operates with one of the leanest inventories in the industry.
SUVs had lowest supply along with minivans
SUV and crossovers of all sizes and price categories had lower-than- average inventories as June opened. Full-size truck inventory also was lower than the industry average, due largely to GM's skimpy supplies.
Minivans had the absolute lowest, due largely to tight supplies of the Toyota Sienna, the Chrysler Pacifica. The plant in Windsor, Ont., Canada, that makes Chrysler minivans has been idled for months, drawing down the Pacifica's once bloated inventory to extremely low levels. The new Kia Carnival had only 21 days' supply as it is just being launched.
The popular Kia Telluride, a midsize SUV, again had very low inventory at 11 days' supply. In total, Kia had below-average inventory levels. The Telluride's cousin, the Hyundai Palisade, was at 24 days' supply.
In contrast, cars of all size and prices had higher than average inventories. Likewise, subcompact utilities of all price categories and alternative fuel models, including electric vehicles, had above average supplies.
Across the price spectrum, the days' supply ranged from 29 to 38. Above $60,000 had the lowest inventories.
---
More insights are available from Cox Automotive on new-vehicle inventory, using a 30-day rolling sales methodology to calculate days' supply.
Tags