Data Point
Still-Low New-Vehicle Inventory Closes July Higher Than Year-Ago Level
Thursday August 11, 2022
Article Highlights
New vehicle inventory was slightly higher at the end of July versus a year ago but remains low.
After retreating through June, the average new vehicle listing price climbed throughout July, reaching a record $46,440
Asian brands and small, fuel-efficient models have the lowest inventory.
Revised, Sept. 15, 2022 – New-vehicle inventory at the end of July was higher than it was a year ago, when the global computer chip shortage began hurting production, but supply remains low compared with pre-pandemic times, according to Cox Automotive's analysis of vAuto Available Inventory data.
---
1.09M
Total Inventory
as of July 25, 2022
$46,424
Average Listing Price
---
The total U.S. supply of available unsold new vehicles stood at 1.09 million units at the end of July, up 2%, or about 20,000 units, from the year before. Days' supply was 37. At the end of July 2021, when the sales pace was hot, the supply was 1.07 million vehicles for a days' supply of 29. As anticipated, the percentage and the raw volume difference in supply between this year turned positive.
"This marks the first time in 2022 that the new-vehicle supply has been higher compared with the same week last year. But this is not due to a big jump in inventory recently, but rather an indication of how bad it was last year," said Charlie Chesbrough, Cox Automotive senior economist. "Overall, new-vehicle inventory remains essentially unchanged from what it has been, and production is not catching up to demand yet."
The end-of-July available supply is down a bit from the revised end-of-June available supply of 1.12 million. Inventory has hovered in that range since the start of the year, though supply is far below levels of the past. In 2020, new vehicle inventory at the end of July was 2.55 million units for a days' supply of 66. At the same time, in pre-pandemic 2019, it was 3.69 million for a days' supply of 88. Days' supply in 2022 has been in the range of 35 to 38 since mid-January.
Days' Supply of Inventory by Segment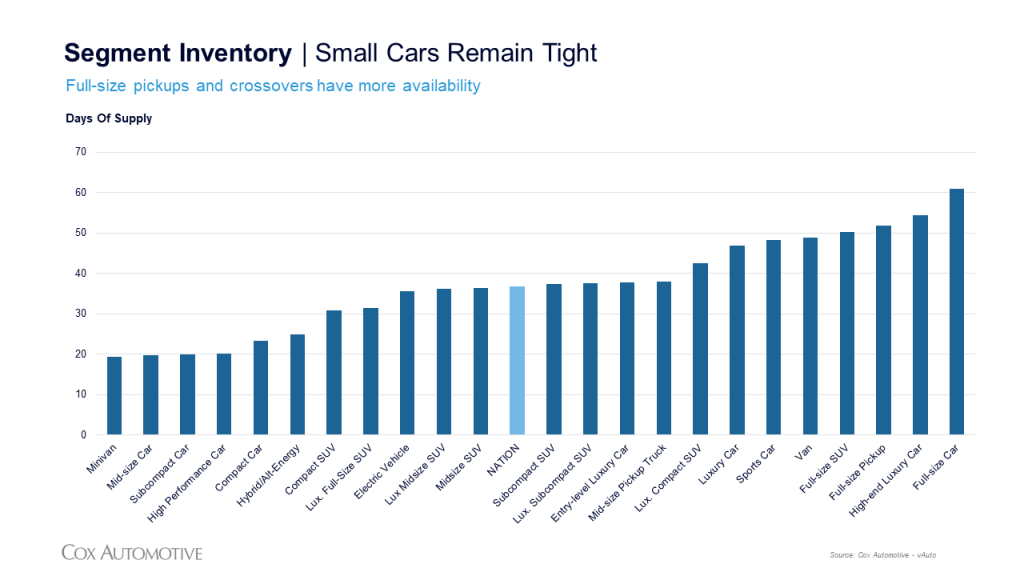 The Cox Automotive days' supply is based on the daily sales rate for the most recent 30-day period, in this case, ended July 25 for about 890,000 vehicles sold. For the calendar month of July, sales totaled 1.128 million, down 12% compared to July a year ago. This July's seasonally adjusted annual rate (SAAR) was 13.3 million, down from last year's 14.7 million but up a bit from June's 13.0 million.
Non-luxury inventory totaled 923,929 units entering August with a 38 days' supply. Luxury supply stood at 166,845 units for a 37 day's supply at the start of August.
Asking prices climb again
The average listing price – or the asking price – had begun to retreat slightly at the close of June but began climbing again throughout July. The average listing price was $46,424 at the end of July, above the revised $46,001 at the end of June. The listing price is running 11% above July a year ago when it was $41,837.
Prices are expected to remain elevated due to continued high demand, low inventory and record low incentives. In addition, luxury vehicles are accounting for a larger percentage of share of new-vehicle sales. In July, luxury share was 17.8%. Automakers still are prioritizing available computer chips to high-end, high-margin models instead of entry-level vehicles.
The average transaction price (ATP) – the price people paid – set another record in July, increasing to $48,182 after surpassing $48,000 for the first time in June, according to Kelley Blue Book, a Cox Automotive company. The July ATP rose .3%, or $139, from June and up 11.9% or $5,126 from July 2021.
Incentives in July averaged 2.4% of the average transaction price after falling to a record low of 2.3% in June.
According to Cox Automotive data, the average listing price for luxury vehicles was $64,956 at the end of July. The non-luxury average list price was $43,075 at the end of July.
Asian brands have lowest supply
Asian non-luxury brands and European luxury brands had the lowest inventories. Non-luxury brands with the lowest inventories were Kia, Toyota, Subaru, Honda and Hyundai. Luxury brands with the lowest inventories were Land Rover, Lexus, Acura, Porsche, and BMW.
Once again, Stellantis brands – Dodge, Ram, and Jeep – had the highest inventories. Luxury brands with high inventories were Volvo, Lincoln, and Infiniti.
Minivans had the lowest inventory among segments at the end of July. They were followed by midsize, subcompact and compact cars as well as hybrids, all of which are in big demand due to high gas prices. Large and luxury cars had the highest supply.
Of the 30 highest-selling models in the 30 days ended July 25, Toyota, Kia and Honda models dominated the low end of inventories. The lowest were Kia Forte, Sportage, and Telluride followed by Toyota Camry, Honda CR-V and Toyota Corolla. Of the 30 top-selling models, domestic trucks and SUVs had the most inventory. The Ram 1500 had a hefty 88 days' supply. Ford Explorer had 60 days of supply. Chevrolet Silverado and Ford F-150 also had relatively healthy inventory.
In terms of price categories, the lower the price, generally, the lower the supply. Price categories under $40,000 had supply of less than 30 days. The $40,000 to $50,000 category had a 37 days' supply. Higher price segments had 45 days' supply.
---
More insights are available from Cox Automotive on new-vehicle inventory, using a 30-day rolling sales methodology to calculate days' supply.
---
Michelle Krebs is executive analyst at Cox Automotive.
Tags