Data Point
New-Vehicle Inventory Down Slightly in July, While Production and Sales Remain Generally Balanced
Thursday August 10, 2023
Article Highlights
Active supply of new vehicles stood at 1.96 million at the end of July.
Average listing price remained above $47,000 at $47,048.
Heavier inventories led to richer incentives and robust sales.
New-vehicle inventory at the end of July was mostly unchanged from the end of June, as production and sales remained generally balanced through the month, according to Cox Automotive's analysis of vAuto Available Inventory data.
---
1.96M
Total Inventory
as of July 31, 2023
$47,048
Average Listing Price
---
The total U.S. supply of available unsold new vehicles stood at 1.96 million units at the end of July, down just slightly from a revised 1.98 million at the start of the month. Inventory numbers include vehicles available on dealer lots and some in transit. Supply was up 71% from a year ago, or more than 800,000 units higher, about the same as the month earlier.
Days of supply stood at 56 at the end of July, unchanged from a revised 56 at the start of the month. That was 39% higher than the same time a year ago. Historically, 60 days' supply across the industry was considered normal and ideal. While inventory has rebounded from 2021 and 2022 levels, it remains low by historical standards.
The Cox Automotive days' supply is based on the daily sales rate for the most recent 30-day period. Sales are up 24% from a year ago. For the full calendar month of July, total new-vehicle sales rose 15% over the previous year on top of a 23% increase in June. The seasonally adjusted annual rate (SAAR) in June and July was 15.7 million. The strength in July sales was again supported by strong sales growth to fleets, up 35% year-to-year.
New-Vehicle Prices Open August Above $47,000
The average listing price – or asking price – remained above $47,000, where it has been since April. As August opened, the average listing price was $47,048, down slightly from where the month started at $47,162. The average listing price was down 0.9% year over year.
In July, the average transaction price (ATP) – the price paid – rose a scant 0.4% from a year ago, the smallest year-over-year price increase in the last decade. According to Kelley Blue Book, the ATP of a new vehicle in July was $48,334, compared with $48,671 in June. Since the start of the year, transaction prices are down 2.7%, or $1,335, the largest January to July fall in the past decade.
Incentives increased for the tenth consecutive month in July to the highest level since October 2021, averaging $2,148 per vehicle, or 4.4% of the ATP. A year ago, incentives were only 2.4% of ATP.
As inventories improve, discounts and incentives are expected to increase.
EV Inventory Remains Well Above Industry Average
The inventory of new EVs, as measured by days' supply, fell slightly in July, dropping to 100 days from 103 days in June. The days' supply numbers exclude Tesla and Rivian, which sell direct to consumers and do not carry dealer stock. Only ultra-luxury vehicles and high-end luxury cars had more inventory.
Among the best-selling EVs, the Chevy Bolt – one of the most affordable EVs currently available – had the lowest days' supply, at less than 35 days. The BMW i4 also had a relatively low days' supply at the end of July, as did the Cadillac Lyriq, which has been slow to ramp up.
On the other end of the spectrum, many EVs had more than 100 days' supply, indicating that EV availability is rapidly increasing as automakers improve production capabilities. EVs from Hyundai, Kia and Nissan all have 100+ days' supply. Days' supply of the Ford F-150 Lightning in July was 74, lower than the non-EV version of the F-150. Mustang Mach-E days' supply was higher.
The higher days' supply is not necessarily an indication of weak demand but an expected part of EV growth as automakers ramp up production and expand offerings. Higher inventory levels are putting downward pressure on EV prices, which can increase sales. In July, the average transaction price paid for a new EV was nearly 20% lower than it was one year ago when EV prices peaked. The lower prices last month were mostly driven by significant price cuts at Tesla and an increase in Chevy Bolt sales compared to one year ago.
Inventory Varies by Brand and Price Points
Import non-luxury and luxury brands had the lowest inventories in July. The highest inventories for non-luxury brands were dominated by Stellantis' brands and a mix of foreign and domestic luxury makes.
After robust sales in June and July, Honda had the lowest new-vehicle inventory among all brands. Toyota, Kia and Subaru also had low supply, as did Lexus, Land Rover and Cadillac and Lexus among luxury brands.
JULY DAYS' SUPPLY OF INVENTORY BY BRAND
Not as many brands are below the average as supply builds above 100 for some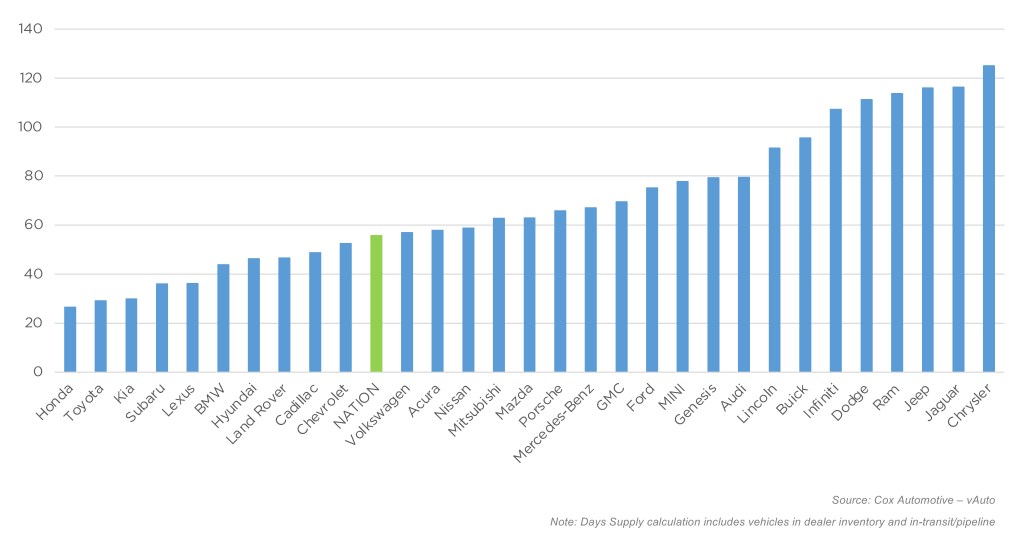 Luxury brands Infiniti and Buick had the highest inventory, with more than 80 days' supply. Non-luxury brands with the highest inventory were Stellantis brands – Ram, Jeep, Chrysler and Dodge, with more than 100 days' supply.
As has been the case for months, the higher price brackets had the beefiest supplies.
The $50,000 to $60,000 segment had the heftiest inventory, with 79 days' supply. At the opposite end of the price spectrum, vehicles under $20,000 had the least with 28 days' supply.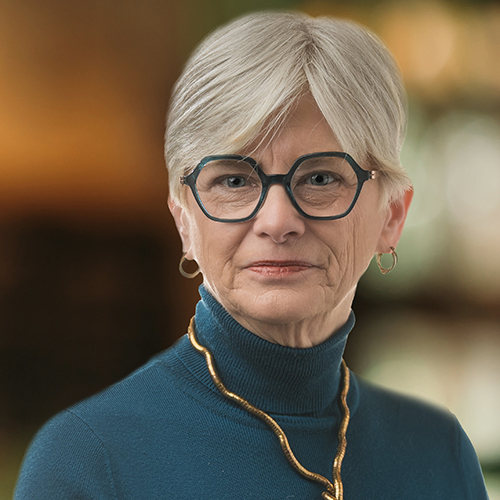 Michelle Krebs
Executive Analyst
Michelle Krebs is an automotive analyst and award-winning writer with over 35 years of experience covering the global auto industry. She has spent the last eight years providing analysis and insights on the auto industry using a trove of consumer and industry data from Cox Automotive and its brands including Autotrader and Kelley Blue Book.
Tags