Data Point
New-Vehicle Inventory Hits Two-Year High in May, Average Listing Price Dips
Thursday June 15, 2023
Article Highlights
Active supply of new vehicles climbed to 1.96 million in May.
Average listing price dipped to $47,135 by the end of May.
Heavier inventories led to richer incentives.
Revised, July 13, 2023 – New-vehicle inventory in May reached its highest level in two years, according to Cox Automotive's analysis of vAuto Available Inventory data, with a notable increase from the previous month. Days of supply increased due to a slight weakening in sales toward month-end. Despite a decline in the average listing price, it remained above $47,000.
---
1.96M
Total Inventory
as of May 29, 2023
$47,135
Average Listing Price
---
The total U.S. supply of available unsold new vehicles stood at 1.96 million units at the end of May, up from a revised 1.90 million at the end of April. Inventory numbers include vehicles available on dealer lots and some in transit. The close of May marked the highest level of supply since mid-April 2021. Supply was up 73% from a year ago, or 825,000 units higher.
Days of supply edged up to 55 at the end of May from an upwardly revised 54 at the end of April. That was 46% higher than the same time a year ago. Historically, 60 days' supply across the industry was considered normal and ideal.
The Cox Automotive days' supply is based on the daily sales rate for the most recent 30-day period that ended May 29, when 1.06 million vehicles were sold, up 11% from the same period in the previous year.
"The month of May ended on a slightly less positive note than when it started, suggesting some weakening of demand," said Charlie Chesbrough, Cox Automotive senior economist. "Sales for new vehicles began to decline near the end of the month, after rising throughout the month as supply continued to increase. That caused days of supply, which is based on active supply and the daily sales rate, to edge higher. Meantime, prices for new vehicles slipped, another indication of slightly weaker demand."
For the full calendar month of May, total new-vehicle sales jumped by 23% compared with the year earlier. Sales volume was roughly even with April. This May's seasonally adjusted annual rate (SAAR), or sales pace, was 15.0 million, again solidly beating analysts' forecasts. May's SAAR was up from last year's 12.6 million but down from April's surprisingly strong 16.1 million. As has been the case for the last several months, the strength in May was supported by strong growth of sales into fleets. The month also saw more leasing and discounts.
While inventory is up substantially from 2021 and 2022 levels, it remains low by historical standards. At the end of pre-pandemic, pre-chip shortage May 2020, the total supply was 2.99 million vehicles for a days' supply of 92. In May 2019, supply was 3.81 million vehicles for a 95 days' supply.
New-Vehicle Listing Prices Close May Lower Than the Month Started
The average listing price – or asking price – bumped around throughout the month of May, ultimately ending up below where it began. At the month's opening, the average listing price was $47,569. As the month closed, the average listing price dropped to $47,135. Still, the average listing price remains 4% higher than a year ago.
Meanwhile, the average transaction price (ATP) – the price paid – in May increased a scant 0.5% from April to $48,528, up $251, according to Kelley Blue Book, a Cox automotive company. Compared with a year ago, May ATPs were up 3% or $1,393. It was the smallest year-over-year increase in 2023. Incentives climbed to their highest level in the past year at 3.9% of the May ATP, averaging $1,914, the highest level in a year.
With some brands and segments experiencing excessive inventory and demand softening slightly, discounts and incentives will increase.
Inventory Varies by Brand, Segment, Price and Region
At the close of May, the industry had non-luxury vehicle inventory totaling 1.65 million vehicles, up from 1.61 million at the end of April, for a 54 days' supply. The inventory of luxury vehicles (excluding uber luxury ones) stood at 302,624, up from 291,520 at the end of April, for a 60 days' supply.
Import non-luxury and luxury brands had the lowest inventories. The highest inventories for non-luxury brands were dominated by Stellantis' brands and a mix of foreign and domestic luxury makes.
Non-luxury brands with the lowest inventory were Toyota, Honda and Kia, with under 30 days' supply, followed by Subaru, Hyundai and Chevrolet, all with below-industry average supply. Luxury brands at the low end were Lexus at 30 days of supply, followed by BMW, Land Rover, Cadillac and Porsche, all below the industry average.
Non-luxury brands with the highest inventory were mostly Stellantis brands – Jeep, at a stunning 155 days' supply, Ram, Chrysler and Dodge. Among luxury brands, Infiniti, Jaguar, Buick and Lincoln had the highest inventories.
MAY DAYS' SUPPLY OF INVENTORY BY BRAND
Many brands have returned to pre-COVID levels while others remain constrained.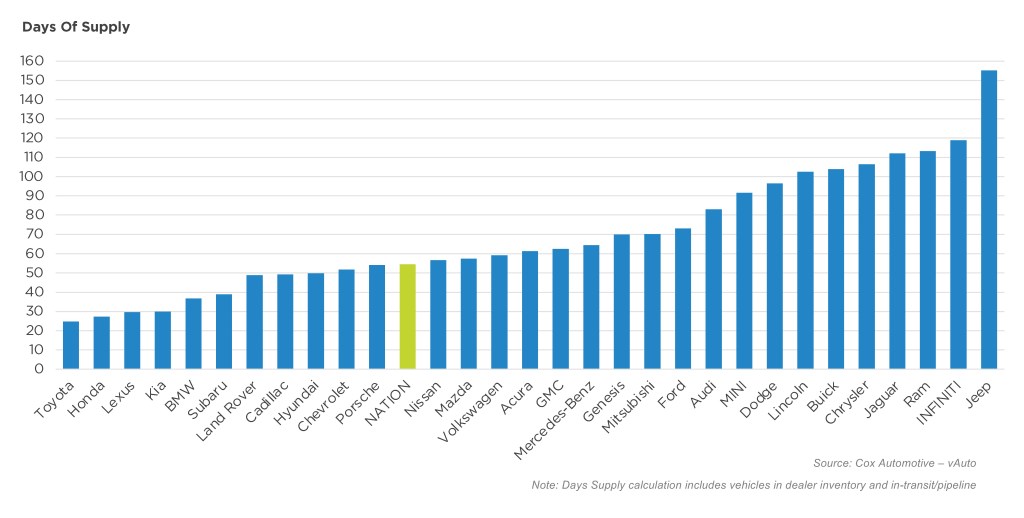 Aside from low-volume, high-performance cars, vehicles with the lowest days' supply were compact, midsize and subcompact cars, with below 40 days' supply, followed by compact SUVs and minivans.
Aside from niche uber luxury vehicles, segments with the highest supply were full-size cars and EVs, at more than 100 days' supply, followed by high-end luxury cars and full-size pickup trucks.
The $50,000 to $60,000 segment had the heftiest inventory, with 81 days' supply, followed by the $60,000 to $80,000 category, with 76 days' supply, and the $80,000-plus segment at 58 days' supply, just above average. The lower-price segments had the lowest inventory, with the under $20,000 group at a 21 days' supply.
Of the 30 best-sellers for the 30 days ended May 29, the bottom eight were all Toyota and Honda models. Toyota Corolla, Honda Civic and Toyota Highlander had the lowest, each with a 21 days' supply.
Of the 30 best-sellers for the 30 days that ended May 29, full-size pickup trucks and SUVs from the Detroit Three had the biggest supply. The Ford F-150 had the most at 104 days' supply. Ram 1500 was second with 102 days' supply.
By DMA, Florida DMAs, Cleveland, and Los Angeles generally had the lowest supply, while mostly northern ones had the highest. Specifically, Miami had the lowest inventory at 47 days' supply. Denver had the highest by a long shot, at 64 days' supply.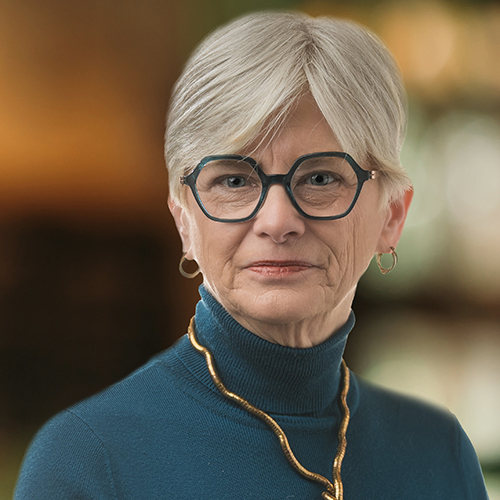 Michelle Krebs
Executive Analyst
Michelle Krebs is an automotive analyst and award-winning writer with over 35 years of experience covering the global auto industry. She has spent the last eight years providing analysis and insights on the auto industry using a trove of consumer and industry data from Cox Automotive and its brands including Autotrader and Kelley Blue Book.
Tags