Data Point
New-Vehicle Inventory Rebounds in October for Most Brands
Wednesday November 16, 2022
Revised, Dec. 14, 2022 – New-vehicle inventory closed October at its highest level since May 2021, and prices stayed high, according to Cox Automotive's analysis of vAuto Available Inventory data. Over the past three months, all but four major brands have seen an increase in inventory. The question is: Will demand keep up with supply?
"The supply situation in the new vehicle market has significantly improved over recent months," said Charlie Chesbrough, Cox Automotive senior economist. "But with interest rates rising, and consumer optimism falling, the key question now is whether buyers will be willing and able to buy."
---
1.55M
Total Inventory
as of Oct. 31, 2022
$46,277
Average Listing Price
---
The total U.S. supply of available unsold new vehicles stood at a downwardly revised 1.55 million units at the end of October, compared with a revised 1.32 million vehicles at the end of September. Days' supply climbed to an upwardly revised 50, the highest since May 2021, and compared with a revised 43 days' supply at the end of September.
Supply at month end was 78% higher, or 680,000 units, than at the end of October 2021. Days' supply was 70% higher than at the same time a year ago.
While inventory showed a significant bump, it remains low by historical standards. At the end of October 2020, supply stood at 2.59 million vehicles for a 65 days' supply. For pre-pandemic October 2019, supply hit 3.49 million vehicles for an 86 days' supply.
Closing October, the industry had non-luxury vehicle inventory totaling 1.32 million vehicles for a 49 days' supply. That was up from 1.12 million a month earlier for a 40 days' supply. Luxury supply stood at 222,469 vehicles for a 51 days' supply. That compares with a month earlier when it was just shy of 200,000 units for a 47 days' supply.
The Cox Automotive days' supply is based on the daily sales rate for the most recent 30-day period, in this case, ended October 31, when about 941,368 vehicles were sold. That was the highest for a 30-day period since May 2021. The official full-month sales rose 10% from a year ago for an October seasonally adjusted annual rate (SAAR) of 14.9 million, the highest since January.
Asian and European Brands Still Have Lowest Supply
Asian non-luxury brands and Japanese and European luxury brands continue to have the lowest inventories as measured by days' supply, according to Cox Automotive's analysis of vAuto Available Inventory data.
As measured by days of supply, non-luxury brands with the lowest inventories were Toyota, Kia, Honda and Subaru, respectively. Luxury brands with the lowest inventories were Lexus, Land Rover, Acura and BMW, in that order.
Aside from low-volume high-performance cars, minivans had the lowest supply followed by compact, subcompact and midsize cars, which are in high demand for their fuel efficiency in a market with elevated fuel prices. Hybrid supply remained at the low end as well.
At the high end of the supply range were large and luxury cars, luxury subcompact SUVs and full-size pickup trucks from domestic automakers.
October Days' Supply of Inventory by Segment
Small Cars Remain Tight, Big Pickups and Crossovers Have More Availability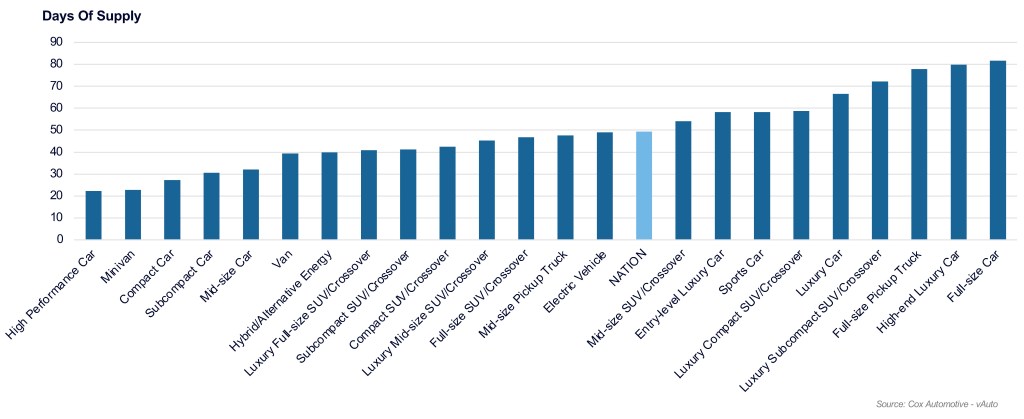 "Typically, the final quarter of the year is a brisk selling season for big trucks, but this year may be different," said Chesbrough. "A decline in housing starts, which correlates to truck sales, combined with high interest rates may stifle truck sales, which, in turn, could hurt profits, especially for domestic manufacturers. We may see incentives on those trucks as inventories return to pre-pandemic levels."
Of the 30 highest-selling models in the 30 days ended October 31, most were Asian brands, mostly Kia, Toyota, Honda and Subaru. A couple of domestic models – the Chevrolet Trailblazer and the Ford Bronco – fell to the low end this month. Kia Sportage and Toyota RAV 4 were at the very bottom with a scant 19 days' supply. Of the 30 top-selling models, full-size domestic pickup trucks and SUVs had the most inventory with Ram 1500 having the very most.
As has been the case for months, the lower the price category the tighter the supply. Under $20,000, days' supply was 24. Between $20,000 and $30,000, days' supply was 32. All other price categories had 50 days' supply and higher.
Rise in Asking Price Slows
The average listing price – or the asking price – was downwardly revised to $46,277 at the end of October, still up slightly from a revised $46,212 at the end of September, according to Cox Automotive's analysis of vAuto Available Inventory data. The listing price is running only 4% ahead of a year ago and remains elevated from years past.
The average transaction price (ATP) – or the price paid – increased to $48,281, but remained below the all-time high of $48,301 set in August, according to Kelley Blue Book, a Cox Automotive company.
Incentives remained stable in October 2022 at 2.1% of the average transaction price. One year ago in October 2021, incentives averaged 4.3% of ATP.
---
More insights are available from Cox Automotive on new-vehicle inventory, using a 30-day rolling sales methodology to calculate days' supply.
---
Michelle Krebs is executive analyst at Cox Automotive.
Tags