CAMIO
New-Vehicle Prices End 2022 at Record High
Wednesday June 7, 2023
The new-vehicle average transaction price (ATP) started 2022 at $46,620 and dipped down in the first quarter before beginning a steady climb upwards, according to data from Kelley Blue Book, a Cox Automotive company. The ATP of a new vehicle in the U.S. increased by almost 7% from January through December 2022, hitting a record high in December at $49,771, an increase of 5.5% ($2,595) from year-earlier levels.
While the 7% gain from January to December was slightly higher than the 5.8% average from 2017 to 2020, the year-over-year gain of 5.5% was significantly lower than the 14.2% year-over-year gain posted in December 2021. Overall, as inventory levels improved, price gains in the second half of 2022 began to moderate compared to the sizable increases experienced in late 2021 and the first half of 2022.
Low inventory levels driven by the chip shortage continued in the first half of 2022, causing cheaper subcompact, compact and mid-size vehicles to be in short supply. Automakers, instead, chose to focus on building higher-margin models, like full-size pickup trucks and large SUVs, thus inflating prices. Higher-priced luxury vehicles made up between 16% to 19% of sales during the year, well above historic norms, adding further to the price gains.
2022 Average Transaction Prices (New Vehicles)
Incentive spending dropped to an all-time low in 2022, starting at 3.9% of the average transaction price of a new vehicle in January but falling to a record low of 2.1% in September. Incentives trended upward in the final few months of the year as inventory improved, landing at 2.7% in December. Comparatively, in December 2019, before the pandemic and when inventory was plentiful, the average incentive package was 10.9% of ATP, according to Kelley Blue Book estimates. Electric vehicles, driven by Tesla, and the luxury car segment had the highest incentives in 2022, hovering between 4-6% of the ATP.
2022 Average Incentives (New Vehicles)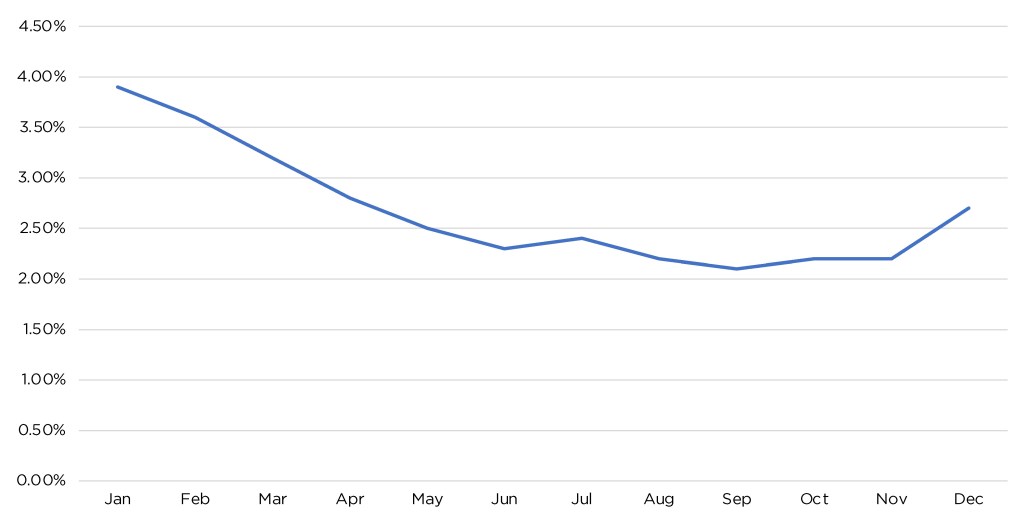 The average new vehicle listing price – the asking price – saw some stops and starts throughout 2022 but ended the year on an upward trajectory. The average listing price jumped to a record $47,566 at the end of December, according to Cox Automotive's analysis of vAuto Available Inventory data. The listing price increased 6% throughout 2022 and ended the year up 4% compared to December 2021. The average new vehicle listing price has risen as incentives hit historical lows and luxury vehicles, electric vehicles and fully-loaded vehicles hit the market.
2022 Average Listing Price (New Vehicles)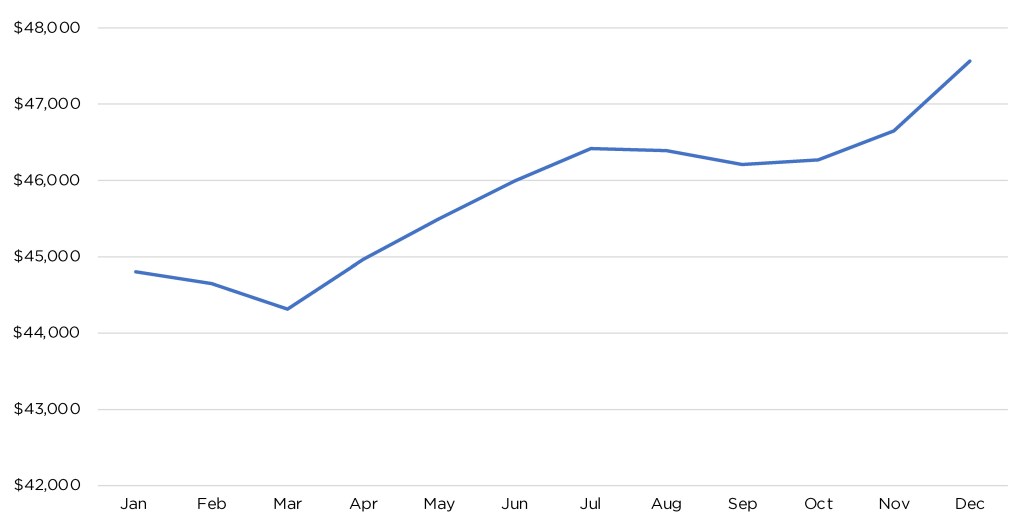 Regarding brands, Tesla saw a 6% ATP increase for the year, starting at $63,088 in January and ending at $66,817 in December. There was a decline in ATP in the fourth quarter of the year as Tesla began cutting prices on the Model S and Model Y. Ford saw a 13% price increase throughout 2022, with Ford brand vehicles priced at over $56,000 at the end of the year, driven by the popular Bronco and F-Series and the brand's electric vehicle offerings. Hyundai saw prices decline incrementally by 1%, while Kia prices were up 3%. Stellantis' high-performing Jeep brand saw average transaction prices increase by almost 11%, while Ram saw prices decline. GM's cash cow, Chevrolet, saw prices rise nearly 4%. Toyota saw an almost 2% increase, and its sister brand, Lexus, was up only 0.4%. Other luxury brands saw price increases in 2022 – BMW was up nearly 10%, Genesis was up 4% and Mercedes was up 2%.
The Outlook: Tesla price cuts put downward pressure on overall market prices, but Cox Automotive believes the market will still see rising ATP and listing prices throughout the year. More EV sales and fewer cars will help increase average overall prices. And although incentives will continue rising from historically low levels, massive discounting seems unlikely as long as inventory remains in check.