Data Point
CPO Sales Drop 20% in November
Thursday December 10, 2020
Sales of certified pre-owned (CPO) vehicles declined 21% year over year in November with 3 less selling days and were down 20% month over month compared to October, reflecting a normalizing market coming off of a resilient performance in the summer and fall months. For November, 186,861 CPO units were sold.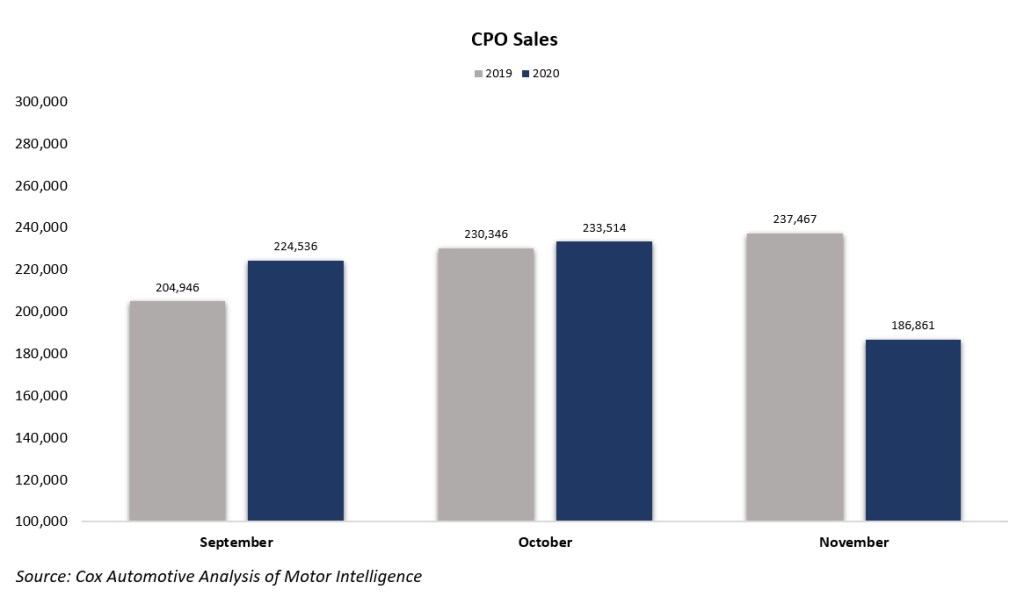 The CPO market has been one of the strongest performing segments within the auto retail market despite November seeing the lowest sales volume since April 2020. The impact on the CPO market in November can be attributed to a combination of factors including, seasonality, the ongoing pandemic, broader economic conditions and supply/demand.
CPO sales are down 8% year to date versus the same time in 2019 while total used market is estimated to be down between 9-10% for the same period. Through November, the CPO market is down more than 190,000 units below last year. The revised 2020 Cox Automotive CPO sales forecast, which is subject to change, is 2.6 million units, down from 2.8 million sold in 2019.
In November, Toyota, Honda and Chevy continued to be the biggest players in the CPO market, collectively representing a third of all CPO sales. Those three plus Ford and Nissan account for 45% of CPO sales this past month. Last year, Toyota, Honda and Chevy accounted for 31% of November CPO sales reflecting that brands are maintaining consistent CPO sales share this year compared to 2019.
According to Cox Automotive estimates, total used vehicle sales volume was down 10.3% year over year in November. We estimate the November used SAAR to be 37.0 million, down from 39.7 million last November and down compared to October's 38 million rate. The November used retail SAAR estimate is 19.6 million, down from 20.7 million last year and down month over month from October's 20.2 million rate.
Tags