Data Point
Fleet Sales Drop in October for First Time This Year
Tuesday November 7, 2023
In October, sales into large rental, commercial, and government fleets declined compared to the previous year. An analysis of Bobit's data by Cox Automotive revealed that there was a 10.4% drop in sales to large fleets (excluding dealer and manufacturer fleets) in October, with 162,590 units sold. In addition, sales to commercial fleets decreased by 21.0%, while rental fleets experienced a 7.1% drop. However, sales to government fleets increased by 31.1%.
According to Cox Automotive Senior Economist Charlie Chesbrough, "Fleet sales experienced the first drop this year, as a result of the UAW strike that took down a significant portion of the Detroit Three volume. However, it seems that retail sales picked up slightly. Our shopping data suggests some buyers came into the market early in October as the strike was getting underway, hopeful to buy before inventories dried up and prices climbed further."
October 2023 Fleet Sales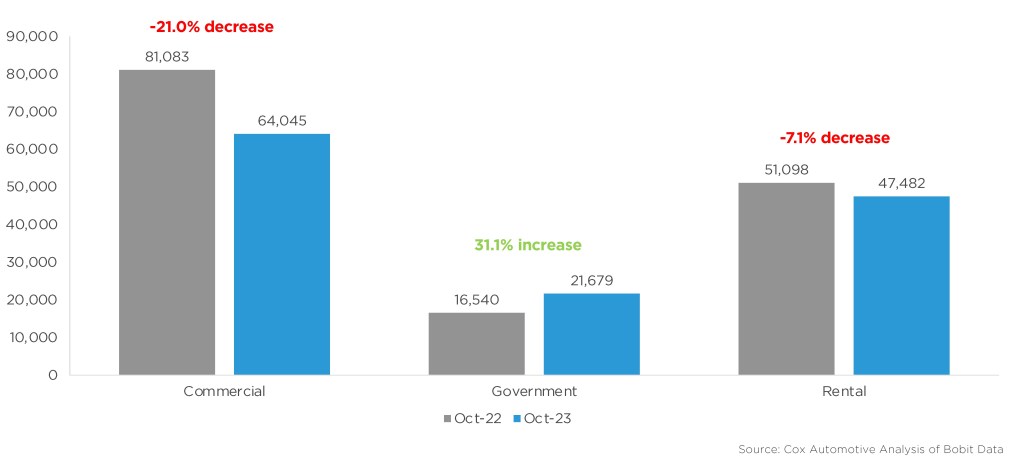 Nissan had the largest increase in sales into fleet of large-volume automakers in October, and Ford had the largest decrease.
Fleet Sales Lagged Retail in October
Including an estimate for fleet deliveries into dealer and manufacturer channels, the remaining retail sales were estimated to be up 3.3%, leading to an estimated retail seasonally adjusted annual rate (SAAR) of 13.4 million, up 0.9 million from last year's 12.5 million pace, and up 0.5 million from last month's 12.9 million pace. The fleet market share was estimated to be 13.5% in October, down from last year's 15% share and down 0.3% from September's 13.8% market share.
Tags