Data Point
Dealership Service Ticket Volume and Revenue Increase in October, According to Xtime Metrics
Monday November 20, 2023
According to a recent analysis by Cox Automotive of Xtime metrics, service activity at franchised dealerships in the U.S. increased in October, following a dip in September. The Repair Order Volume Index decreased compared to the previous year, the Repair Order Revenue Index remained higher than in October 2022.
"The October service metrics from Xtime show no effects of the UAW strike," said Skyler Chadwick, director of Product Consulting for Cox Automotive. "This indicates that dealers should be optimistic about leveraging seasonal service appointment opportunities."
The monthly Xtime volume and revenue metrics are designed to showcase average service department performance over time, with the information indexed to January 2019. The two top-line measures provide a glimpse into service department performance at franchised dealerships in the U.S. Xtime, a Cox Automotive brand, provides software that helps auto dealers facilitate more than 10 million service appointments monthly.
In October, the Repair Order Volume Index increased to 85.7, up 2.9% from September and down 2.7% from October last year. This is the lowest October repair order volume in the past five years.
Xtime Repair Order Volume Index for October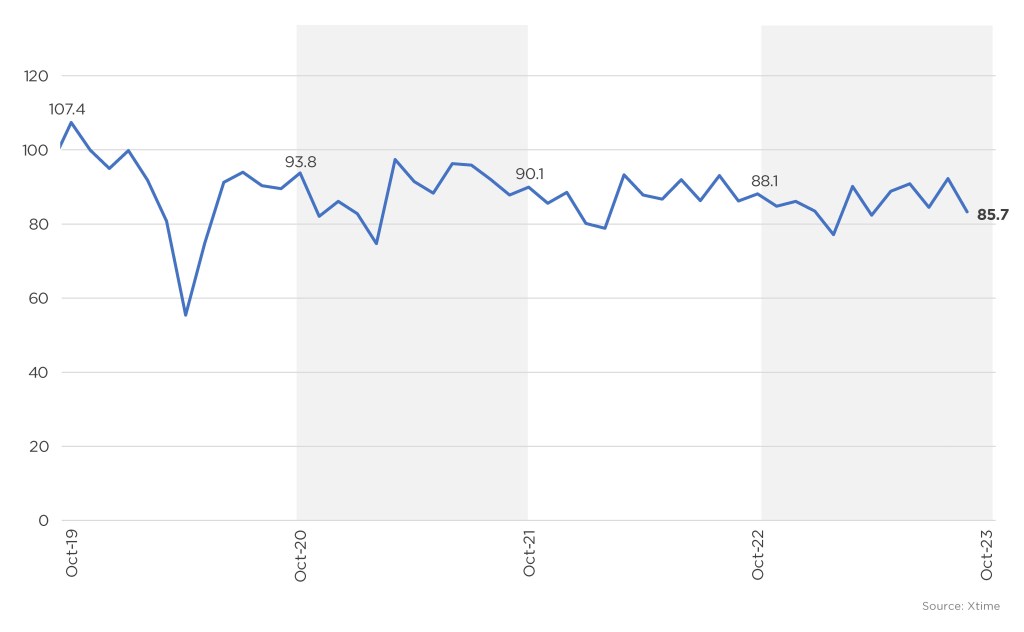 The Repair Order Revenue Index for October is at 134.6, reflecting a 0.6% increased from the revised reading in September. This index shows a 3.4% increase year over year and a significant 32.8% increase from October 2019.
Xtime Repair Order Revenue Index for October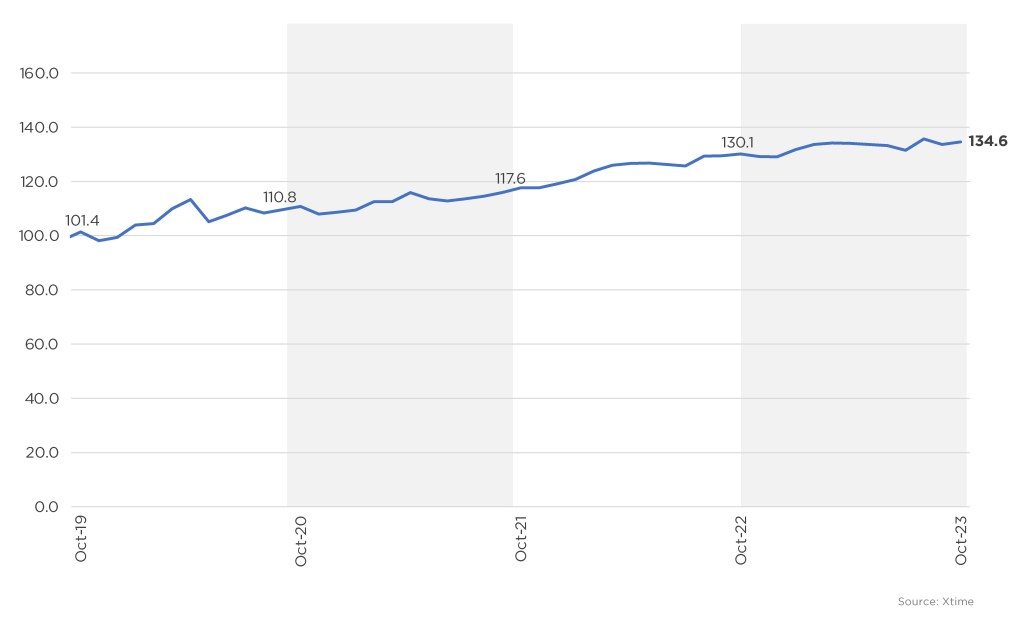 Cox Automotive Industry Insights, with help from the Xtime data team, reports the Repair Order Volume Index and Repair Order Revenue Index around the 20th of each month. For more information, reach out to the Cox Automotive Public Relations team.
---
Xtime is the leading end-to-end software solution that drives customer loyalty and revenue for automotive dealers in each stage of the service process. With easy-to-use technology and industry experts, Xtime helps dealers meet changing customer expectations. As an advanced, connected solution that provides exceptional support, Xtime is committed to helping dealers deliver the ultimate service experience. Through transparency, convenience, and trust, Xtime Spectrum — comprised of Schedule, Engage, Inspect, and Invite — facilitates more than ten million service appointments monthly. Xtime is a Cox Automotive™ brand.
Tags