Commentary & Voices
Q1 2020 Kelley Blue Book Brand Watch Report: No. 1 BMW Widens Lead; Luxury SUV Shopping Stays at Peak Levels
Thursday May 21, 2020
Article Highlights
No. 1 BMW widens its lead as most considered luxury brand.
Luxury SUV shopping stays at peak levels.
Luxury car shopping slumps again.
BMW widened the gap with its competitors, continuing its reign as No. 1 most considered luxury brand by consumers, a position it has held for the past three years, despite some close calls, according to the Kelley Blue Book Brand Watch Report for Q1 2020.
The Brand Watch Report is a consumer perception survey that also weaves in consumer shopping behavior to determine how a brand or model stacks up with its segment competitors on a dozen factors key to a consumer's buying decision. Kelley Blue Book produces a separate Brand Watch Report for non-luxury and luxury brands each quarter.
BMW widens the gap with Audi, Lexus
BMW gained shopping consideration as a brand. The entry-luxury 3 Series sedan, supported by conquest and loyalty lease specials offered in the quarter, moved up three ranks in shopping consideration. The X5 SUV climbed as well. BMW also garnered buzz with the launch of the new 2 Series and changes, albeit minor ones, with its 5 Series.
Audi and Lexus maintained their spots immediately behind BMW in the quarter. However, Lexus' shopping consideration dipped from 2019's Q4 and below Audi's, due to lower consideration for Lexus' volume-leading RX SUV. Audi held onto its share of new luxury vehicle prospects, despite declining interest in the Q5 SUV.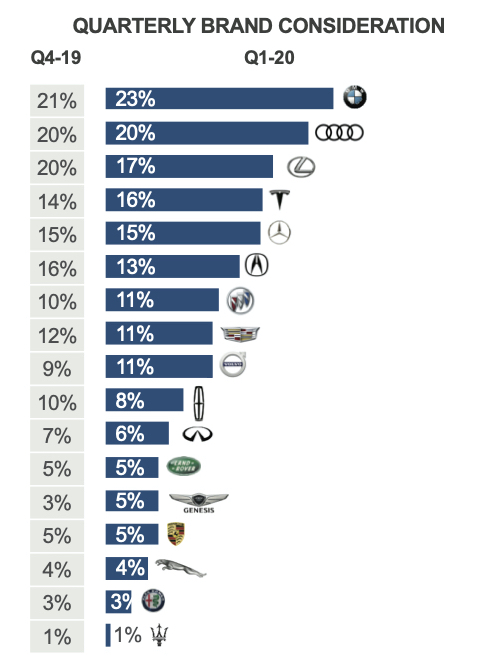 Tesla broke into the top 5 for most considered luxury brands, edging past Mercedes-Benz. Despite a dip in its shopping consideration, the Model 3 maintained its hold on the No. 1 shopped luxury vehicle, a spot it has held for four consecutive quarters.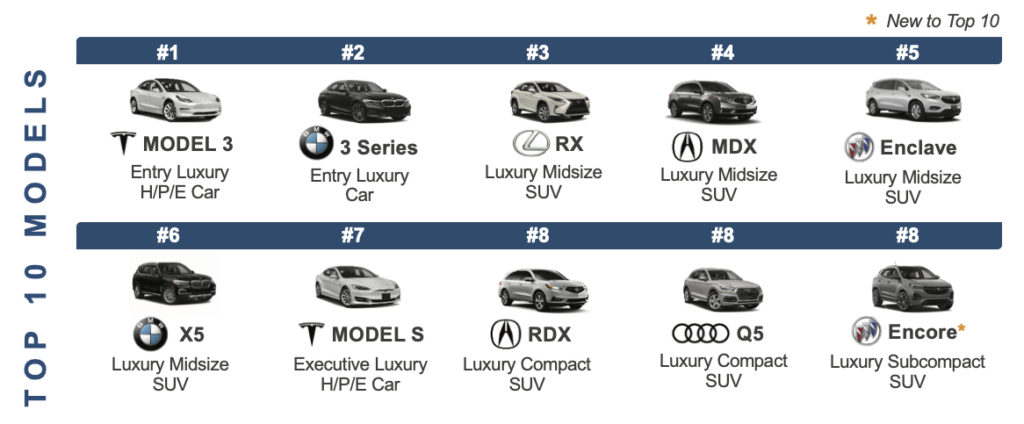 Tesla also got a boost from the Model Y crossover being launched and the publicity around its Cybertruck.
Genesis brand continued its positive momentum, moving up two ranks to 13th place, driven by G70 and G80 consideration and attention for the refreshed G90.
Acura has been on a roller-coaster in the past couple of years. Consideration for its models has been slowing down, particularly for the high-volume RDX and MDX. Acura was scheduled to unveil a new MDX at the Detroit auto show in June, but the show was cancelled. Acura hasn't indicated its plans about the MDX. A new TLX also is set for arrival later this year.
Luxury SUV consideration remains at peak level
Luxury SUV consideration held steady at its peak level. Of new luxury vehicle shoppers, 64% considered an SUV. That was the same level as Q4 2019 but up from the year-ago first quarter. SUV shopping was driven by interest in luxury midsize and compact SUVs. Luxury subcompact SUVs also gained interest compared with a year ago. Of the top 10 most shopped luxury vehicles, seven were SUVs.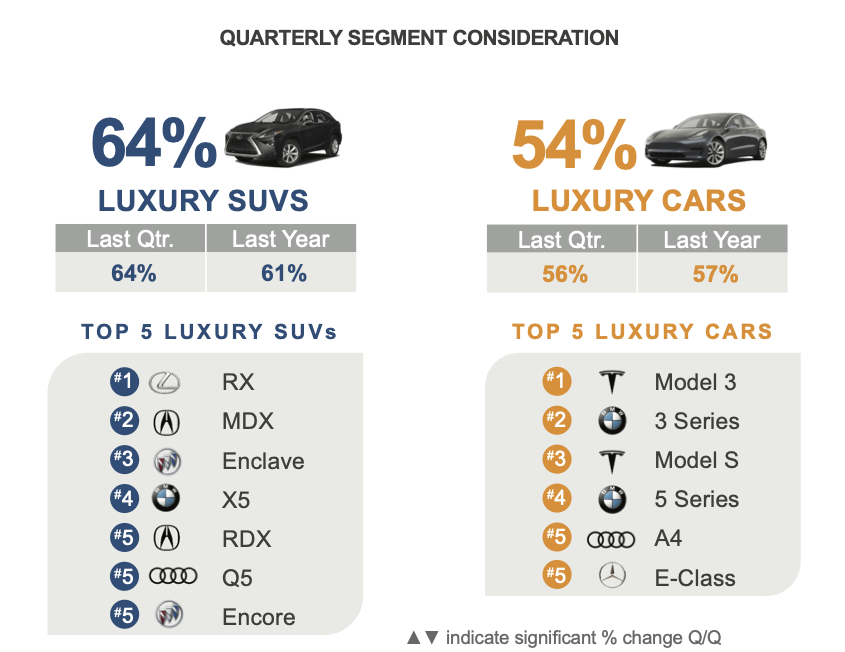 Lexus RX, despite lower consideration, regained its spot as most-considered luxury SUV, thanks to Acura MDX dropping from that perch. RX incentives were nearly double those of the aged MDX in the quarter.
The Buick brand is in transition, discontinuing the cars in its line to focus only on SUVs. The Buick Enclave and Encore, a new entrant in the top 10 most considered, helped catapult Buick's consideration. Both SUVs were supported with competitive lease specials and marketing efforts, providing consumers with premium, affordable options.
Still, consideration didn't translate to sales in the quarter. Slow sales have led to an overabundance of inventory of both models. GM has tapped the brakes on production of the South Korea-built Encore, along with other GM models made there, to adjust.
Tesla Model Y generated healthy consideration ahead of its launch. It made its debut on Brand Watch in the No. 9 spot of most considered luxury SUVs.
Luxury car consideration retreats again
Consideration for luxury cars is retreating, especially for the luxury midsize car segment. Only 54% of new, luxury vehicle shoppers considered a car, down from the previous quarter and a year ago.
Luxury cars are buoyed by Tesla and BMW, which dominate the luxury car segments. Each have two models in the top 5 most considered luxury cars. Audi and Mercedes-Benz tied for the No. 5 spot.
The Audi A4, which is redesigned next year, climbed four spots and is back to the top 5 after being absent in the last two quarters. The A4 was supported by a captive lease and cash incentives.
Tesla slips in what's important to shoppers
The top five of 12 rankings among the factors that luxury shoppers consider most important remained mostly consistent from the past quarter. Affordability climbed to 8th place from 7th. Technology jumped to 8th most important from 10th.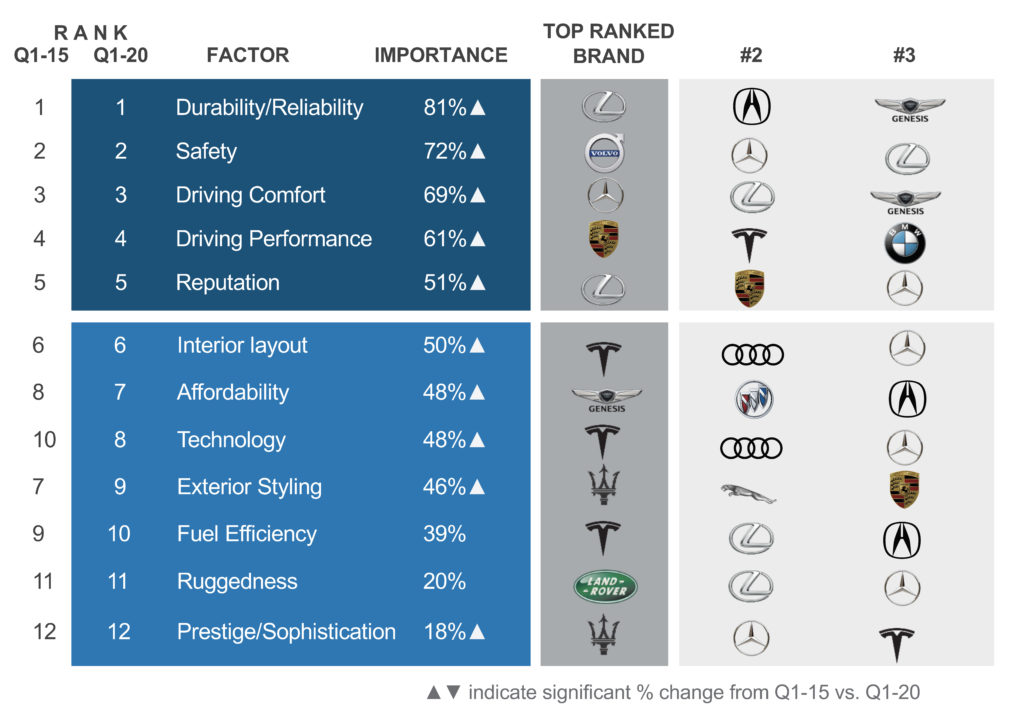 Tesla lost its stranglehold on No. 1 rankings. In the 2019 fourth quarter and for over much of the recent past, Tesla held half of the No. 1 spots in the dozen factors important to luxury shoppers.
Based on that 2019 performance, Tesla, in its first year of eligibility in the annual Kelley Blue Book Brand Image Awards, won in five categories: Best Overall Luxury Brand; Best Value Brand; Most Refined Brand; Best Performance Brand; and Best Car Styling Brand. Lexus held on to the top brand for durability/reliability and reputation, which helped it win the 2020 KBB Brand Image Award for Most Trusted Brand.
However, in the first quarter of this year, Tesla held only three of those top spots – for Interior Layout, Technology and Fuel Efficiency. It lost the top spot in Performance to Porsche, fell to No. 3 in Prestige/Sophistication and fell out of the top 3 altogether for Driving Comfort.
In the first quarter of 2020, Mercedes Benz reclaimed its lead in Driving Comfort after a three-year absence. After two years, Porsche returned to the top spot for Performance with the launch of the new 911, Cayenne Coupe and the Macan Turbo.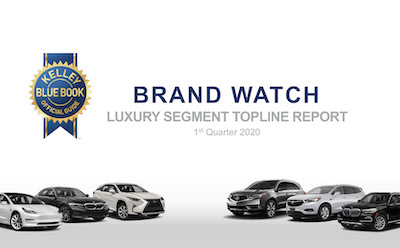 Download Q1 2020 Kelley Blue Book Brand Watch - Luxury
Read the full report.
Download