Commentary & Voices
Q1 2023 Kelley Blue Book Brand Watch Luxury Report: SUV Shopping Hit Record High; Cars Slumped to New Low
Wednesday May 17, 2023
Article Highlights
Luxury SUV shopping set a record high, while luxury cars reached a new low.
BMW remained the most-shopped luxury brand; Buick shifted into high gear with its luxury SUVs.
Cadillac captured four top honors in the most important factors to luxury shoppers.
Almost three-quarters of luxury vehicle shoppers considered an SUV in the first quarter, according to the Kelley Blue Book Brand Watch™ report for the first quarter of 2023. The new high came at the expense of luxury cars, for which shopping consideration slumped to a new low.
The Kelley Blue Book Brand Watch report is a consumer perception survey that also weaves in shopping behavior to determine how a brand or model stacks up with its segment competitors on a dozen factors key to a consumer's buying decision. Kelley Blue Book produces the quarterly Brand Watch reports for non-luxury and luxury brands and assesses shopping for electrified vehicles.
Luxury SUV Shopping Set Record High; Luxury Cars a New Low
Of luxury shoppers, a hefty 73% considered a luxury SUV. That was a five-percentage point gain from the fourth quarter of 2022 and the year-ago first quarter.
Meantime, shopping for luxury cars slumped to a new low. Only 45% of luxury vehicle shoppers considered a car, down six percentage points from the fourth quarter of 2022 and the year-ago first quarter.
Quarterly Segment Consideration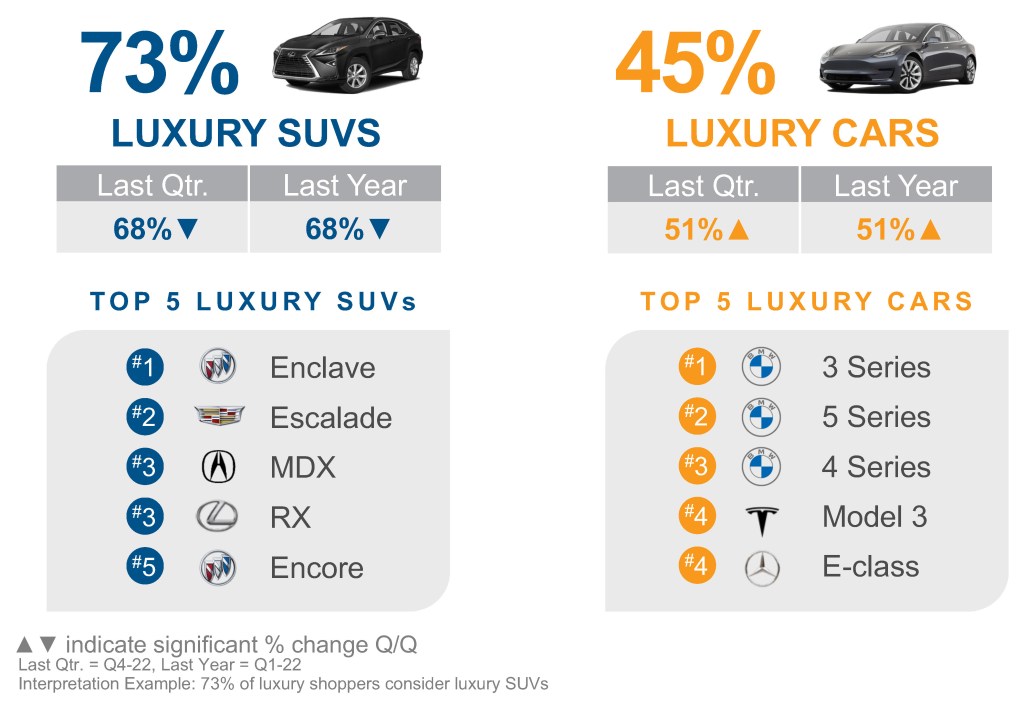 Five and six percentage points represent huge swings when normally, one or two percentage points are worth noting.
Shopping for Buick SUVs, particularly the Enclave and Encore, boosted the luxury SUV segment. For the second straight quarter, the Enclave was the most-shopped luxury SUV. The Encore catapulted to No. 5 among the most-shopped luxury SUVs, knocking the BMW X5 off the list. Cadillac Escalade filled in the Top 5 list at No. 2, and Acura MDX and Lexus RX tied for No. 3.
Luxury SUV shopping likely will continue the momentum with the introduction of new models, including the Buick Envista, the 2024 Volvo SC90 and EX90 and a new Acura ZDX, the brand's first EV.
Luxury cars have seen an overabundance of supply even throughout the chip shortage. Week after week, they have among the highest inventories of any vehicle segment. Interest in them is waning, and incentives may be required to move bloated stocks.
Shopping consideration for the BMW 3 Series, 5 Series and 4 Series fell, but they still held onto the top three spots of most-shopped luxury cars. It was the first time the 4 Series made the Top 5 list. The list was rounded out by the Tesla Model 3 and Mercedes-Benz E-Class, which is gaining traction with its redesign and hybrid option. The E-Class edged out the Cadillac CT5 and Acura TLX on the Top 5 list.
As a result of the surge in shopping, eight SUVs dominated the Top 10 most-shopped list for all luxury vehicles. The Top 5 – Buick Enclave, Cadillac Escalade, Acura MDX, Lexus RX and Buick Encore – were all SUVs. The BMW X3 (No. 8) and Buick Envision (tied at No. 10) made the Top 10 list for the first time. Tesla Model Y rounded out the list tied at No. 10.
Top 10 Models Considered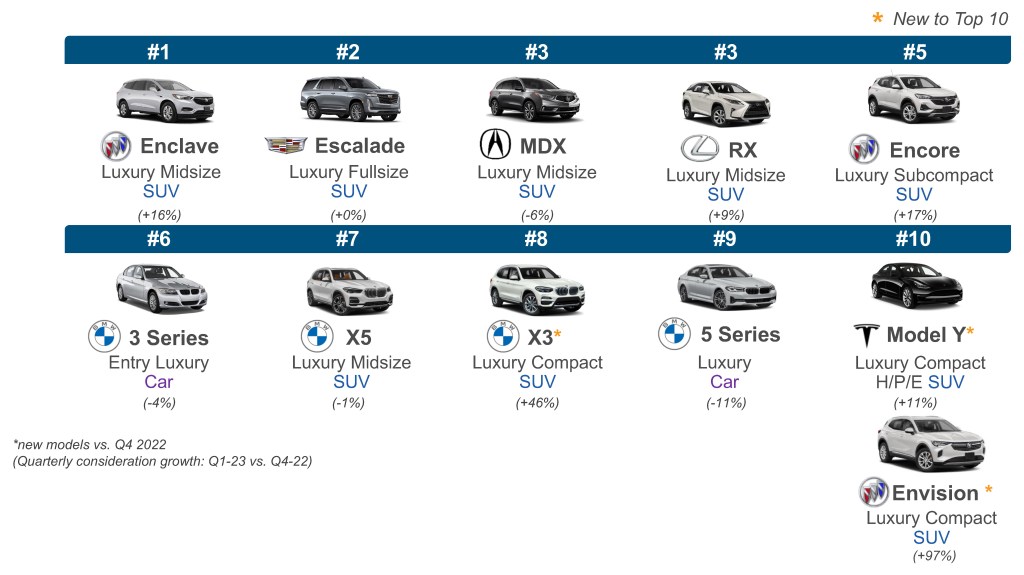 The only cars to hit the Top 10 were the BMW 3 Series (at No. 6) and BMW 5 Series (No. 9).
By brand, BMW and Buick dominated the Top 10.
BMW Remained the Most-Shopped Luxury Brand; Buick Shifted Into High Gear
BMW remained the most-shopped luxury brand in the first quarter. Of all luxury shoppers, 22% considered a BMW model, the same as last quarter. BMW widened the gap with competitors because of lower shopping for Lexus and Cadillac.
Lexus lost one point of market share at 18% of all luxury shoppers. The LS and RX Hybrid, in short supply, declined. Cadillac dropped 2 percentage points in shopping due to weaker consideration for the CT5 and CT4.
Quarterly Brand Consideration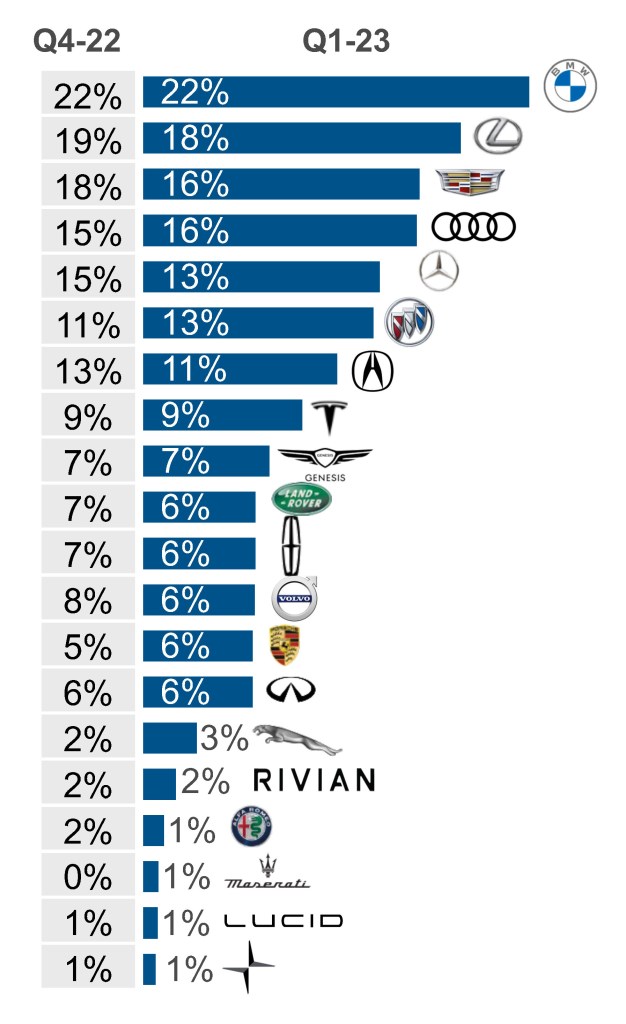 Audi gained a percentage point quarter to quarter, putting it on par with Cadillac's shopping consideration at 16%. Of Audi's 16 models, 11 posted gains in consideration.
Buick was the biggest gainer, climbing 2 percentage points from the fourth quarter of 2022 to the first quarter of 2023 to 13% of luxury shoppers considering the brand. In total, Buick has gained 5 percentage points, or 60%, since 2021.
Buick surpassed Acura in shopping consideration for the first time since 2015. Acura fell 2 percentage points in consideration in the first quarter due to declining consideration for the TLX. Acura will shortly introduce the 2024 ZDX and ZDX Type S, both EVs.
Other gainers were Porsche, with seven of its nine models posting increases in consideration. Jaguar eked out a percentage-point gain.
Mercedes-Benz dropped 2 percentage points, putting it on par with Buick's shopping consideration. Of Mercedes' 18 models, 11 experienced declines.
Volvo lost 2 percentage points of shopping. Land Rover, Lincoln, Alfa Romeo and Maserati each declined by a single percentage point.
Tesla, the industry's top-selling luxury brand in Q1, held at 9% of all luxury shoppers considering the brand. Genesis and Infiniti also held steady.
Newcomer Rivian remained at 2% of all luxury shoppers. Lucid and Polestar also held at 1% of all luxury shoppers.
Cadillac Captures Four Top Honors in Important Factors to Shoppers
In the dozen factors most important to luxury vehicle shoppers, Cadillac took top honors in four categories: Driving Comfort, Interior Layout, Exterior Styling and Prestige/Sophistication. The quarter marked the first time Cadillac ranked first in the Prestige/Sophistication factor. The brand placed second for Ruggedness and third for Affordability and Technology.
Acura took back the No. 1 spot for Durability/Reliability for the first time since Q1 2022 and captured the No. 2 and No. 3 spots in seven other categories. The brand placed second in Safety, Affordability Reputation, Interior Layout and Fuel Efficiency and third for Exterior Styling and Ruggedness.
Factors Driving Luxury Consideration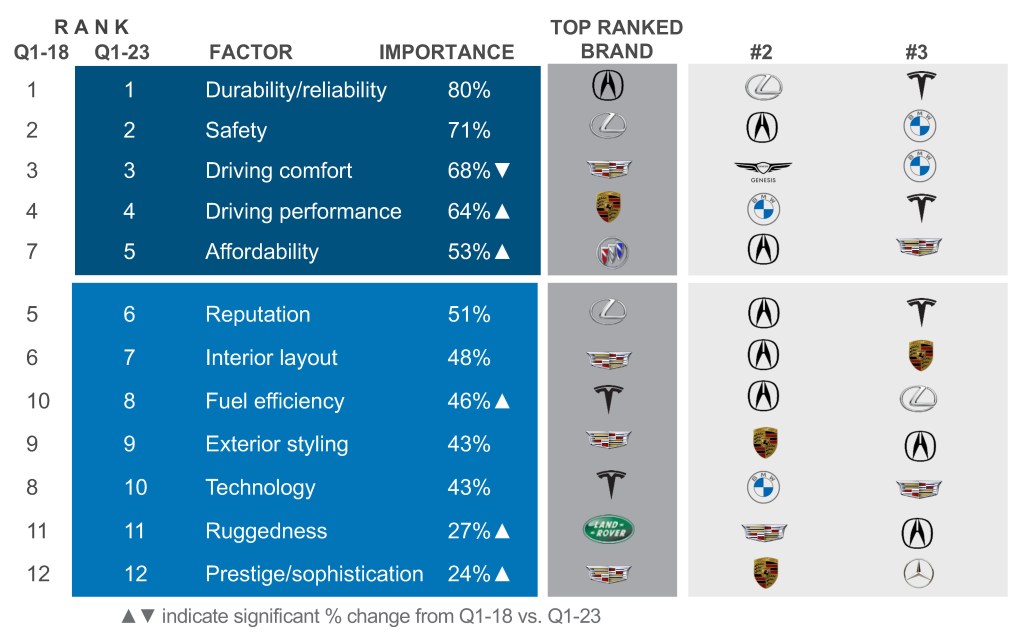 After being top-rated in most categories in 2019, Tesla has gradually lost ground to other luxury automakers. In the latest report, Tesla held onto the top spots for Fuel Efficiency and Technology. Tesla placed third for Durability/Reliability, Driving Performance and Reputation.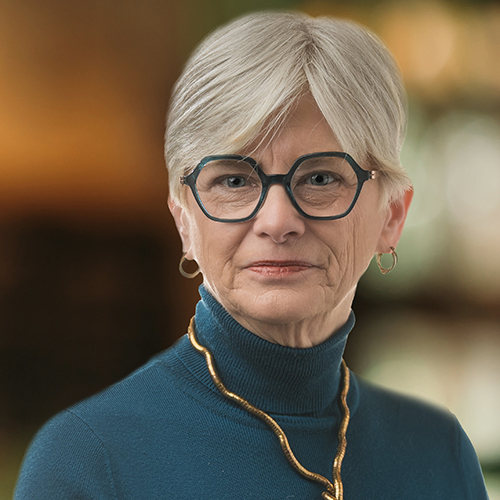 Michelle Krebs
Executive Analyst
Michelle Krebs is an automotive analyst and award-winning writer with over 35 years of experience covering the global auto industry. She has spent the last eight years providing analysis and insights on the auto industry using a trove of consumer and industry data from Cox Automotive and its brands including Autotrader and Kelley Blue Book.
Tags