Commentary & Voices
Q2 2022 Kelley Blue Book Brand Watch: Tesla and Toyota Dominate the Most-Shopped List of Electrified Vehicles
Thursday August 18, 2022
Article Highlights
Shopping for electrified vehicles rebounded from Q1; one-in-four shoppers considered an EV or hybrid.
Tesla dominated EVs; Toyota had the most hybrids.
Ford's electrified pickup trucks make the Top 10 most-shopped list.
Shopping for electrified vehicles rose in the second quarter due to high gas prices and more selection of EVs and hybrids on the market, according to the most recent Kelley Blue Book Brand Watch™ report. One in four shoppers considered an electrified vehicle, the report showed.
The Kelley Blue Book Brand Watch Report is a consumer perception survey that also weaves in shopping behavior to determine how a brand or model stacks up with its segment competitors on a dozen factors key to a consumer's buying decision. Kelley Blue Book produces separate Brand Watch reports for non-luxury and luxury brands each quarter. Beginning in Q1 2022, the methodology includes surveying both mobile and desktop users instead of only desktop users.
Of all vehicle shoppers in the second quarter, 27% considered an electrified vehicle, almost returning to record levels. Among them, 19% considered a hybrid or a plug-in hybrid; 12% considered an EV.
Consumers shopped for and bought electrified vehicles in big numbers in the second quarter. Overall vehicle sales fell more than 20% in the quarter, but sales of electrified vehicles hit an all-time record, jumping 13% to nearly 443,000 units, according to Kelley Blue Book estimates.
The increase came from EV sales, which were up 66%, almost reaching 200,000 units. Hybrid sales slipped due to inventory shortages. Hybrids ranked at or near the bottom for supply throughout the second quarter.
Most-Shopped Electrified Vehicles are Rich Mix
Six hybrids and four EVs were on the Top 10 most-shopped list for electrified vehicles, according to the Q2 2022 Kelley Blue Book Brand Watch report. The list included four SUVs, four cars and two pickup trucks, both from Ford. Toyota and Tesla had the most models on the Top 10 list, each with three entries.
QUARTERLY TOP CONSIDERED ELECTRIFIED MODELS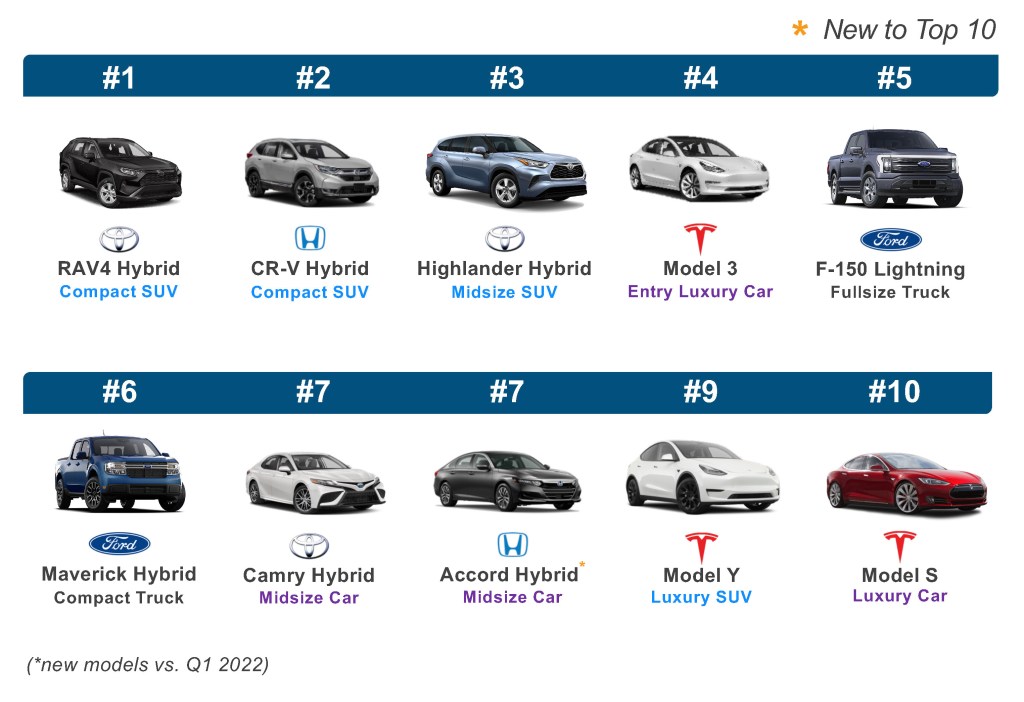 All Toyota models on the list were hybrids. The RAV4 once again was the most-shopped electrified vehicle. While it has been the most shopped for months, the RAV4 hybrid has consistently been near the bottom when it comes to supply availability. Highlander and Camry hybrids also made the Top 10 list at No. 3 and No. 7 (tied with Honda Accord), respectively. Toyota began offering its first EV this spring, the 2023 Toyota bZ4X. However, the EV is under recall and a stop-sale order because of concerns that the wheels could fall off. Toyota is offering owners make-goods, from free loaner cars until their recalled vehicle can be fixed to buybacks.
As always, Tesla models dominated EV shopping with the Model 3 at No. 4, Model Y at No. 9 and Model S at No. 10. Tesla also was top in EV and luxury vehicle sales in the quarter.
Ford and Honda rounded out the Top 10 list with two models each. Honda's CR-V hybrid ranked No. 2, and Accord hybrid tied with Camry for No. 7. Honda's hybrids are also in short supply. The next-generation CR-V is arriving this year, with the hybrid to follow in 2023. The Accord also undergoes a major redesign for the 2023 model year. The hybrid version is expected to be launched a few months after the gas-powered one.
Ford had both trucks on the list, one an EV and one a hybrid. The electric Ford F-150 Lightning, which just went on sale in March, ranked No. 5 in shopping. The Ford Maverick, which comes standard as a hybrid and is available with an optional gas engine, ranked No. 6 among shoppers.
---
Michelle Krebs is executive analyst at Cox Automotive.
Tags