Commentary & Voices
Q3 2022 Kelley Blue Book Brand Watch Luxury Report: Tesla Shopping Plummets; BMW Remains No. 1 Luxury Brand
Tuesday November 8, 2022
Article Highlights
BMW widened its lead as the most-shopped luxury brand.
Tesla Model Y and Model S fell off the Top 10 most-shopped list.
Mercedes-Benz took the most top honors in factors important to shoppers.
Shopping for Tesla plummeted in the third quarter, losing more consideration than any other luxury brand, according to the Kelley Blue Book Brand Watch™ report for luxury vehicles. BMW widened its lead as the most-shopped luxury brand.
The Kelley Blue Book Brand Watch report is a consumer perception survey that also weaves in consumer shopping behavior to determine how a brand or model stacks up with its segment competitors on a dozen factors key to a consumer's buying decision. Kelley Blue Book produces quarterly Brand Watch reports for non-luxury and luxury brands and assesses shopping for electrified vehicles. Beginning in Q1 2022, the methodology includes surveying both mobile and desktop users instead of only desktop users.
Tesla fell to sixth from fifth in the rankings of most-shopped luxury brands. In the quarter, 12% of all luxury shoppers considered a Tesla, down 3 percentage points – the largest quarter-over-quarter loss for any luxury brand. Shopping consideration for the Model 3 sedan declined by 10% from the second quarter. The newest Tesla, the Model Y, fell off the Top 10 most-shopped luxury list, a first in two years, along with Tesla's oldest vehicle, the Model S.
Quarterly Brand Consideration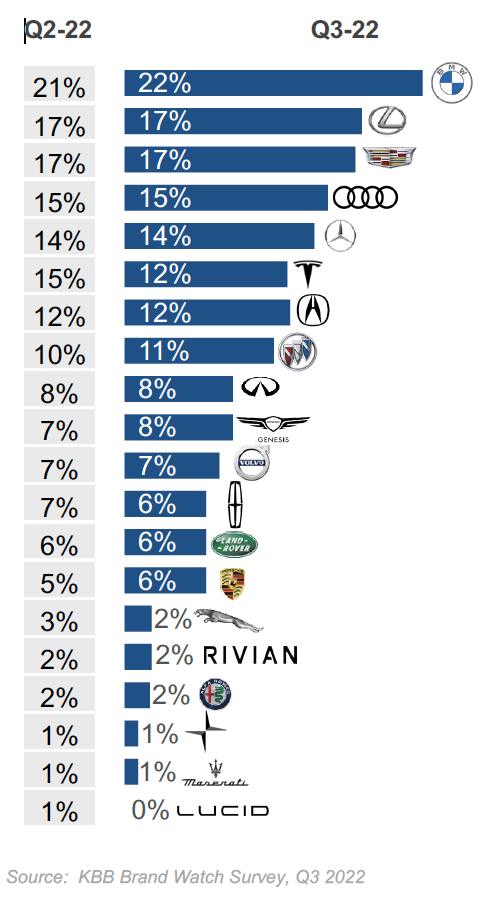 Intensifying competition from other automakers now offering electric vehicles, price hikes and lack of new products when the market is being barraged with new EVs may be causes of Tesla's cool down. CEO Elon Musk's controversial $44-billion acquisition of Twitter and provocative political comments may also have contributed to Tesla's drop.
However, Tesla's shopping numbers have fallen before and immediately rebounded. Many Tesla owners do not shop and research products on popular shopping sites like Kelley Blue Book and instead go right out and buy a Tesla. In Q3, by sales volume, Tesla was the top luxury automaker in the U.S. market.
BMW Stays No. 1; Lexus Ekes Past Cadillac
BMW slightly widened its lead as the No. 1 most-shopped luxury brand, with 22% of luxury shoppers considering the brand, up 1 percentage point. BMW dominated the Top 10 list of most-shopped luxury vehicles with three models – 3 Series, 5 Series and X5.
Lexus, Cadillac, Audi and Mercedes-Benz, in that order, ranked behind BMW as the most-shopped brands – all ahead of Tesla and all with the same percentage of shopping consideration as they had in the second quarter.
Second place is where the battle is taking place. Lexus and Cadillac have fought for second place in the last three quarters. Lexus marginally beat Cadillac in the second quarter, landing the No. 2 spot, a position it has held since the year-ago third quarter. Consideration for the new RX, its volume leader, gave the brand a boost in the third quarter. Additionally, shopping for the Cadillac Escalade and CT5 softened a bit, helping Lexus edge out Cadillac.
Other brands gaining shopping consideration were Buick, Genesis and Porsche.
New EV luxury brands are gaining shoppers. Rivian held at 2% shopping consideration among luxury buyers, the same as last quarter and matching long-established brands like Jaguar and Alfa Romeo. Polestar showed up with 1%. Lucid slipped to under 1%.
Aside from Tesla and Lucid, the only other luxury brands to lose shopping consideration were Lincoln and Jaguar, each losing a percentage point.
Cadillac Escalade, Again, the Most Shopped Luxury Vehicle
Despite some softening in consideration, Cadillac Escalade remained the No. 1 most-shopped luxury vehicle for the third straight quarter.
Indeed, shopping for luxury SUVs dominated again, with 67% of luxury vehicle shoppers considering an SUV. Six SUVs dominated the Top 10 most-shopped luxury vehicles. The Lexus RX and BMW X5 re-joined the Top 10 in the quarter. The Top 5 most-shopped SUVs were, in order, Escalade, Buick Enclave, Acura MDX, Buick Encore and Lexus RX.
Top 10 Models Considered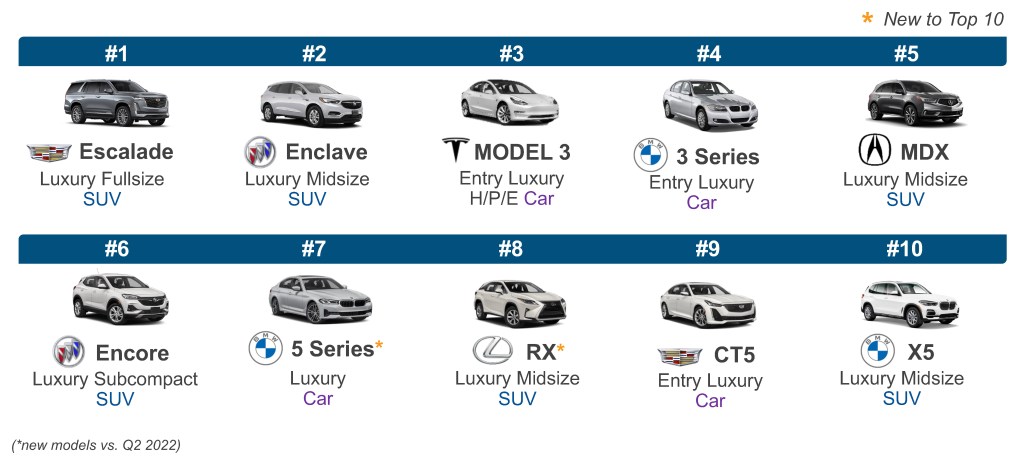 Shopping for luxury cars slipped only slightly in the quarter and remained well ahead of a year ago due in part to higher gas prices and SUV inventory shortages. Of luxury shoppers, 53% considered a luxury car, down one percentage point from the second quarter when gas prices soared but still higher than 49% in the year-ago quarter.
Quarterly Segment Consideration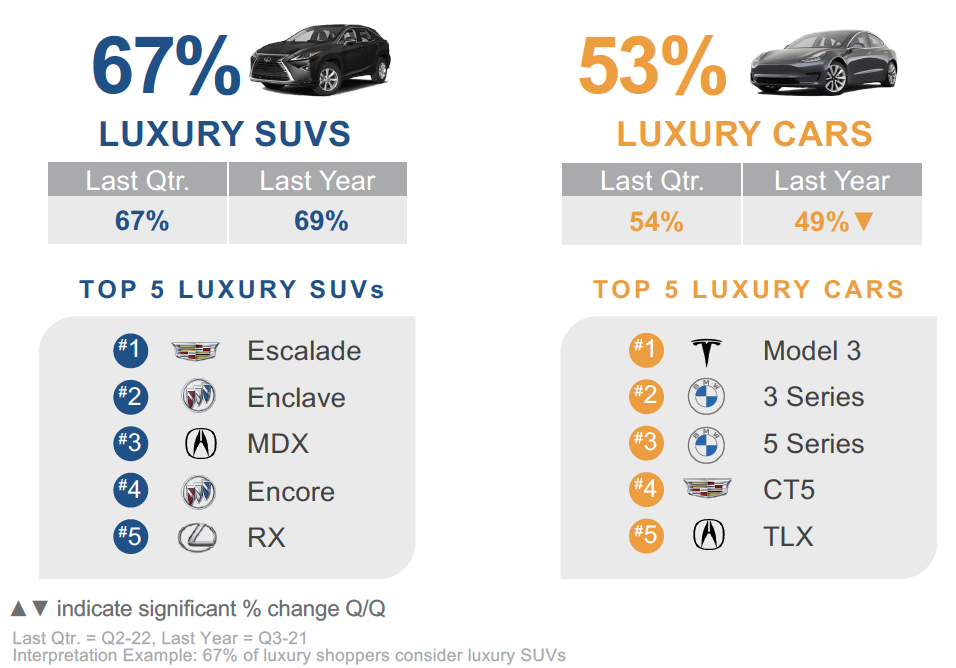 Of luxury cars only, Tesla Model 3 was the most shopped, followed by the BMW 3 Series and 5 Series. Cadillac CT5 was next, and the Acura TLX returned to the list for the first time in a year.
By brand, BMW had three models on the Top 10 list. Cadillac had two – the Escalade and the CT5. Buick had two as well – the Enclave and Encore. Acura with the MDX, Lexus with RX and Tesla with the Model 3 each had one.
Mercedes-Benz Takes Top Honors in the Factors Most Important to Shoppers
Of the dozen factors most important to luxury vehicle shoppers, Fuel Efficiency has become increasingly important along with Driving Performance, Affordability, Technology, Ruggedness and Prestige/Sophistication. Durability/Reliability and Safety remain No. 1 and No. 2, respectively, by a wide margin for both luxury and non-luxury buyers.
Mercedes-Benz took top honors in five factors, the most of any luxury brand. Mercedes was No. 1 in Safety again after having overtaken that long-held spot from Volvo in the second quarter. Mercedes also took the top spots for Driving Comfort, Reputation – a first since Q4 2014 – Interior Layout and Prestige/Sophistication on. Its new line-up of the EQE, EQS and GLC spotlights sophistication and technology.
Factors Driving Luxury Consideration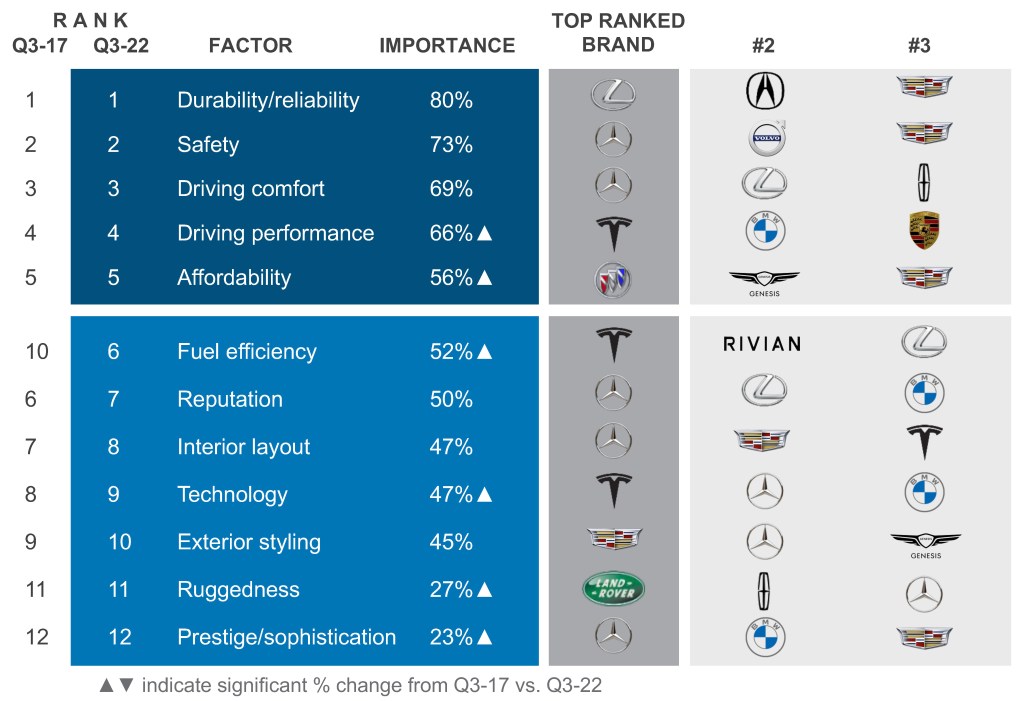 Mercedes successfully challenged Porsche, which had received top honors in five categories in the second quarter. In the third quarter, Porsche placed No. 3 in Driving Performance, its most important brand pillar, but it was the only spot that Porsche captured among the top three among the dozen factors.
Cadillac edged out Porsche for Exterior Styling taking the top honors in this category for the first time ever. Cadillac also took four third-place spots.
Tesla had the second most top honors, first in Driving Performance, Fuel Efficiency and Technology. It was third in Interior Layout. Newcomer EV maker Rivian ranked No. 2 in Fuel Efficiency.
---
Michelle Krebs is the executive analyst at Cox Automotive.
Tags