Commentary & Voices
Q4 2019 Kelley Blue Book Brand Watch Report: BMW Remains No. 1, But Its Grip Is Slipping
Tuesday February 25, 2020
Article Highlights
Tesla Model 3 remains most-shopped luxury vehicle.
Gap between luxury car, SUV shopping widens most in 2 years.
Acura, Audi, Lincoln, Cadillac rose.
BMW has been the most-shopped luxury vehicle brand for more than a year, but its once-tight grip on the No. 1 spot is slipping, according to Kelley Blue Book Brand Watch™ Report for Q4 2019. The recent decline is attributed to fading interest in cars and other luxury vehicle brands, including Audi and Tesla, gaining on the German brand.
The Kelley Blue Book Brand Watch Report is a consumer perception survey that also weaves in consumer shopping behavior to determine how a brand or model stacks up with its segment competitors on a dozen factors key to a consumer's buying decision. Kelley Blue Book produces a separate Brand Watch Report for non-luxury and luxury brands each quarter.
BMW had a banner sales year in 2019, beating Mercedes-Benz for the luxury sales crown. BMW executives are even more optimistic for 2020 with a dozen new products coming and an increase in marketing spend.
BMW was the most-shopped luxury vehicle brand again in Q4 2019, but shopping consideration slipped. In Q4 2019, 21% of all luxury vehicle shoppers considered a BMW. That was down from 24% in the previous quarter, according to the Q4 Kelley Blue Book Brand Watch Report. Nipping at BMW's heels were Audi, which saw shopping consideration edge higher to 20% in Q4 from Q3, and Lexus, which held steady at 20%.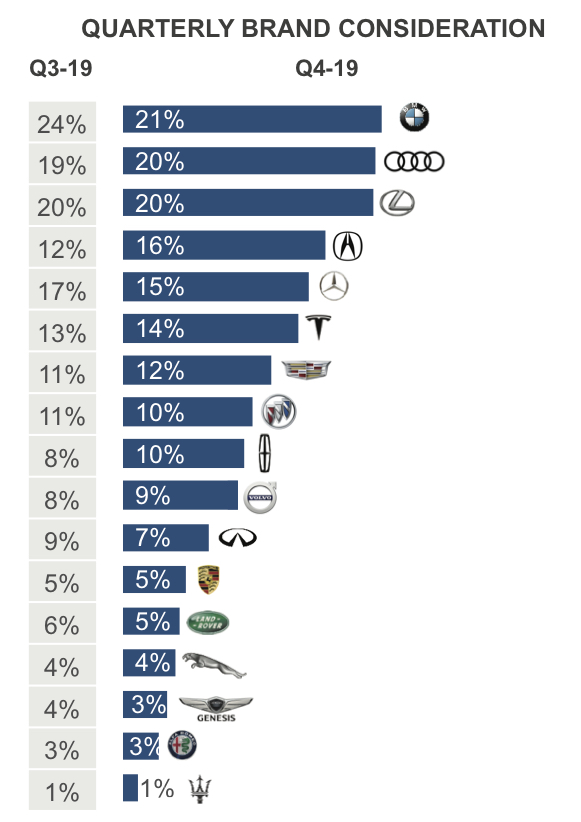 For more than five years, BMW has had at least three of its models among the 10 most-shopped vehicles in Kelley Blue Book's Brand Watch Report. In Q4, it still had three – the 3 Series, 5 Series and X5. However, shopping consideration for the 3 and 5 Series is falling. Consideration for the 3 Series fell 16% while consideration for the 5 Series dropped 11%. Their decline pulled down BMW's overall shopping consideration.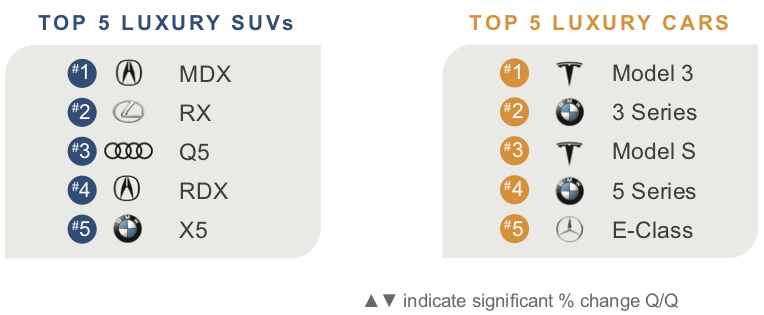 In large part, it is merely because the 3 and 5 Series are cars, which are less in favor with buyers than are SUVs. Only a year ago, the 3 Series was the No. 1 most-shopped luxury vehicle. It is now No. 1 for cars, but No. 5 overall, surpassed by all SUVs, except the Tesla Model 3 sedan.
Of luxury brands, Acura rose the most in Q4, up 4 percentage points from Q3. Acura pulled ahead of Mercedes-Benz in the rankings, which slipped. Acura shopping consideration and sales have been a roller-coaster the past year. In Q4, Acura was at the top of the crest. Beefy incentives helped, averaging $5,300 per vehicle, a five-year high for the fourth quarter, according to Kelley Blue Book data.
SUVs also helped. The mildly refreshed MDX, which will be totally redesigned later this year, was the most-considered luxury SUV for the first time in a year, pushing Lexus RX to the No. 2 spot, according to Q4 Kelley Blue Book Brand Watch Report. Volume-leader RDX, which nosedived in Q3, soared in Q4.
Acura executives told dealers recently that redesigned and freshened products should boost 2020 sales as much as 6%, after they fell 1% in 2019. The MDX and TLX are redesigned in 2020. Plus Acura will emphasize A-Spec and Type S models going forward.
Lincoln finally saw some payoff for the work it has put into its brand and products. Still mid-pack among brand rankings, Lincoln gained 2 percentage points of shopping consideration from Q3 to Q4. Ford has been converting its luxury brand to a virtually all-SUV line, introducing at least one new SUV a year. Recently launched were the Nautilus and Corsair. The Aviator is just now launching.
Though still high, Lincoln lowered Q4 incentives, while others raised them. That is helping Lincoln's residual values, which are rising to the point of rivaling some European brands, according to Kelley Blue Book residual value calculations.
In contrast, Infiniti tumbled from 9th in the rankings for shopping consideration to 11th.  Sales fell by a hefty third in Q4 despite the highest incentives for the quarter in five years, averaging $8,694 per vehicle, according to Kelley Blue Book. Infiniti has a lack of new product and brand clarity as well as turmoil at the top of the Nissan company.
Tesla, which had slipped Q2 to Q3 in shopping consideration, edged back up. Cadillac eked out a percentage point gain, though one might expect a bigger increase with new SUVs hitting the market. Buick slipped a percentage point, largely because the Enclave SUV saw a 20% decline in shopping consideration, falling to No. 10 in the rankings. Buick announced in Q4 it will only sell SUVs, no cars, in the future.
SUV Consideration Dominates
Luxury SUV consideration soared in Q4 to a record 64% of all luxury shoppers. The surge may be seasonal as buyers seek all-wheel drive when winter approaches. Or it may just be preference and interest in a host of new luxury SUVs coming on the market.

Conversely, shopping for luxury cars slumped to a new low though the percentage is higher than for non-luxury shoppers. Some 56% of new vehicle shoppers now consider a car, down from 60% in Q3.
The gap between luxury SUV shopping and luxury car shopping, which had narrowed in Q3, widened to the largest amount in two years, according to Q4 Kelley Blue Book Brand Watch Report.
In line with soaring shopping consideration for luxury utilities, SUVs outnumber cars as top-considered luxury models. Still, cars are holding their own better in luxury than they are in non-luxury.
Tesla and BMW dominated the car category with two models each in the top 5 most-shopped luxury cars. Tesla Model 3 – a sedan – was the most-shopped luxury car for three straight quarters, surpassing BMW 3 Series and pushing overall Tesla consideration up after dipping in Q3 2019. Worth watching will be the spring launch of the Model 3-based SUV, the Model Y.
Technology, Reputation Gain in Importance
Durability/Reliability is always the most important factor for all new-vehicle shoppers, luxury and non-luxury, followed by Safety.
Lexus continued to dominate as the top-rated brand for Durability/Reliability, a category it has dominated since Q3 2014. Volvo, which has a long and deep history for safety, held onto the top Safety spot, which it has held for five years running.
Technology has climbed to 5th from 9th in importance over the past five years. It's not surprising since a tremendous amount of technology features have been introduced on vehicles, including driver-assist features that lay the groundwork for self-driving vehicles.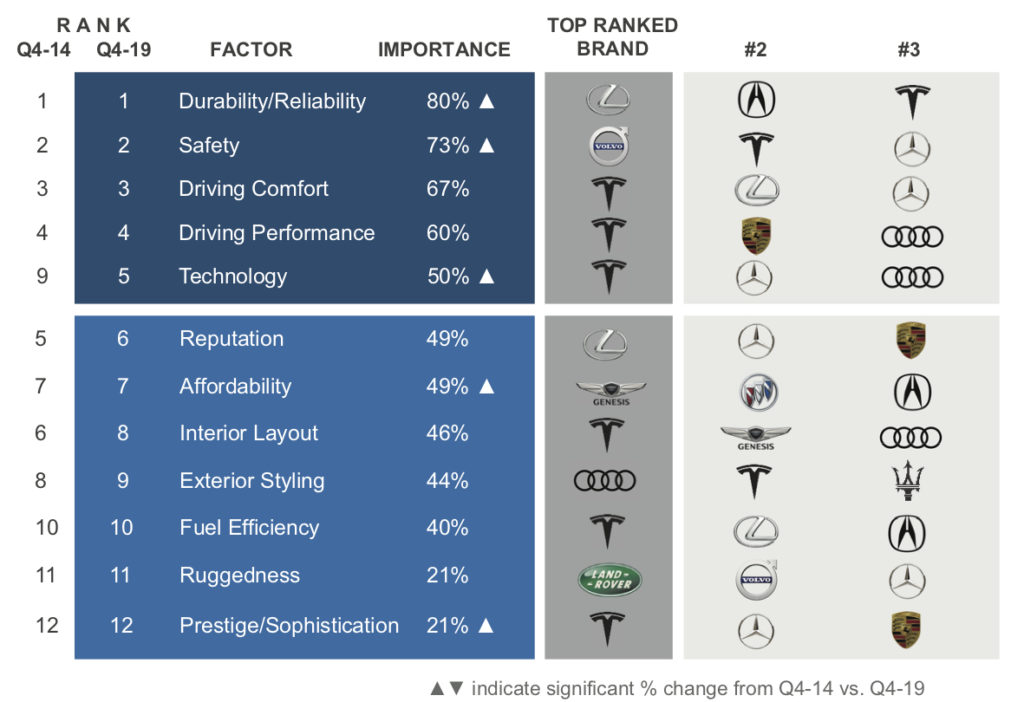 In Q4 2019, Affordability dropped to No. 7 in importance from No. 5 in Q3 and a year ago. Luxury buyers benefitted more than non-luxury buyers from a booming stock market and possibly from 2017 tax reform.
Reputation also has gained in importance, possibly due to the vast number of recalls, including another round of Takata airbag recalls.
Tesla Still Leads, Being Challenged
Tesla held onto top spots in 6 of the 12 factors most important to luxury buyers. But Tesla is getting some competition. For the past year, Tesla had held seven top spots. In Q4, it lost first place in Exterior Styling to Audi. Below the top spots, Tesla was pushed out of the top 3 completely for Reputation, by Mercedes-Benz and Porsche, which followed Lexus, respectively, at No. 1. Perhaps publicity surrounding crashes involving Tesla vehicles, which always make headlines, is having an impact.
IN RELATED NEWS: Check out the non-luxury version of the Brand Watch Report.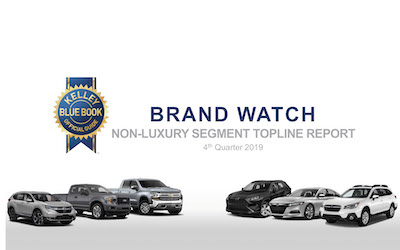 Download Q4 2019 Kelley Blue Book Brand Watch Report - Luxury
Read the full report.
Download