Commentary & Voices
Q4 2019 Kelley Blue Book Brand Watch Report: Ram Scores Big in Shopping Consideration, Consumer Perception
Thursday February 13, 2020
Article Highlights
Ram ranked first in 6 of 12 factors important to non-luxury shoppers.
Truck shopping hit record high; car shopping sunk to new low.
Toyota is the most-shopped brand; Honda CR-V is the most-shopped model.
Fiat Chrysler's Ram brand soared in shopping consideration and consumer perception as well as sales in the final quarter last year, according to the Kelley Blue Book Brand Watch™ Report for Q4 2019.
The Brand Watch Report is a consumer perception survey that also weaves in consumer shopping behavior to determine how a brand or model stacks up with its segment competitors on a dozen factors key to a consumer's buying decision. Kelley Blue Book produces a separate Brand Watch Report for non-luxury and luxury brands each quarter.
Ram continued its upward trajectory in shopping consideration that started more than a year ago as FCA was launching its completely redesigned Ram 1500 full-size pickup truck. Shopping for the Ram 1500 climbed 32% from Q3 to Q4 2019, according to the Brand Watch Report.
The brand closed the year as the 11th most-considered brand for non-luxury shoppers, up from 13th in Q3 2019 and 14th in Q4 2018. In the quarter, Ram surpassed Mazda and Volkswagen in the Brand Watch Report rankings.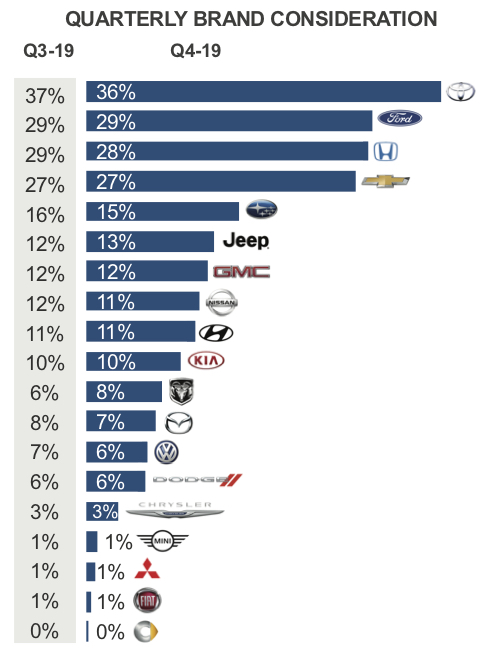 Shopping consideration translated into sales as FCA reported Q4 2019 sales of 172,000 Ram trucks, up 7% from Q4 2018. Record sales led to Ram taking the No. 2 sales spot from Chevrolet Silverado for the first time.
New in Q4 2019, Ram scored high marks in consumer perception. For the first time, Ram ranked at the top for six of the 12 most important factors to non-luxury buyers, according to the Q4 Brand Watch Report. Ram had been first only in Interior Layout last year and added Exterior Styling to its first-place spots in Q3. But in Q4 2019, it retained its top spots in those categories and added first-place finishes in Driving Comfort, Driving Performance, Technology, and Prestige/Sophistication.
New Truck High; New Car Low
Shopping consideration for non-luxury SUVs and pickup trucks continued to rise to new heights, in part, due to numerous new offerings in both segments. Conversely, shopping consideration for non-luxury cars sunk to new lows.
Shopping consideration for pickup trucks increased even above 2018's high levels. Of all new-vehicle shoppers, 29% considered a pickup truck, according to the Q4 Kelley Blue BookBrand Watch Report.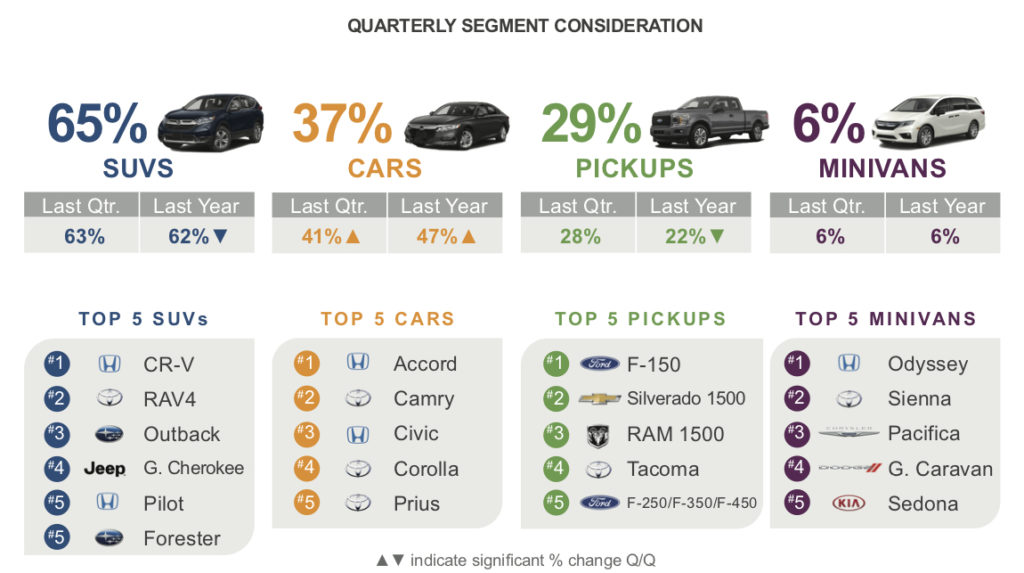 That shopping translated to sales as well, with pickup trucks accounting for 18% of all new vehicles sold in 2019, the highest percentage since 2005. In addition to full-size pickup trucks by the major manufacturers, new smaller trucks launched in 2019, notably the Ford Ranger and Jeep Gladiator. And more are on the way.
Conversely, shopping consideration for traditional non-luxury cars slid for the sixth straight quarter. For the first time, consideration fell below 40% of all new-vehicle shoppers considering a car – 37%, to be exact. Minivan share of new-vehicle shopping held steady at 6%.
Yet it is SUVs that remain the most popular style for buyers. In Q4, a record 65% of shoppers looking for a new, non-luxury vehicle considered an SUV, according to the latest Kelley Blue Book Brand Watch Report. That was up 2 percentage points from Q3 and 3 percentage points from a year ago.
Toyota Still Tops  
Toyota has been the most-considered non-luxury brand since Q2 2018. It held onto the top spot in Q4 2019, according to Q4 Kelley Blue Book Brand Watch Report. However, shopping consideration for Toyota fell 6 percentage points from a year ago, largely due to overall declining consideration for cars. Case in point, the Toyota Camry dropped to 9th most-shopped non-luxury vehicle from 5th a year ago. Some of Camry's drop was offset by 4% higher shopping for the RAV4, which has a hot-selling hybrid version, and a 2% increase in Tacoma shopping.
Shopping consideration for other import brands was a similar mixed bag:
Shopping consideration for the Honda brand fell 10% from a year ago. Still, the brand hung on to 3rd place, and the Honda CR-V utility took the top spot for the most-considered model in Q4, according to the latest Brand Watch Report. CR-V shopping rose 10% from Q3 to Q4, but shopping for the Accord dropped 5% in the same period.
Nissan, dealing with problems at the top of the company along with an aging product line, was mid-pack among brands as its consideration slipped.
Consideration for Mazda products has been in decline. Only two years ago, it was the 7th most-considered non-luxury brand. In Q4 2019, it fell to the 13th.
Volkswagen slipped in consideration and rankings as well.
Ford stayed just ahead of Honda, with shopping consideration flat for the brand and its best-selling F-150. Likewise, Chevrolet shopping consideration was flat, but the Silverado 1500 enjoyed a 15% increase in shopping.
South Korean brands Hyundai and Kia, which introduced new SUVs in 2019, remained stable, though both posted higher sales gains for the year.
Honda CR-V Sets Most-Shopped Record
For the first time since Kelley Blue Book Brand Watch Report debuted, four pickup trucks made the top 10 most-considered vehicles list in Q4 2019. Only two cars ended up in the top 10 – the first time only two have made this list since Q1 2018. The list was rounded out with four SUVs.

The Honda CR-V, refreshed with added technology and features last year, took back the title of most-shopped vehicle from the Ford F-150. It was the 14th time since the first Kelley Blue Book Brand Watch Report was published that CR-V held the top spot. No other model has been No. 1 that many times.
Ford F-150 ranked the second-most-considered vehicle, marking the third consecutive quarter it has been in the top two. The Chevrolet Silverado 1500 came in right behind the F-150, having jumped ahead of the Toyota RAV4 and Honda Accord.
The Ram 1500, which made the top 10 for the first time since the first Kelley Blue Book Brand Watch Report, wasn't the only FCA brand to see huge growth in shopping. The aged Jeep Grand Cherokee, which soon will be replaced with a new version, experienced a 33% hike in consideration. It made the top 10 of most-shopped non-luxury vehicles for the first time since Q1 2016, and it ranked among the top five most-shopped SUVs in Q4, jumping to No. 4 from No. 8.
The Toyota Highlander fell from the top five, down to the 7th spot, but that may change as Toyota is rolling out the all-new version this year.
Among cars, it was the usual suspects in about the same order as expected: Honda Accord; Toyota Camry; Honda Civic; and Toyota Corolla, respectively.
However, the Toyota Prius moved up a spot to make the top five list of most-shopped cars. That pushed the Ford Mustang down a notch. The downshifting of the Mustang was rather surprising in light of the publicity surrounding Ford's Los Angeles Auto Show introduction in Q4 of the Mustang Mach-E, a sporty all-electric SUV that hits the market this year.
Ram Grabs 6 No. 1 Spots in Factors Important to Shoppers
In terms of the 12 factors most important to non-luxury buyers, Reliability/Durability is always most important by a wide margin followed by Safety. In Q4 2019, Affordability rose to the No. 3 spot ahead of Driving Comfort.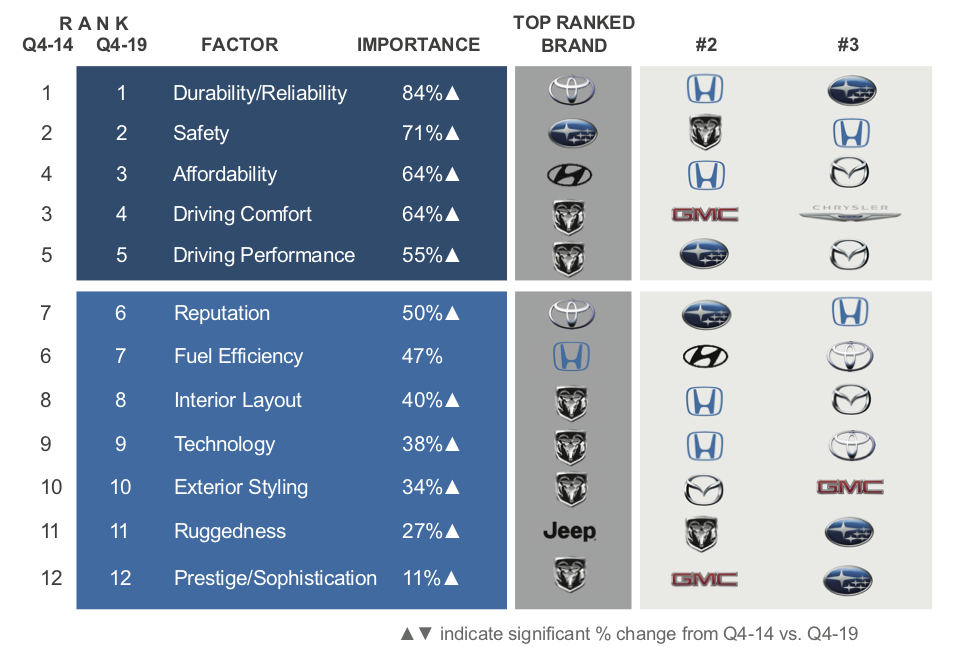 The increased importance of affordability likely is because new vehicles are becoming appreciably more expensive. In 2019, the average new-vehicle price rose to a record $38,948, according to Kelley Blue Book.
Also, despite the Fed's cut in the prime rate, many less credit-worthy consumers have seen auto loan rates rise, pushing up the monthly cost of owning a new vehicle. Plus, subprime delinquencies hit a new record in 2019.
While Ram dominated in consumer perception, Honda, which had once similarly dominated, slipped again. In 2018, Honda held top spots in 7 of the 12 factors important to buyers. In Q4 2019, it ranked first in only one – Fuel Efficiency – which, with low gas prices, has been less important to consumers. In the most recent report, Honda, long known for its engineering prowess, lost first place in Technology to Ram.
About the only other notable shift in the consumer perception part of Q4 Kelley Blue Book Brand Watch Report was that Hyundai took back the No. 1 spot for Affordability from Mazda.
IN RELATED NEWS: Check out the luxury version of the Brand Watch Report.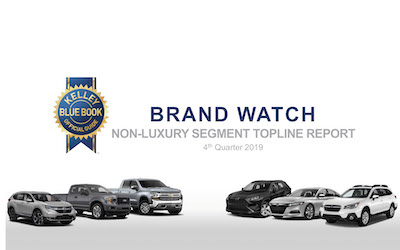 Download Q4 2019 Kelley Blue Book Brand Watch - Non-Luxury
Read the full report.
Download