Data Point
Record April Sales Deplete May New-Vehicle Inventory
Friday May 14, 2021
Record April sales significantly depleted the inventory of new vehicles for the usually booming month of May, a situation exacerbated by production disruptions caused by the global computer chip shortage, according to a Cox Automotive analysis of the vAuto Available Inventory data.
---
$39,633
Average Listing Price
---
The total U.S. supply of available unsold new vehicles stood at 2.24 million as April neared an end, compared with 2.66 million at the same time in March. Supply has been trending lower since mid-December. Inventory was running 37% behind last year and 42% below 2019 as May, one of the highest sales volume months of the year, opened.
National Days' Supply By Brand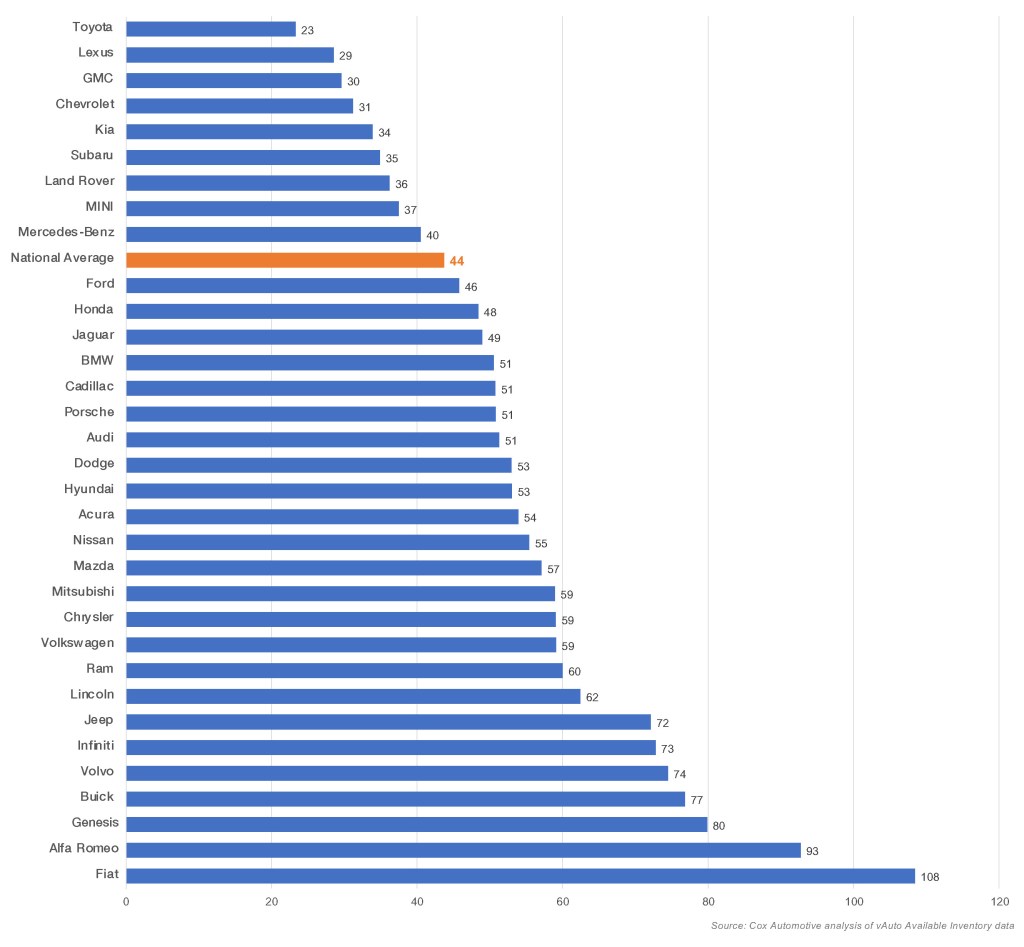 The days' supply plummeted to 44, the lowest days' supply since October 2020. That compares with 59 near the end of March. Days' supply is 75% below year-ago levels and 52% below 2019.
Inventory of new non-luxury vehicles was 1.9 million units for a 43 days' supply, down from 58 at the same time a month earlier. The luxury days' supply was 49, down from 60 at the same time in March.
The Cox Automotive days' supply is based on the daily sales rate for the most recent 30-day period. In April, sales started out strong, slowed some mid-month and picked up to a blistering pace at the end of the month. April sales of 1.512 million vehicles, up 111% from the pandemic-ravaged April 2020, were the highest ever for the month. That put the seasonally adjusted annual rate of sales (SAAR) at 18.5 million, the highest for the month since records began in 1976. April ranked as the No. 6 all-time SAAR. The April 2020 SAAR was 8.7 million.
"The industry is in uncharted territory by trying to maintain robust sales with this low level of inventory," said Charlie Chesbrough, Cox Automotive senior economist. "Supply was down significantly, yet April sales finished at an 18.5-million seasonal pace. So, limited stock does not appear to have had much impact on buyers – yet."
Chesbrough added: "Some high-volume models are in very limited supply, and May's sales numbers could suffer as a result."
VOLUME BRANDS, POPULAR MODELS PULL DOWN THE AVERAGE
Indeed, while the picture by brands does not look hopelessly dire, popular models had seriously depleted supplies by May.
Most brands, both non-luxury and luxury, had days' supply over the industry's average of 44. However, key volume brands – the usual suspects – pulled down the national number due to their well-below the norm supply as did particularly popular models.
Toyota's brands continued to have the lowest inventories. The Toyota brand had a scant 23 days' supply; Lexus had 29. The automaker had a blockbuster first quarter for sales. It followed it up with a stunning April, with sales that were not only substantially better than the pandemic period of 2020 but significantly better than pre-pandemic April 2019.
Almost every Toyota model closed the month with a below-average – and often way below-average – supply of vehicles. Among the lowest were its trucks and SUVs: 4Runner, 15 days' supply; RAV4 and RAV4 Prime, 17 and 19, respectively; Tacoma, 15 to 17, depending on the model; Tundra, 19 to 25, depending on the model; and Sienna minivan, 18. Most other models had days' supply under 30, including Camry and Corolla cars.
Lexus' volume sellers had the lowest supplies for the brand. Its volume-leading RX was down to 24 days' supply; the NX was at 30. On the car side, the ES had 34 days' supply; the IS had 24.
Other non-luxury brands with below-average inventories were: GMC, 30 days' supply; Chevrolet, 31; Kia, 34; Subaru, 35; and Mini, 38.
At GM, pickup trucks and SUVs had the lowest inventories. The full-size GMC Sierra and Chevrolet Silverado pickup truck were at 27 and 28 days' supply, respectively. Worse, the midsize GMC Canyon and Chevrolet Colorado, which have experienced production halts due to the chip shortage, were in the single-digit days' supply – Canyon at six, Colorado at seven. The relatively new full-size SUVs – GMC Yukon and Yukon XL and Chevrolet Suburban and Tahoe – had less than 30 days of supply. The Cadillac Escalade and Escalade ESV had even less, in the teens.
At Chevrolet, sports cars Camaro and Corvette were down to 11 days' supply each. Camaro production has been stopped due to the chip shortage. Corvette has experienced numerous production disruptions since it was introduced.
Kia's popular Telluride SUV had only 18 days' supply. Kia is just launching the Carnival, its replacement for the Sedona minivan, which has only 20 days' supply. Similarly, the Telluride's cousin, the Hyundai Palisade, had only 22 days' supply. Hyundai also had a low stock of the Santa Fe and just-revised Tucson SUVs.
Other luxury brands with lower-than-average supplies were Land Rover, 36, and Mercedes-Benz, 41. Mercedes won the luxury sales race in the first quarter with Lexus taking the second-place spot from BMW. But as the year wears on, the luxury sales crown may go to the brand that has inventory. Currently, BMW and Audi have heftier inventories than their competitors, but that can change.
BEHIND THE AVERAGES, THE REST OF THE STORY
The overall brand averages do not tell the full story. Several models from various brands are being discontinued and are in sell-down mode, which skews a brands' average. Buick, Cadillac, Ford and Dodge, for instance, are transforming their product lines, eliminating old models, generally cars.
Some brands are launching new models, and they have not filled the pipeline yet causing low days' supply that affects the brands average. For instance, Acura's days' supply is above average, but its newly launched MDX, its volume leader, has a mere 31 days' supply. Its second volume model, the RDX, has a 49 days' supply. But the slower selling TLX offsets those with a 112 days' supply.
Cadillac has a similar situation that is caused by the chip shortage. Cadillac is discontinuing and selling down numerous car models. But its hot sellers are in low supply. Production has been interrupted for the CT5 and CT6 pushing their days' supply lower to 36 and 15, respectively.
HARDEST TO FIND SEGMENTS
Pickup trucks and full-size SUV – both luxury and non-luxury – were the segments with lowest inventories.
The days' supply for the full-size pickup category was 39. Toyota, Chevrolet and GMC had the lowest, pulling the overall average down. The Ford F-150, which has seen production cuts due to the chip shortage, had a 42 days' supply. Ram 1500 dropped to a 55 days' supply; the Ram 1500 Classic, popular with fleets, had more at a 66 days' supply.
Midsize pickup trucks fell to only a 31 days' supply. In addition to Toyota and GM models having low stocks, the Honda Ridgeline fell to a 20 days' supply. The Ford Ranger had been in the best shape in March. However, last week, Ford announced Ranger production will be idled for a couple weeks in May due to the chip shortage. It fell from 66 days' supply in March to 48 in April.
Full-size luxury SUVs again had the lowest supplies of any segment, down to 30 days' supply from 38 the previous month with Cadillac models being among the lowest.
Similarly, non-luxury SUVs fell to 33 days' supply from the previous months' 46, due largely to Chevrolet, GMC and Toyota models. Midsize SUVs – luxury and non-luxury – were below average.
Minivan inventories, which not long ago were bloated, were down to a scant 31 days' supply due to the new Sienna being such a hot seller and the Chrysler Pacifica having production cuts.
PRICES REMAIN HIGH VERSUS 2020 AND 2019
Strong demand and low inventory continue to result in high prices. As April closed, the average listing price was $39,633, a bit below the $39,717 for the same timeframe in March. Still, prices are running 3.8% above 2020 prices and 7.9% more than 2019.
For luxury vehicles, the average listing price remained above the $60,000 mark, which it broke through for the first time in March. The average luxury listing price climbed to $60,691 in April, just shy of the $60,921 in March. The average listing price for non-luxury vehicles was $36,477, up from $36,394 in March.
Dealers do not have to discount much, and automakers have cut incentive spending. Average incentives declined 5% from March to April to an average of $3,239 per vehicle, down 25% from a year ago, according to Cox Automotive calculations. Incentives as a percentage of average transaction prices declined to 7.9%, the lowest level since January 2015.
The $20,000 to $30,000 price category, dominated by traditional cars, had the most inventory, at 49 days' supply. But that was a substantial decline from 68 days' supply the month before.
The most expensive price segments – $60,000 and above – had the lowest inventories, below a 40 days' supply. The $30,000 to $40,000 segment had the next lowest.
---
More insights are available from Cox Automotive on new-vehicle inventory, using a 30-day rolling sales methodology to calculate days' supply.
Tags