Data Point
Supply of Fuel-Efficient Models Falls on Higher Gas Prices
Wednesday April 13, 2022
Article Highlights
Supply of fuel-efficient models was the lowest in March as gas prices soared.
Import brands have the lowest supply; domestic trucks, SUVs rise
Average new-vehicle listing price falls again, remains below $45,000.
Revised May 18, 2022 – The supply of fuel-efficient models, like hybrids, small crossovers and small-to-midsize cars, was the lowest of all segments in March as gas prices soared, according to a Cox Automotive analysis of vAuto Available Inventory data. At the same time, overall new-vehicle inventory edged slightly higher while prices slipped again, staying below $45,000.
---
1.10M
Total Inventory
as of March 28, 2022
$44,436
Average Listing Price
---
The total U.S. supply of available unsold new vehicles stood at 1.11 million units at the end of March. That compared with the revised February available supply of 1.07 million vehicles.
Still, available supply was down 54% from the same period in 2021. In raw numbers, the supply of unsold new vehicles as April opened was about 1.3 million vehicles less than the supply a year ago and 2.5 million less than in 2020.
"New-vehicle supply showed two tiny upticks in the last couple weeks of the month, but still remains far behind previous years," said Charlie Chesbrough, Cox Automotive senior economist. "The balance between supply and demand has been stuck at this same general level since May of last year, far below historical norms."
The days' supply of unsold new vehicles was 35 at the start of April, the same as the start of March and in the same general range since mid-January. Still, the days' supply at the start of April remained 30% below the beginning of April a year ago.
Non-luxury inventory totaled 954,638 units entering April for a 34 days' supply, about the same days' supply as a month earlier. Luxury supply stood at 156,104 units for a 37 days' supply, up from 35 days' supply at the end of February.
The Cox Automotive days' supply is based on the daily sales rate for the most recent 30-day period, in this case, ended March 28. In March, total light new vehicle sales were down 22% from a year earlier with one less selling day. March sales were up 19% over February. The March light vehicle SAAR was 13.3 million, down from last year's 17.6 million and this February's 14.1 million.
Lower sales are not due to lack of demand but due to lack of inventory as the industry contends with multiple disruptions to the supply chain including China's surge in COVID-19 that is triggering lockdowns, the continued chip shortage and the war in Ukraine.
Prices slip again
The average listing price – or the asking price – dropped by the end of March to $44,360, a decrease from the revised end-of-February price of $44,661. The price began dropping in mid-February but started edging higher in the last two weeks of March. The listing price remained 12% above March 2021.
According to Cox Automotive data, the average listing price for luxury vehicles slipped to $64,278 at the end of March, compared with $65,044 at the end of February. The non-luxury average list price was down to $41,246 at the end of March from $41,572 at the end of February.
"The anniversary of the chip shortage – when inventory tightened and prices started to skyrocket – is approaching," noted Chesbrough. "That means price growth rates will look lower in the coming weeks. However, we don't expect prices to go negative, but rather they are to return to previous normal growth trends – just now at a higher price level."
The average transaction price – the price people paid – also decreased again in March to $45,927, according to data from Kelley Blue Book, after reaching a record in December 2021. Prices fell 0.3% or $156 from February but remain elevated compared with a year ago, up 12.9% or $5,247 from March 2021.
Import brands and fuel-efficient models have the lowest supply
Among vehicle segments, hybrids fell to the lowest for inventory, second only to low-volume high-performance cars. Cox Automotive data show soaring shopping trends for hybrids and other fuel-efficient models amid high gas prices. Other segments with low inventories were minivans, compact and midsize cars and large luxury SUVs. Of the six segments with the highest inventories, five were cars – luxury and larger cars.
All brands with the below-average inventories were imports. Brands with the very lowest inventories include Kia, Toyota, Honda, Lexus, Land Rover and Subaru. Of 30 brands, 17 were imports at the low end of the inventory spectrum. Brands with the highest inventory were Volvo, Chrysler, Buick, Jeep, Dodge and Ram.
National Days' Supply By Brand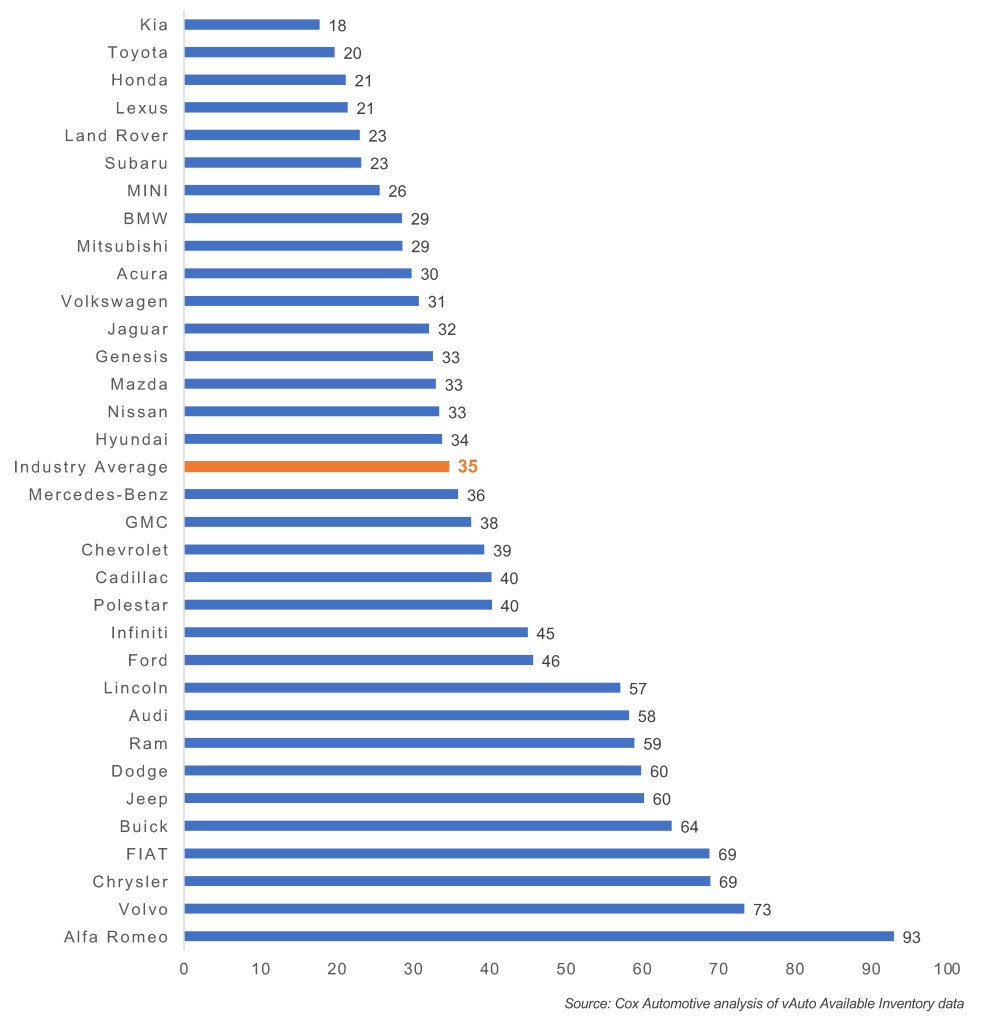 Of the 30 top-selling models in the U.S., the 13 with the lowest inventories were imports. At the bottom were Subaru Crosstrek, Honda CR-V, Toyota Highlander, Kia Forte and Toyota RAV4. Of the top-selling models, the highest inventory were domestic full-size pickup trucks and SUVs – Ram 1500, Ford Explorer and F-150, Chevrolet Silverado and Jeep Grand Cherokee.
In terms of price categories, under $20,000 had scant inventory and the lowest days' supply of 25. The two price segments between $20,000 and $40,000, were next with days' supply under 28. The highest days' supply was for vehicles priced between $50,000 and $60,000 at 48.
---
More insights are available from Cox Automotive on new-vehicle inventory, using a 30-day rolling sales methodology to calculate days' supply.
---
Michelle Krebs is executive analyst at Cox Automotive.
Tags