Commentary & Voices
Tesla Writes the Luxury Vehicle Story in Q2 2019 Kelley Blue Book Brand Watch
Tuesday August 27, 2019
Article Highlights
Tesla was the luxury vehicle story again in Q2 for shopping, consumer perception and sales.
Tesla accounted for all of the gains in Q2 luxury registrations. Without Tesla, Q2 luxury sales would have fallen.
Tesla Model 3 was the most-considered model by luxury shoppers in Q2 for the first time. Tesla Model S makes the Top 15 most-shopped models. The brand ranked sixth most-shopped luxury brand.
Tesla headlined the luxury vehicle story again in the second quarter of 2019 in terms of shopping consideration, consumer perception and ultimately sales, according to the Kelley Blue Book Brand Watch ™ for luxury vehicles.
Kelley Blue Book Brand Watch is a consumer perception survey that also weaves in consumer shopping behavior to determine how a brand or model stacks up with its segment competitors on a dozen factors key to a consumer's buying decision. Kelley Blue Book produces quarterly Brand Watch reports for non-luxury and luxury brands.
Tesla dominates
The Tesla Model 3 jumped to the No. 1 most-considered luxury model in Q2, up from No. 6 in Q1, according to Kelley Blue Book Brand Watch. For the first time, Tesla had two of its three models in the Top 15 most-shopped list. The Tesla Model S sedan ranked No. 8 on the most-shopped list; it was not in the Top 15 in Q1.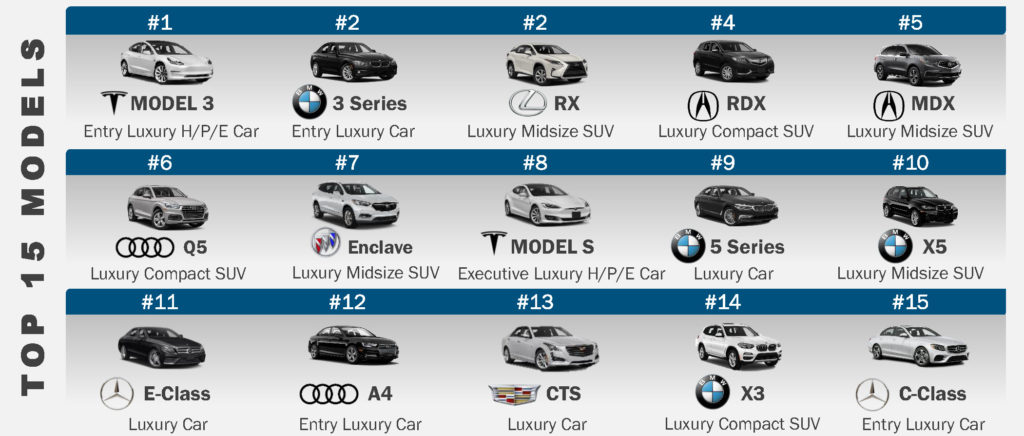 Tesla was the sixth most-shopped luxury brand with 14% of luxury shoppers considering Tesla, according to the latest Brand Watch. In Q1, Tesla ranked 10th with 8% of luxury shoppers considering the brand. Tesla was surpassed only by BMW, Audi, Lexus and Mercedes-Benz, respectively, all of which have far more extensive product lines. It had about the same percentage of shopper consideration as Acura, also a brand with a larger line-up.
Tesla's Q2 global deliveries, including those in China and Europe, set a new record of 92,500 vehicles. In the U.S., Tesla's retail registrations in Q2 were 46,532, just shy of 10% share of the luxury market, edging ahead of Audi.
Tesla converted shopping consideration to sales with the Model 3 being the best-selling luxury car in America. For Tesla, the Model 3 accounted for 86% of its quarterly sales.
Meantime, sales of the flagship Model S, despite rising shopping consideration, only accounted for 7% of Tesla's Q2 sales, the same share as the Model X. Both had Q2 sales of under 3,500 vehicles each. Tesla CEO Elon Musk said in Q2 that despite slumping U.S. sales of the brand's oldest models, the Model S and Model X will not be redesigned beyond software updates.
Tesla was hit by some bad news in Q2, including service quality issues, vehicle fires, stock price fluctuations and poor financial results. Nevertheless, bad news didn't dent its reputation. In fact, Tesla gained even more respect from consumers.
Tesla again dominated the list of most important factors for consumers in the latest Kelley Blue Book Brand Watch. Tesla captured seven first-place spots in the list of 12 most important factors for luxury shoppers. In addition, it climbed to second in safety and third in reputation. The only categories in which Tesla didn't place in the top three spots were ruggedness, which is irrelevant to the brand, and affordability, which is only somewhat important for the more mainstream-priced Tesla Model 3.
Luxury consideration: SUVs on par with cars
Luxury vehicle retail registrations were about flat (up 0.2%) in Q2 versus Q2 2018 and up 2% for the first half, slightly weaker than overall sales, according to Cox Automotive. Without Tesla, luxury sales would have been down 4% compared to Q2 2018 and down 4% for the first half of 2019.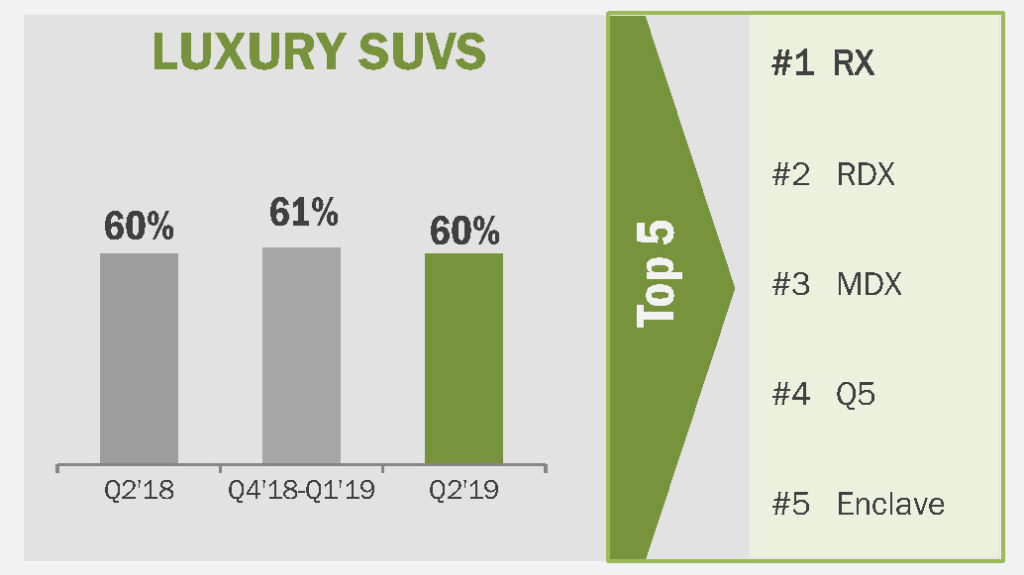 Shopping consideration for luxury SUVs and luxury cars were on par in Q2, according to Kelley Blue Book Brand Watch. About 60% of luxury shoppers considered an SUV, the same percentage that considered a luxury car. Luxury shoppers historically have preferred cars over SUVs, but, as in the non-luxury category, the split has been leaning more heavily to SUVs. In Q1, luxury SUV consideration outperformed car consideration 61% to 57%. The gap may have been wider in Q1 versus Q2 because of the winter season.
In terms of registrations, the light truck share, which in luxury means SUVs, in Q2 2019 was 61%, lower than the overall market and lower than the non-luxury market, according to a Cox Automotive analysis.
In Q2, eight of the top 15 most-shopped luxury vehicles were cars, up from seven in Q1. The Tesla Model 3 and BMW 3 Series led the pack.
Brand consideration: BMW remains on top
BMW remained the most considered luxury brand for the fourth consecutive quarter. It had the most vehicles – four – in the top 15 most-shopped luxury vehicles.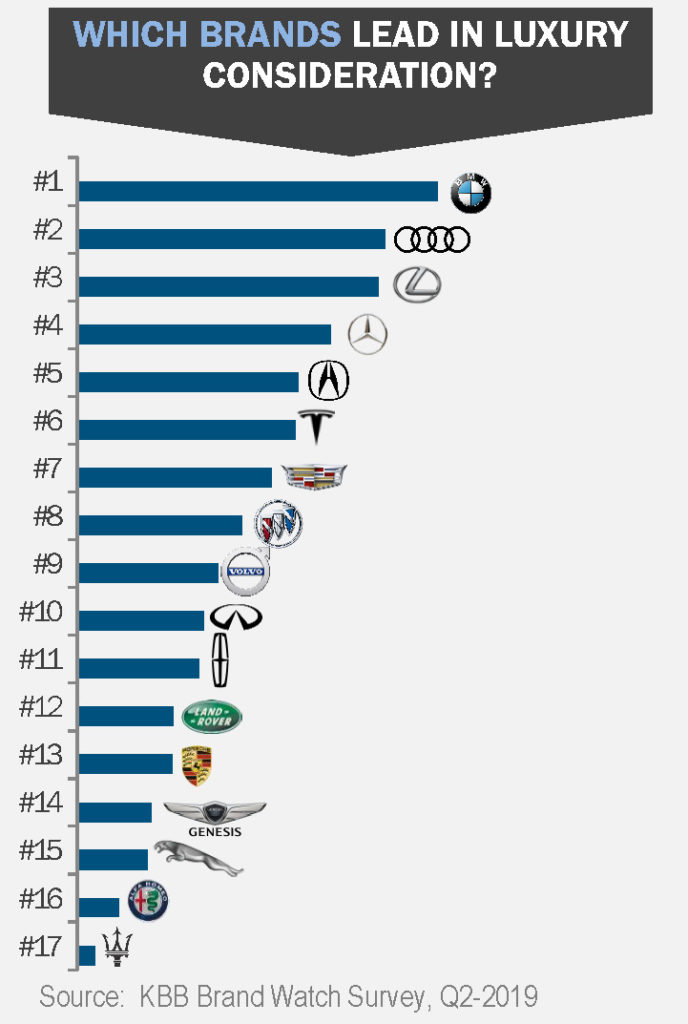 Audi, Lexus and Mercedes, respectively, followed BMW, jostling positions minimally from Q1. Lexus took No. 2 spot from No. 3 Audi. Mercedes-Benz regained the No. 4 spot after falling behind Acura in Q1. Cadillac took over No. 11 from Buick.
Tesla made the biggest leap in Q2 rankings – to the sixth from the 10thspot. Land Rover also showed significant gains in consideration from a year ago, though sales have been relatively flat. The brand's Range Rover Sport was featured in KBB's 10 Best Luxury SUVs for its tenacious off-road abilities and uncompromising luxury.
Luxury SUV consideration: Lexus RX nabs No. 1 from Acura RDX
The Acura RDX's remarkable surge to the top of the shopping consideration and sales charts has retreated. In Q1, the RDX, named Best New Car for 2019 by Autotrader, was the most-shopped luxury vehicle – SUV or car – and Q1 sales soared by 35%.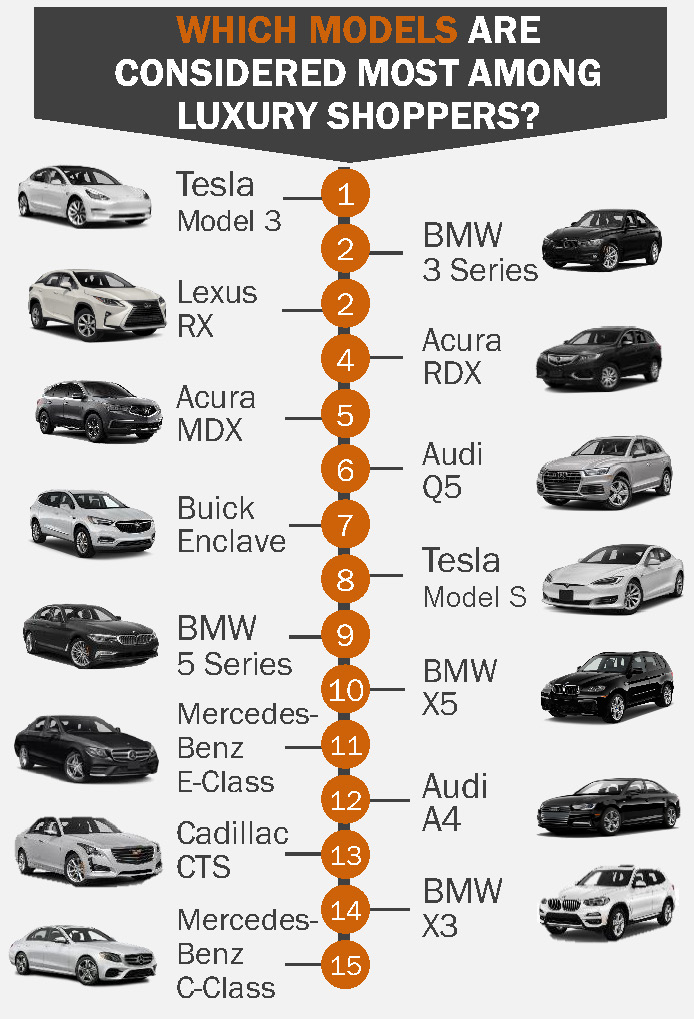 In the Q2 Kelley Blue Book Brand Watch, the Lexus RX, in fourth place in Q1, snatched first place from the RDX, which fell to second place followed by its stablemate, the Acura MDX. The second-generation Audi Q5, which enjoyed a hefty sales hike in Q1 to a third of all Audi sales, slipped from second to fourth place in shopping consideration.
The Buick Enclave rounded out the top 5 most-shopped luxury SUVs. The recently redesigned BMW X5 was knocked off the Q2 top 5 list.
The most-shopped luxury SUVs may see further shifting of positions with the onslaught of new models arriving, include: the Lincoln Aviator, already seeing gains in consideration, and just-on-sale Corsair; Cadillac XT6; Buick Encore GX; Volvo V60; and eventually the electric-powered Tesla Model 6 and Rivian SUVs.
Luxury car consideration: Tesla, BMW dominate
Luxury car consideration rose in Q2 compared with a year ago, despite a significant decline in shopping consideration for entry-luxury cars, now shopped by only 22% of all luxury shoppers, down from 25%.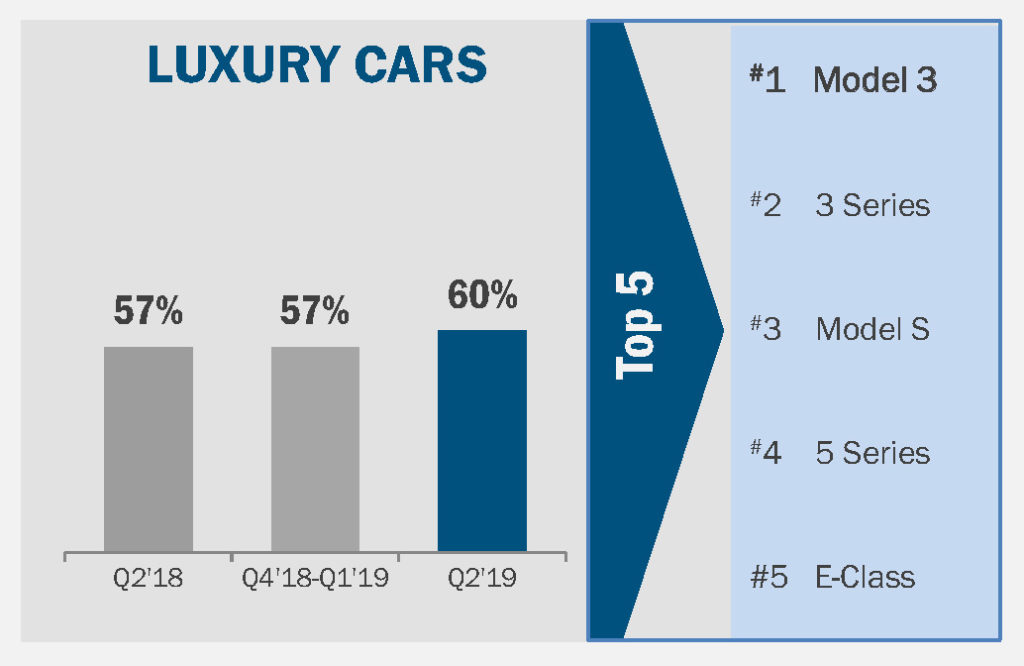 Tesla and BMW dominated the most-shopped luxury car list. The Tesla Model 3 bumped the BMW 3 series out of its top spot as the most-shopped luxury car in the Q1 Kelley Blue Book Brand Watch. Following the 3 series at No. 2, the Tesla Model S nabbed the No. 3 most-shopped luxury car spot in its first time in the top 15. The BMW 5 series was fourth and the Mercedes-Benz E-Class was fifth. The Acura TLX and Lexus ES were knocked out of the top 5 from Q1.
What's most important
The dozen factors that are most important to luxury vehicle shoppers remained mostly unchanged in Q2 from Q1. However, reputation jumped to No. 6 most important, ahead of interior layout and technology. A similar boost in reputation occurred on the non-luxury side in Q2, which may have been the result of numerous recalls.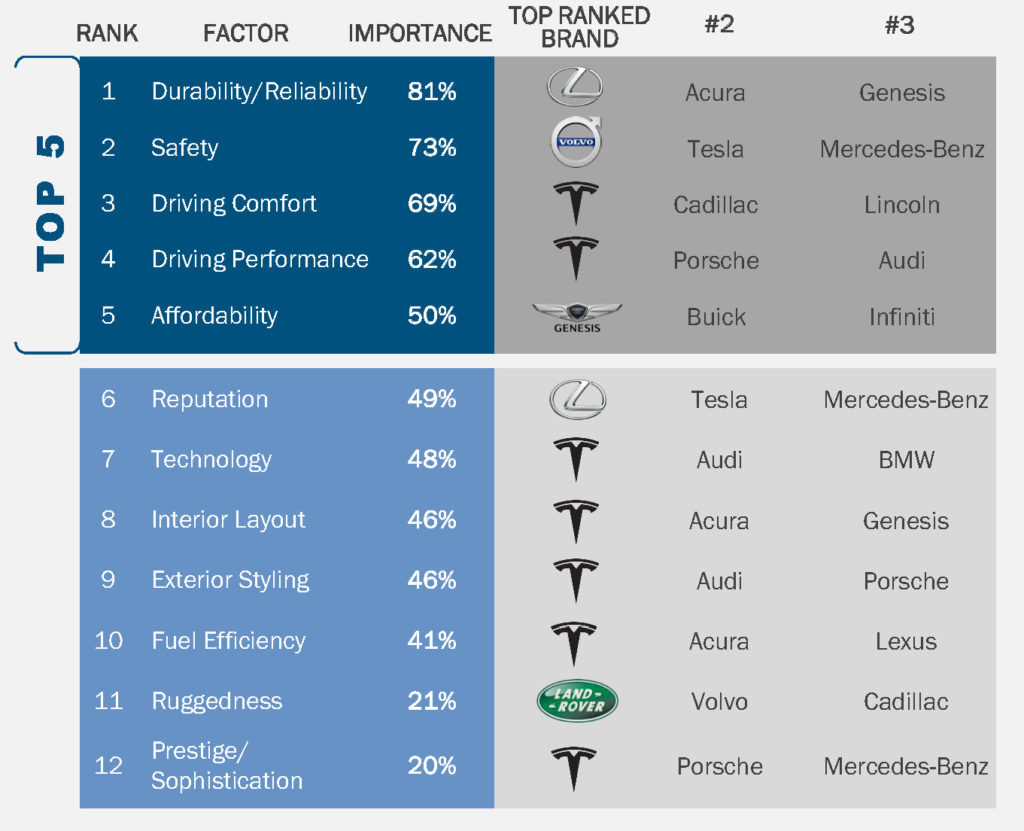 In terms of affordability, a Cox Automotive study revealed that the majority of luxury vehicle sales are in the $50,000 to $70,000 manufacturer's suggested retail price category. Luxury vehicles in that range account for 85% of all luxury vehicle sales so far this year.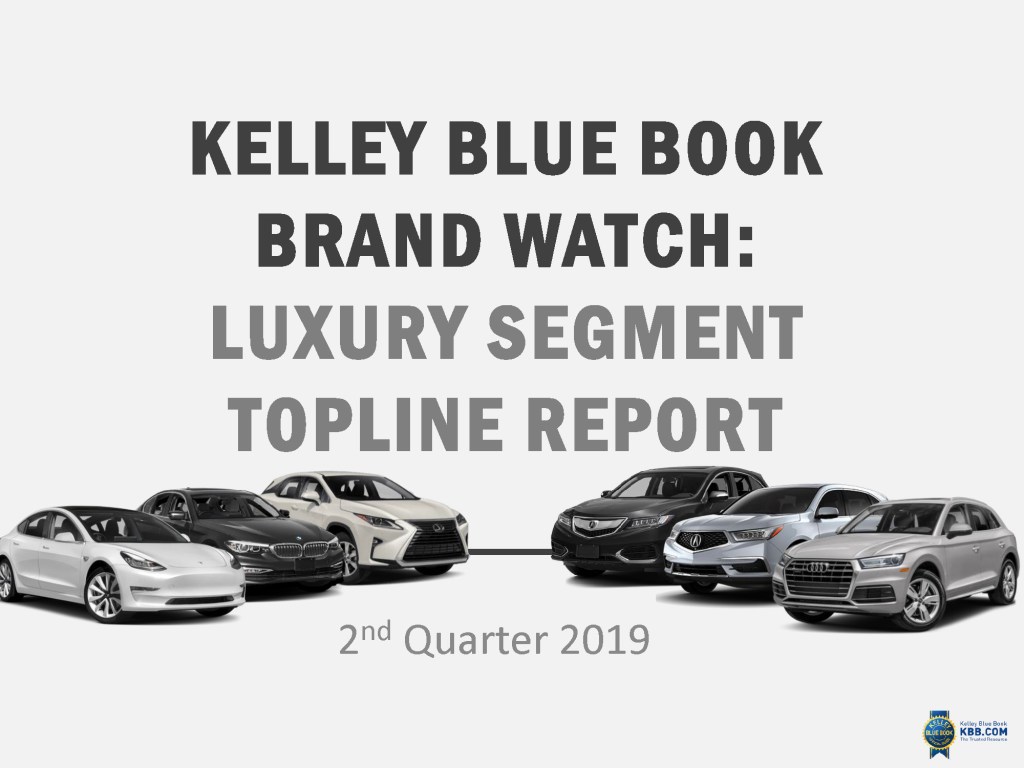 Download the Brand Watch report
Download