Smoke on Cars
The Polls Are Calling for a Biden Win. Here's What That Could Mean for the Auto Industry.
Tuesday October 27, 2020
My team and I have been relentlessly following the economy and the auto industry throughout this year, providing weekly video updates and useful analysis to help shed light on what's happening in the market. Through the ongoing pandemic, we carefully tracked the fast decline in auto sales and have been measuring the faster than expected market recovery. And while the auto industry has not yet fully recovered, we are already well off of the initial lows and continue in the right direction.
And the economy? It too has staged a strong recovery, although at this point is mostly operating at only 80% of pre-pandemic levels. Some sectors of the economy like travel have been harder hit than others, and unemployment is still a solid worry. We won't fully recover until COVID-19 risk has diminished, which is likely when enough people have been successfully vaccinated.
Our situation today could have been much worse, if not for the resilience of the American people and the willingness of the U.S. government, at least initially, to move in aggressively to support both consumers and businesses. As we've said before, additional stimulus is needed, but so far Congress has not been able to get its act together. The immediate months ahead will be difficult for the economy due to lapsing support and rising COVID-19 cases.
In a presentation this week to many of our best partners and clients, I was asked to provide an outlook of where we go from here. That's no easy task at this juncture. We have three critical factors that will determine how the next 12 to 15 months end up for the economy and the auto market.
COVID-19 – its path this fall and the timing of vaccines
The election outcome
The size and timing of stimulus
Of those three, the election outcome is top of mind now, and it will influence the size and timing of stimulus and other government spending in the months ahead.
As we approach November 3rd, current polls indicate a likely blue wave sweep of the White House and Senate. The polls were wrong in 2016, but a repeat is not likely. Biden's lead is outside the margin of error this time. Since I am a believer in data, here's my take on what we can expect with a Biden White House and a blue wave across Congress.
Stimulus: It's much needed, and the currently predicted scenario means the biggest possible stimulus program as obstacles to passage are removed. This could mean spending and support approaching $3 trillion.

Infrastructure Spending: A second round of COVID-19 stimulus is not the end of what we'll see in government spending. An infrastructure package is possible in any election scenario, but a blue wave in November could produce a 2021 infrastructure package with a green hue that would benefit EV adoption. Biden's "Clean Cars for America" platform features the creation of 500,000 charging stations and a shift in government fleet to electric and the possible extension or addition to EV tax credits. Other spending unrelated to auto would further boost economic growth in 2021.

Trade: Under a Biden administration, trade friction will be reduced, but some policies including a more aggressive stand against China are not likely to change much. Perhaps the biggest benefit for auto will simply be no new surprises and namely removal of the threat to the EU and Japan. We will likely see far less Section 232 drama with trading partners like Canada.

Immigration: While not an immediate differentiating factor, immigration is likely to grow under a Biden administration, which is a plus for longer-term demand and labor. Long-term economic growth is dependent on population growth, and we will see more of that with more and consistent immigration.

Tax Policy: The Biden tax platform is not necessarily good for growth and auto. Biden plans to fund part of his spending programs with increased taxes, especially with a reversal of the lower rates in President Trump's Tax Cuts and Jobs Act (TCJA) for incomes above $400,000, instituting payroll taxes on income above $400,000, raising the capital gains tax, and raising corporate taxes. For the auto industry, this could impact luxury sales and have implications leading to smaller corporate fleets if the depreciation treatment changes. Higher taxes will subtract from some of the potential economic growth created by government spending.

Government Debt: U.S. national debt is already at historically high levels and will remain so under any scenario, but debt grows the most under a blue wave. A high debt situation is likely to create an environment of negative or continued low interest rates, which is favorable to investment and finance-dependent goods like automobiles.

Environmental Regulation: This is an area where a Biden administration and a blue wave would have clear implications for auto. Expect a quick return to the fuel economy and emissions standards set by the Obama administration and an immediate end of the clash with California. This is a positive for common rules and objectives across the U.S. and globe, but it will not be good for affordability as regulation will lead to more costly automobiles, which are already historically expensive.

Financial Regulation: Under Biden, the Consumer Financial Protection Bureau is likely to be strengthened and could be focused on auto finance. The timing could not be worse since rising repossessions early in 2021 will get the focus of the administration and Congress.
Considering these eight implications, the Cox Automotive team sees a continued recovery in the new-vehicle market after some softness at the end of 2020. Used vehicles will continue to outperform in part because of supply constraints in new but also because credit conditions will continue to favor growth in used on top of what we've seen this year.
Cox Automotive Forecasts
Our full-year 2020 forecast now calls for 14.3 million new-vehicle sales, down 16% from 2019.  New retail will perform better than fleet, down 9%, while fleet will come in near 1.9 million, down 42%.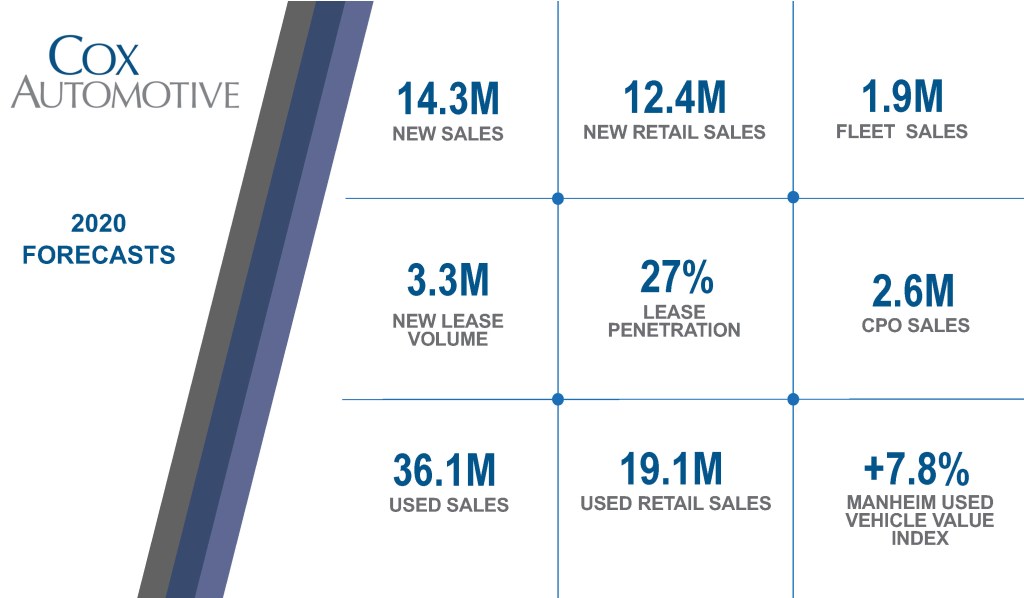 The used market is forecast to end 2020 at 36.1 million, down 10% from year-ago levels. Retail used is expected to drop by 8%. The certified pre-owned market will outperform, down 7%.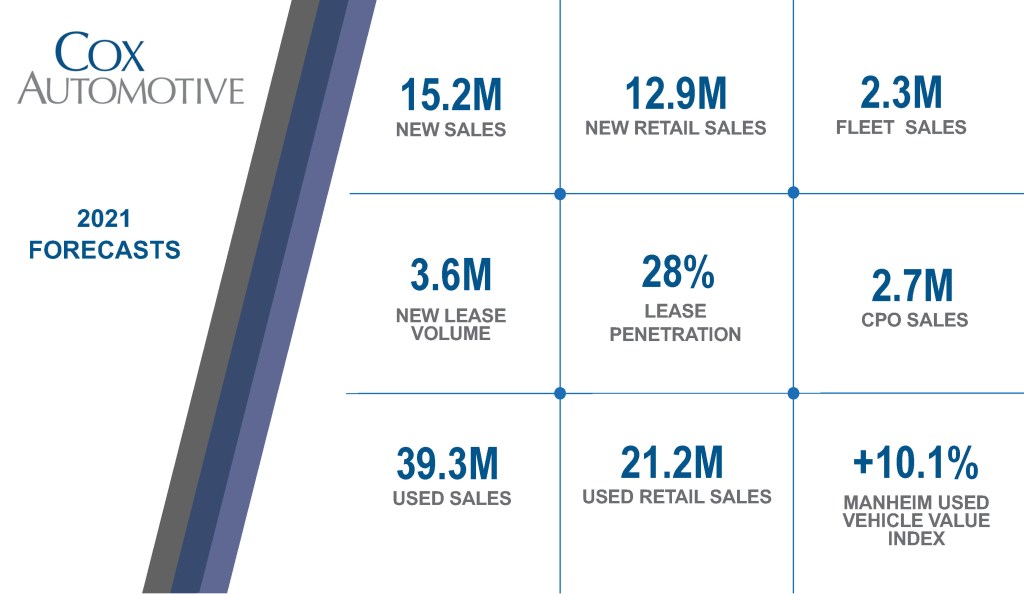 We are also forecasting the recovery to continue in 2021, with new-vehicle sales increasing 6% over 2020 to 15.2 million. Fleet will improve to 2.3 million next year, and we are expecting the used-vehicle market to fully recover to near pre-pandemic levels of 39.3 million.
All eyes are on Election Day. Vote!