The Right Staffing Strategy, Today and Tomorrow
Monday June 21, 2021
Attracting and retaining employees has been a long-standing challenge for automotive dealerships, and it is especially now as we find ourselves in the midst of a tighter than the normal labor market. As the competition for talent continues to heat up, dealers find themselves often competing with employers in other industries in addition to other dealerships. This situation can be extremely frustrating since the stakes are high when it comes to staffing decisions. The right staffing strategy can make or break a dealer's ability to keep up with the ever-changing marketplace.
A new study from Cox Automotive takes a look at the current state of dealership staffing. More than 800 people weighed in on the topic – half currently employed at dealerships and half employed in other industries or actively looking for a job. Through the research, three key findings emerged.
Interest in working at dealerships is growing. 36% of people employed in non-dealership jobs are interested in working at a dealership, up from 25% in 2019. To attract these employees, dealers need to find innovative ways to address key concerns about the job skills required, pay structure, and schedule.

Thriving dealers adopt a people-first approach. Through our research, we have found that dealers who are more profitable and efficient tend to prioritize their employees' satisfaction, making it just as important as CSI scores. The top driver of employee engagement and satisfaction is a supportive work environment.

Digitization requires an evolved staffing strategy. Dealers who are heavily digitized in their sales and service processes have evolved their businesses by primarily evolving existing roles to include additional responsibilities with an increased focus on training new skills. And when seeking out new employees, these dealers intentionally look for candidates outside of automotive.
10 Tactics Dealers Can Do Today
While each dealers' circumstance is unique, here are ten staffing best practices any dealer can implement to prepare for long-term success.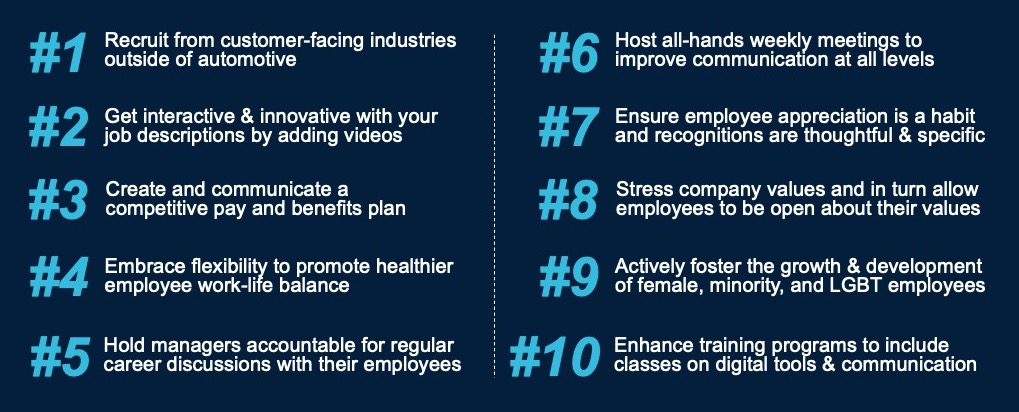 Dealership Staffing Study Highlights
For more information on the 2021 Cox Automotive Dealership Staffing Study or access to the full research report, please contact your Cox Automotive representative.
Tags