Data Point
Used-Vehicle Market Looking More Normal in Inventory as Prices Inch Down
Thursday July 14, 2022
Article Highlights
The average used-vehicle list price inched lower again in June as it did in May.
Used-vehicle inventory and days' supply held relatively steady from May to June.
Used-vehicle sales are expected to remain strong.
In contrast to the new-vehicle market, the used-vehicle market is looking more normal with reasonably strong sales, decent inventory and prices that are high but have begun to inch down, according to the Cox Automotive analysis of vAuto Available Inventory data.
---
2.46M
Total Unsold
Used Vehicles
as of June 27
$28,004
Average Listing Price
---
"The used-vehicle market is doing just fine," said Chris Frey, senior Industry Insights manager, Cox Automotive. "While the used market has been a bit softer than usual this year, it is not experiencing stress. In fact, the market is moving toward pre-COVID 2019 conditions."
The total supply of unsold used vehicles on dealer lots, both franchised dealers and independents, across the U.S. stood at 2.46 million units. That compared with Cox Automotive's revised number of 2.47 million at the end of May. Inventory at the end of June was 5% above year-ago levels.
Total days' supply at the end of June stood at 49, compared with the upwardly revised 48 at the end of May. Days' supply in June was 27% above year-ago levels. The Cox Automotive days' supply is based on the daily sales rate for the most recent 30-day period, in this case, ended June 27.
By price category, the lower the price, the lower the supply, though even supply in those categories has improved. The under $10,000 segment has the lowest available supply and lowest days' supply of 33, but that is up from 25 a month earlier. The $15,000 to $25,000 segments had days' supply in the 40s. Price categories between $25,000 and $35,000, one of the largest for available inventory, had in the 50s for days' supply. The above $35,000 category had a 62 days' supply.
The average used-vehicle listing price as June closed dipped to $28,012, compared with a revised $28,312 at the end of May. Price growth versus the year earlier was 28% in mid-April but has been falling every week since then and now stands at 12% higher than a year ago. Cox Automotive predicts further declines should continue over the summer.
Average Used-Vehicle Listing Price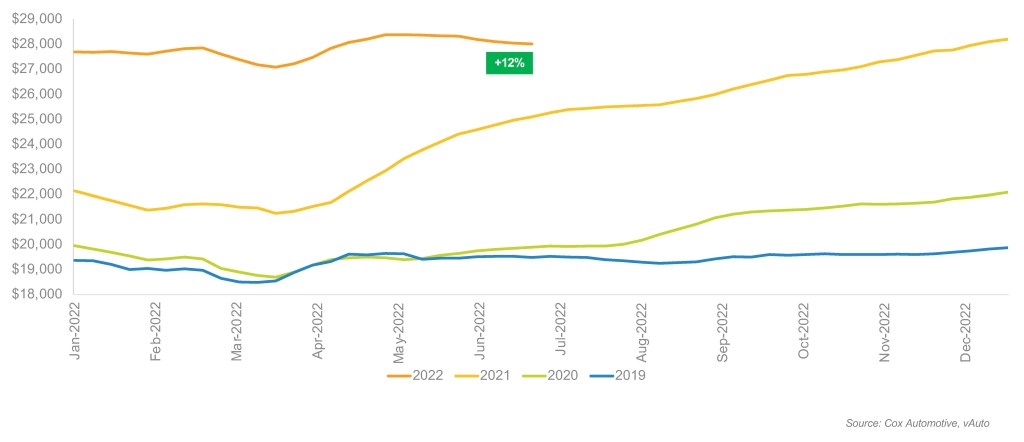 "We continue to experience elevated prices in the used-vehicle market, and this looks to be the norm for some time," said Frey. "But the year-over-year gains are set to come down, maybe even turning negative from time to time."
In terms of wholesale prices, the Manheim Used Vehicle Value Index shows prices didn't move as high as expected and the trend lines are in keeping with historical patterns, noted Frey. "This year's softer sales in the first half of the year started these depreciation trends a little lower than usual, but they are not out of line with what we've seen from 2014 to 2019," he said. "After such a lofty run-up last year, some normalcy is a welcome change."
Cox Automotive has reduced its forecast for used-vehicle sales for 2022 to 37.1 million based on economic conditions and the inventory constraints of the new-vehicle market that is holding back sales. "Demand remains strong," said Frey. "There just aren't enough new vehicles out there to drive sales higher and produce trade-ins. Still, the macro environment is supportive of used-vehicle sales and prices."
---
For more insights on used-vehicle inventory using a 30-day rolling sales methodology to calculate days' supply, reach out to the Cox Automotive Public Relations team.
---
Michelle Krebs is executive analyst at Cox Automotive.
Tags