Commentary & Voices
Who Will Blink First in 2023?
Tuesday December 20, 2022
My daughter and I love staring contests. Our rules are the same as everyone's—whoever blinks first loses.
Lately, I've sensed a similar staring contest emerging in the new car business between consumers, dealers, and automakers. The question is who will blink first?
Before 2020, when dealership lots were overflowing with new-vehicle inventory, manufacturers were always quick to blink—offering bigger and better incentives to entice shoppers. Total industry incentive spend was estimated to be between $50-$60 billion per year. When holiday bonus cash and $179 lease offers didn't move enough metal, the OEMs would blink again. They had Enterprise and Hertz on speed dial to unload excess inventory.
Back then, the automakers incentivized their dealers to blink with stair-step, volume-based sales programs. Consumers learned the best way to win a good deal on a new car was to keep staring until the last day of the month. Dealers would always blink when there was a $50,000 bonus check riding on the next unit sold.
But the microchip crisis changed all that. With demand far exceeding supply, average transaction prices have increased roughly $10,000 since COVID, hitting $48,681 last month. With incentives at rock bottom, it appears many consumers have just closed their eyes entirely as they signed contracts for new-vehicle purchases, with an average payment of $762 a month. The days of waiting until the last day of the month have turned into waiting 60 days to receive your pre-ordered new car.
After a two-year drought, dealer lots are starting to fill back up. Inventory levels are now up 77% compared to November 2021. Days' supply has also climbed from 29 to 53. So, with inventory beginning to build and talk of an economic recession looming, the car companies must be ready to blink, right?
Nope: The car companies are staring straight ahead with no expression on their face.
The average incentive spend in November 2021 was $1,896 versus this November at $1,066. That's a 43% DECREASE in incentives year over year. Many dealers have begun sounding the alarm of softening demand and the necessity for automakers to bring back better incentives. One dealer recently commented, "The sell 'til the lot is empty party is over!"
But these same anxious dealers continue to post record new-car grosses in the $5,000-$6,000 range, including F&I. With grosses that strong, the OEMs are in no rush to bring back incentives—they're waiting for dealers to blink first.
Why are the manufacturers feeling so confident? My sense is that their confidence comes from consumers, the very ones who continue to buy new vehicles absent any significant incentives. New-vehicle sales in November were up 10.8% versus the prior year; luxury sales as a percentage of the total industry continue to grow, hitting 18.2% of the market in November. With continued strong grosses and growing retail sales, the OEMs are in no mood to blink.
But here's the hard truth. It's highly unlikely that the industry can get back to the glory days of annual sales in the 16-to-17 million range when the average retail price is north of $48,000. For sales volume to grow, the average selling price will need to come down to expand the pool of potential buyers. Automakers and dealers should take note that Walmart recently outperformed analysts' expectations in their grocery business, as more affluent shoppers steered away from traditional grocery stores to hedge against higher prices and inflation.
Not surprisingly, there are clear signs of softening demand for more expensive segments with rising days of supply, while affordable inventory segments remain tight. A quick look at the chart below shows that supplies are most constrained for $35,000 and below vehicles in compact SUVs, midsize and compact car segments.
NOVEMBER NEW-VEHICLE INVENTORY ESTIMATES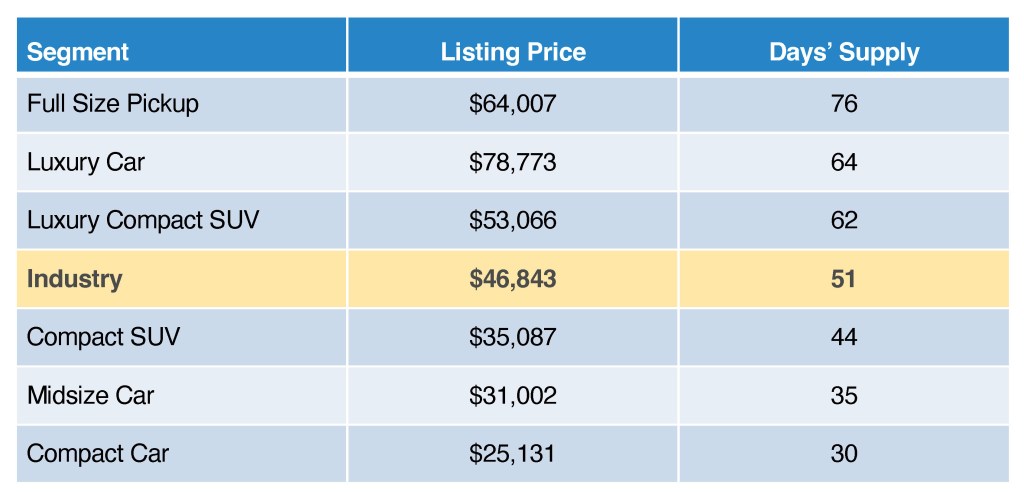 Given all this, I'm curious to see who will blink first in 2023. Will the automakers blink and begin doling out richer incentives or a more affordable mix? Or will dealers blink, facing rising floorplan costs and decide it's in their best interest to step back from selling almost every new vehicle at MSRP or above?
I'm not sure how this will all play out in the year ahead, but one thing is true: Until the consumer shows a willingness to blink, the automakers and dealers will be more formidable than my daughter at the staring contest.
---
Brian Finkelmeyer is the senior director of new-vehicle solutions at Cox Automotive.