Recognition emphasizes importance of diversity in auto industry
William Montez (Monte) Perkins II Receives Cox Automotive and NAMAD Rising Star Award
Friday July 13, 2018
Article Highlights
Cox Automotive, in partnership with the National Association of Minority Automotive Dealers (NAMAD), awarded its Rising Star Award to William Montez (Monte) Perkins II, general sales manager with Taylor Chevrolet in Taylor, Michigan.
Perkins was chosen based on nomination criteria, including being a NAMAD member under the age of 40 who has demonstrated a strong commitment and contributions to the automotive industry.
In nominating Perkins, Marjorie A. Staten, president of the General Motors Minority Dealers Association, said: "Monte was 11 years old when he first attended the GM Minority Dealer Summer Conference with his family. It was very apparent that Monte, even at this very young age, had a passion for cars and dealerships, and was eager to learn all that he could about the car business…He said his dream was to be the 'best dealer ever.' I knew then that he was going to be a force in the automotive industry."
ATLANTA, July 13, 2018 – Cox Automotive, in partnership with the National Association of Minority Automotive Dealers (NAMAD), awarded its Rising Star Award to William Montez (Monte) Perkins II, general sales manager with Taylor Chevrolet in Taylor, Michigan. Perkins was chosen based on nomination criteria, including being a NAMAD member under the age of 40 who has demonstrated a strong commitment and contributions to the automotive industry.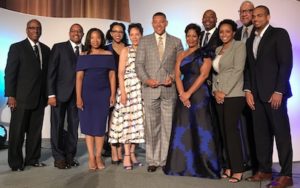 In nominating Perkins, Marjorie A. Staten, president of the General Motors Minority Dealers Association, said: "Monte was 11 years old when he first attended the GM Minority Dealer Summer Conference with his family. It was very apparent that Monte, even at this very young age, had a passion for cars and dealerships, and was eager to learn all that he could about the car business…He said his dream was to be the 'best dealer ever.' I knew then that he was going to be a force in the automotive industry."
Perkins' career began in a management role in Merollis Chevrolet, where he developed a strategic vision that his staff adopted and fully supported. Through his stewardship, the dealership was profitable every year of the 16 years in which the Perkins family owned Merollis Chevrolet.
Perkins' father sold the Merollis Chevrolet dealership in October 2017, when Perkins transitioned into a management position at Taylor Chevrolet, also owned by his father. In the short time in this role, he has successfully laid the foundation to achieve the same success he achieved at Merollis Chevrolet.
Nicole Ashe, senior vice president, talent, diversity and culture, Cox Automotive, presented the award at the NAMAD annual meeting awards dinner in Chicago on July 12. She said: "On behalf of Cox Automotive and in partnership with NAMAD, I am honored to recognize Monte for his lifelong dedication and success in car sales. Monte's passion and drive are felt by his staff and customers alike."
"I am honored to receive this prestigious award," said Perkins. "I feel so fortunate to be raised in a family committed to this industry, and for my father to provide this foundation that has changed my life. This is a complex and challenging industry, and I am grateful to have learned from such a successful organization. I've dedicated my life to dealerships and look forward to teaching the next generation of young people the benefits of working in automotive."
When not working in the dealership, Perkins continues to help shape the next generation through volunteer and local youth organizations, such as speaking at the Southfield Lathrup Falcons Football Program, where he was a quarterback. Speaking at the awards banquet, Perkins chose to speak on "Life After Football" and shared his love for the automotive business. Perkins believes in the importance of today's youth to understand the many opportunities to be successful in life in other ways beyond professional sports or entertainment.
Cox Automotive is donating $5,000 to one of its national diversity partners in Perkins' honor. He chose National Urban League, a non-profit organization with a mission of empowering African-Americans through economic self-reliance, parity, power and civil rights.
"We are grateful for all that Cox Automotive has contributed to NAMAD, the GMMDA, and the minority dealer network over the years," continued Staten. "Cox is a true partner and we are honored by its generous and unwavering commitment to help our dealers build their businesses, attain profitability, and create a strong legacy in the automotive industry."
Tags