Smoke on Cars
Auto Market Weekly Summary
Monday April 22, 2019
Contrasts are the theme. Improving retail sales contrasts with residential construction weakness. Economic growth is decelerating but could pick up if consumers start spending again. Consumer credit is supportive of that spending, but rising defaults on credit cards and higher delinquency on subprime auto loans could spell trouble. Meantime, trade concerns cast a shadow over the auto market and the economy.
Retail sales reverse: Retail sales improved in March, breaking a several months trend of weak or declining spending. The improvement contrasts with surprising and unexpected weakness in March residential construction. First-quarter real GDP to be estimated this week likely will show the decelerating trend that started in the second half last year, but, if consumers start spending again, the second quarter should see improvement. Retail spending in March rose at a faster pace than expected, and gains were broad as auto sales, furniture, electronics, and Internet sales were all up significantly. Higher gas prices contributed to some of the gain.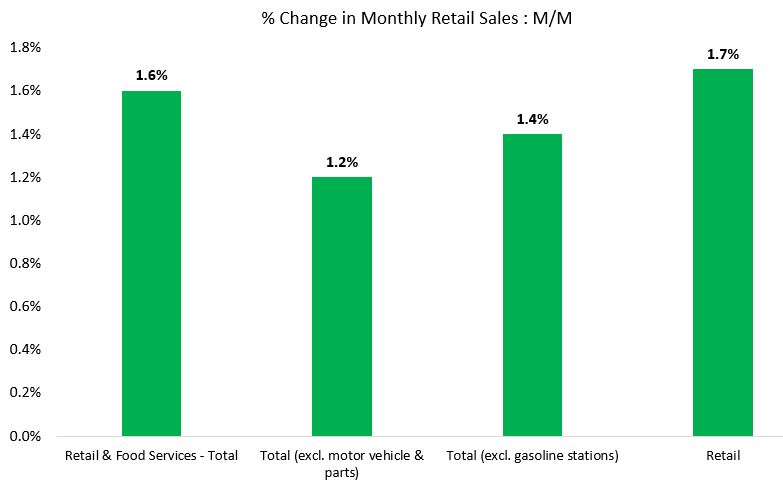 Source: U.S. Census Bureau
Consumer credit stable: Consumer credit remains stable and supportive of spending, but rising defaults on credit cards and higher delinquency on subprime auto loans suggest more trouble ahead that could limit increases in spending. The Fed's Beige Book for April reported continued mixed economic conditions around the country. On the positive side were strong labor market conditions and no sign of accelerating inflation. Growth was noted as slight to moderate as uncertainty about trade weigh on the outlook. Severe delinquency data points to problems with subprime auto loans that are masked by the relative stability in total auto default rates.
Trade report a mixed bag: The long-awaited report on the economic impact of the new USMCA from the International Trade Commission shows a positive but slight impact on the economy resulting in lower auto production jobs and reduced sales. It estimates that the revisions to NAFTA would boost GDP by an additional 0.35%, as it would encourage more production in the U.S. due to new rules on content and wages and would shift some present activity away from Mexico. The ITC estimated that it would add 176,000 jobs in the U.S. over six years. The job increases are in parts production, not assembly. Assembly jobs are expected to decline marginally, so it is unclear just how supportive labor unions will be. The congressional review is expected to be contentious.
The report concluded that auto prices in the U.S. would rise modestly if USMCA is implemented, from 0.4% for pickups to 1.6% for compact cars. Those price increases would lead to approximately 1.25% fewer sales. The report did not cover what would happen if USMCA were rejected along with NAFTA being dissolved. Ending up with no free trade agreement would be extremely disruptive to the industry and the U.S. economy.
Tax refunds still down: Updated data from the IRS through April 12 continue to show that refunds by all metrics are down year-over-year. Total refunds are down 1.9% in number and down 3.1% in dollar amount. The decline amounts to $7.3 billion less being pumped into consumers' pockets. The average refund is now down by 1.3%. Still, the used car market has enjoyed a strong spring bounce with non-luxury vehicles seeing the biggest price gains. The bounce likely ends in another week.
Looking ahead: This week, we'll get March new and existing home sales, first-quarter GDP estimate, final April consumer sentiment, and updated tax refund data.