Press Releases
Cox Automotive Lowers Full-Year New-Vehicle Sales Forecast as September Volumes Hold Steady at Low Level; Q3 Sales Nearly Equal to 2021 Levels
Wednesday September 28, 2022
Article Highlights
September new-vehicle sales pace forecast to finish near 13.3 million units, up 0.1 million from last month's 13.2 million pace and up from last year's 12.3 million level.
Sales volume in September expected to rise nearly 8% from one year ago but remain relatively low at 1.10 million units.
Third-quarter sales to finish near 3.4 million units, down less than 1% from Q3 2021.
UPDATED, Oct. 3, 2022 – With the books closing on third-quarter new-vehicle sales, the market indeed—as forecast—is stuck in a low gear. At a brand level, sales results are markedly inconsistent. Hyundai and Kia are confirming record results; General Motors and Toyota finished the quarter with strong numbers. Others, including Buick, Nissan and Honda, continue to struggle. At an industry level, just the opposite is true. New-vehicle sales volumes have been on a remarkably consistent streak, averaging about 1.1 million units a month for more than a year now. Year to date, new-vehicle sales are down more than 10% versus 2021 and are on course to finish at the lowest level in a decade.
Last week, during the Cox Automotive Q3 Forecast call, our team lowered its full-year sales forecast to 13.7 million units and confirmed expectations that new-vehicle sales in Q4 would continue to reside in the 1.1 million neighborhood, held in check by high prices, tight inventory and softening demand. Higher interest rates are beginning to directly impact the new-vehicle market, knocking some buyers to the sidelines. As Chief Economist Jonathan Smoke noted on the call, subprime buyers accounted for roughly 14% of the new-vehicle market in 2019. Now, subprime buyers account for just 5%, and deep subprime buyers have all but disappeared. Higher loan rates are impacting brand-level sales unevenly. The higher rates will also likely tilt the U.S. market further into luxury territory, as high-income vehicle buyers are often able to pay cash or secure better loan rates. 
There are indications that some automakers in Q3 began leaning more heavily into fleet sales to offset slowing retail demand, but that is the exception, not the norm. For the most part, new-vehicle inventory is better than it was one year ago, but it remains relatively tight. A vast majority of dealers are able to sell vehicles before they arrive at the dealership, keeping available inventory levels very low. We expect industry-wide incentive levels to remain historically low as well, although the Industry Insights team will be carefully watching certain automakers with high levels of inventory. 
Overall, in total, September and Q3 new-vehicle sales appear to have landed about where we had forecast—roughly equal to year-ago levels. Brace for more of the same in Q4.  
---
ATLANTA, Sept. 28, 2022 – September U.S. auto sales, when confirmed next week, are expected to show a new-vehicle market mostly unchanged from previous months and still stuck in low gear. According to the Cox Automotive forecast released today, September U.S. new-vehicle sales are expected to finish near 1.10 million units, with a sales pace, or seasonally adjusted annual rate (SAAR), of 13.3 million. Sales volume in September is expected to show an increase of nearly 8% over last year but finish down almost 4% compared to last month. The decline compared to last month is mainly attributed to one less selling day.
According to Charlie Chesbrough, senior economist at Cox Automotive: "New-vehicle sales have been remarkably consistent through the third quarter, with sales of approximately 1.1 million units each month in July, August, and September. New-vehicle inventory has been holding steady, with days' supply near 40."
With the September result, total new-vehicle sales in the third quarter are forecast at 3.4 million units, down less than 1% from Q3 2021 and down only modestly from the 3.5 million units sold in Q2 2022. For comparison, sales in Q3 2019 reached 4.3 million. General Motors, Ford and Tesla will be among the biggest gainers year over year in Q3, with many Japanese brands, still struggling with inventory issues, booking the most significant declines, notably Honda and Nissan.
One year ago, the new-vehicle market began suffering a significant lack of inventory, and the sales pace fell to 12.3 million in September 2021. Inventory has improved since but remains well below pre-pandemic levels. Added Chesbrough, "The supply shortage has likely created some pent-up demand—folks who were essentially waiting in line for inventory to return. But the recent changes in the economic outlook from rising interest rates is beginning to chip away at demand, and the waiting line for new vehicles is likely getting much shorter."
With no notable inventory improvement forecast in the fourth quarter and waning new-vehicle demand, Cox Automotive has lowered its full-year forecast to 13.7 million units, down from 14.4 million. Sales in 2022 are projected to finish down more than 9% versus 2021 and at the lowest level in a decade.
September 2022 Sales Forecast Highlights
New-vehicle sales volume is forecast to rise 7.7% from September 2021 but decline 3.9% from last month.
The SAAR in September 2022 is estimated to be 13.3 million, above last year's 12.3 million level and up 0.1 million from last month's pace.
September 2022 had 25 selling days, one less than August but equal to September 2021.

September 2022 Sales Forecast Highlights
Total sales hold steady through Q3, consistently at 1.13 million units a month. Year-to-date sales at the end of Q3 are expected to be down nearly 13%.
General Motors retains the top spot as the best-selling automaker in the U.S. market in Q3, thanks partly to inventory improvements versus 2021.
Tesla is forecast to gain share again in Q3 and hold the top spot as the best-selling luxury automaker in the U.S.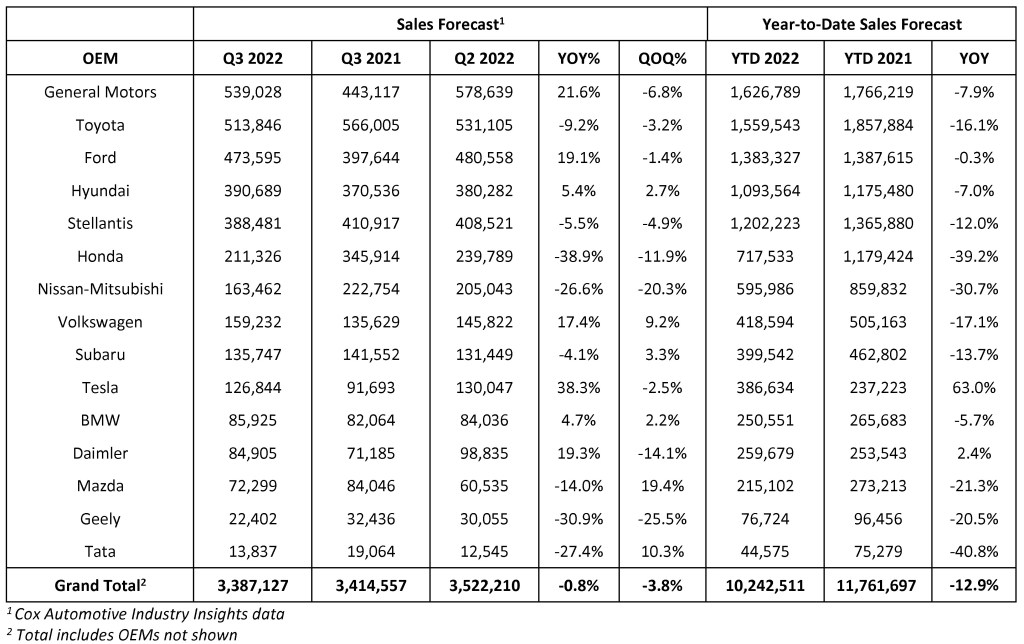 All percentages are based on raw volume, not daily selling rate.
About Cox Automotive
Cox Automotive Inc. makes buying, selling, owning and using vehicles easier for everyone. The global company's more than 27,000 team members and family of brands, including Autotrader®, Dealer.com®, Dealertrack®, Kelley Blue Book®, Manheim®, NextGear Capital®, VinSolutions®, vAuto® and Xtime®, are passionate about helping millions of car shoppers, 40,000 auto dealer clients across five continents and many others throughout the automotive industry thrive for generations to come. Cox Automotive is a subsidiary of Cox Enterprises Inc., a privately-owned, Atlanta-based company with annual revenues of nearly $20 billion. www.coxautoinc.com
Media Contacts:
Mark Schirmer
734 883 6346
mark.schirmer@coxautoinc.com
Dara Hailes
470 658 0656
dara.hailes@coxautoinc.com
Tags