Cox Automotive Names Sid Nair as Chief Sales Officer
Tuesday November 27, 2018
Article Highlights
Chief sales officer to help create a unified sales team across Cox Automotive.
Nair brings 23-plus years of software and technology sales leadership experience.
Focus area will be enabling clients to easily do business with Cox Automotive.
ATLANTA, Nov. 27, 2018 – Sid Nair is joining Cox Automotive as chief sales officer effective today, reporting to President Sandy Schwartz.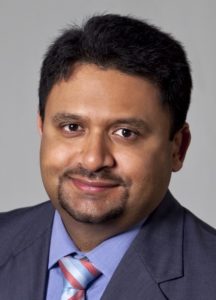 In his new role, Nair will oversee the entire Cox Automotive sales operation and marketing in the U.S. The sales and marketing team comprises nearly 2,500 team members serving clients from offices throughout the U.S. including main offices in Atlanta, Burlington, Vt.; Irvine, Calif.; and New Hyde Park, N.Y. He will collaborate closely with the Cox Automotive executive team to create a unified sales team and streamline sales operations across Cox Automotive that best serves clients and drives growth for Cox Automotive.
With more than 23 years of software and technology experience, Nair has the right mix of deep expertise and varied experience to maximize the value of the sales teams across Cox Automotive. He will create innovative strategies to sell across brands, look for ways to expand opportunities with clients and make doing business with Cox Automotive easy.
"Sid's leadership will play an integral role in how we deliver unquestionable value to our clients as we continue to transform Cox Automotive and provide leading automotive retail and wholesale solutions in the digital era," said Schwartz. "Sid has the mindset to operate with excellence today while helping prepare our teams for the bigger, bolder future we're pursuing together."
Nair's direct reports include sales leadership across the U.S. organization as well as the chief marketing officer. The NextGear Capital sales team will continue to focus on the independent dealer market and be led by Shane O'Dell, president of Cox Automotive Financial Solutions Group.
"I am looking forward to applying my leadership skills and experience across the Cox Automotive sales and marketing organizations to evolve them to the next level," said Nair. "Cox Automotive's sales team is strong with exceptional expertise that brings value to clients every day. Coming from high-performing companies with complex product lines and disparate client segments, I know what it takes to create a unified sales approach and structure that makes teams even more successful."
Nair joins Cox Automotive from DXC Technology where he was responsible for profitably growing the $10 billion business across the Americas region. DXC Technology is a leading independent, end-to-end IT services company, serving nearly 6,000 clients from a diverse array of industries across 70 countries.
Before DXC Technology, Nair was with HPE Enterprise Services, which merged with CSC in April 2017 to form DXC Technology. Previously, Nair was with Dell for five years and was the senior vice president and global general manager for the $1.5 billion Healthcare & Life Sciences division. He led an integrated team of 16,000-plus people in account management, sales and pre-sales, delivery and solutions, consulting and domain specialists.
Prior to joining Dell, Nair worked with Wipro for more than 16 years in different capacities – from business strategy to sales and operations – and across geographies. His final role at Wipro was chief sales and operations officer where his team delivered more than $4 billion in sales. He was responsible for all vertical business units, service lines and functions in the U.S.
Nair holds an MBA in Marketing and Finance from T. A. Pai Management Institute, Manipal, India.
About Cox Automotive
Cox Automotive Inc. makes buying, selling, owning and using cars easier for everyone. The global company's 34,000-plus team members and family of brands, including Autotrader®, Clutch Technologies, Dealer.com®, Dealertrack®, Kelley Blue Book®, Manheim®, NextGear Capital®, VinSolutions®, vAuto® and Xtime®, are passionate about helping millions of car shoppers, 40,000 auto dealer clients across five continents and many others throughout the automotive industry thrive for generations to come. Cox Automotive is a subsidiary of Cox Enterprises Inc., a privately-owned, Atlanta-based company with revenues exceeding $20 billion. www.coxautoinc.com