Award recognizes industry leader for outstanding community servic
Cox Automotive Presents Karlea Marin of J.P. Morgan Chase with Community Impact Award
Tuesday November 29, 2016
ATLANTA, Nov. 29, 2016 – Cox Automotive presented its Community Impact Award to Karlea Marin of J.P. Morgan Chase at the 2016 National Remarketing Conference on Nov. 17.
Presented by Grace Huang, senior vice president of inventory services, Manheim, this award recognizes a remarketing industry leader for his/her outstanding contributions to the community and the innovative ways he/she collaborates with community partners to help further their missions.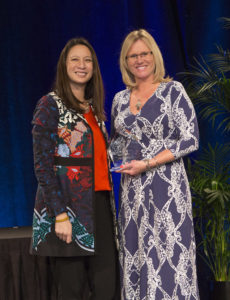 "Karlea's year-round dedication to helping others exemplifies the spirit of the Cox Automotive Community Impact Award," said Huang. "We congratulate Karlea for embodying the principles of community service and volunteerism that are so important to the Cox Automotive team."
Marin, a remarketing industry veteran, has spent more than 25 years as an auction specialist and a remarketing manager. In her role, she coordinates and manages all aspects of vehicle remarketing, including reconditioning, inspecting and pricing of certain makes of vehicles.
Marin has a passion for volunteerism, dedicating her time to organizations like Greater Central Florida Area's Basket Brigade, where she helps provides tailor-made Thanksgiving baskets to needy families; and Arnold Palmer's Hospital for Children, where she provides ease of stay items to children who are receiving chemotherapy treatment. Through the J.P. Morgan Chase "Chase Gives Back" initiative, Marin gives basic household necessities to families and children who are served by Family Counseling and Shelter Services of Monroe in Michigan, a non-profit organization that provides programs and services to survivors of domestic violence. She also provides holiday gifts to those who may not otherwise receive a gift through the Head Start Tammany Parish in Louisiana.
She also supports the American Cancer Society, St. Jude Children's Research Hospital, Salvation Army of Orlando, and serves as Committee Lead on the Festival Finance Board at Good Shepherd Catholic Church.
"This recognition is a tremendous honor and a testament to Cox Automotive's commitment to community involvement," said Marin.
For her leadership and commitment to making a difference through community service, Marin will receive $10,000 to donate to the charities of her choice. She has chosen to split the donation among the Histio Cure Foundation; Arnold Palmer Hospital for Children; and Family Counseling and Shelter Services of Monroe County.
About Cox Automotive
Cox Automotive Inc. is transforming the way the world buys, sells and owns cars with industry-leading digital marketing, software, financial, wholesale and e-commerce solutions for consumers, dealers, manufacturers and the overall automotive ecosystem worldwide. Committed to open choice and dedicated to strong partnerships, the Cox Automotive family includes Autotrader®, Dealer.com®, Dealertrack®, Kelley Blue Book®, Manheim®, NextGear Capital®, vAuto®, Xtime® and a host of other brands. The global company has 33,000 team members in more than 200 locations and is partner to more than 40,000 auto dealers, as well as most major automobile manufacturers, while engaging U.S. consumer car buyers with the most recognized media brands in the industry. Cox Automotive is a subsidiary of Cox Enterprises Inc., an Atlanta-based company with revenues of $18 billion and approximately 60,000 employees. Cox Enterprises' other major operating subsidiaries include Cox Communications and Cox Media Group. For more information about Cox Automotive, visit www.coxautoinc.com.