Cox Automotive forecasts SAAR to increase to 17.1 million
September Auto Sales Forecast to Decline 7.2 Percent From Year-Ago Levels
Wednesday September 26, 2018
Article Highlights
New-vehicle sales expected to reach 1,410,000 units, down 7.2 percent compared to record set in September 2017.
Despite volume decline, the seasonally adjusted annual sales rate (SAAR) in September is forecast at a healthy 17.1 million, up from last month's 16.6 million pace.
Higher interest rates and talk of tariffs may be having some pull-ahead impact in the market.
ATLANTA, Sept. 26, 2018 – New-vehicle sales pace in September is forecast by Cox Automotive to rise to 17.1 million units, an improvement over August's 16.6 million sales rate. This gain, however, may be slightly misleading. Total sales volume in September is forecast to decline nearly 60,000 units from last month and nearly 100,000 units compared to September 2017.
"Year-over-year comparisons are challenging this September, as the industry saw record sales levels last year," noted Charlie Chesbrough, senior economist at Cox Automotive. "With one less selling day this September and due to seasonal adjustment factors, the sales pace will actually show an increase, despite significant volume declines."
Replacement demand and delayed purchases following Hurricane Harvey in August 2017 helped lift September 2017 to a sales pace of 18.1 million, the highest pace since 2005. Vehicle sales hit an all-time high last year as well, up nearly 80,000 units above the previous two Septembers—which occurred during record sales years. A large decline from last September's unnaturally-high level is expected, and recent storms and flooding in the Southeast will only contribute to weak volumes.
Key Highlights for the September 2018 Sales Forecast:
New light-vehicle sales, including fleet, are expected to reach 1,410,000 units, down over 100,000 units, or 7.2 percent, compared to September 2017, and down 4.3 percent from August 2018.
Even though sales volume will decline, one less selling day this September (25) versus September 2017 (26) will cause the pace to rise. The SAAR in September 2018 is estimated to be 17.1 million, up from last month's 16.6 million pace but down from last year's record 18.1 million level.
A record SAAR in September is very unlikely. Sales will need to post 90,000 units above forecast to beat last year's record. Without massive incentives and promotions, a record is not expected.
Talk of tariffs, as well as increasing interest rates, may be having some pull-ahead impact in the market. Auto buyers, concerned about the likelihood of higher vehicle prices over the course of the year, may be buying sooner than they had originally planned, supporting a higher sales pace.
Although the market and buying conditions are strong, risks are also rising. Additional interest rate hikes are expected which will cause a buyer's monthly payment to increase. And, previous years of aggressive leasing is now creating a major headwind. Millions of gently-used, high-content vehicles have been returning to dealer lots. Off-lease vehicle volume is expected to peak in 2019, and many potential new-vehicle buyers will be drawn to this value alternative.
Most manufacturers are expected to post sales declines. Jeep is expected to continue to perform well as demand for rugged crossovers fits well with their portfolio. Ford and GM are likely to see some larger declines as aging product in some segments, poor car sales, and tighter incentives hold them back.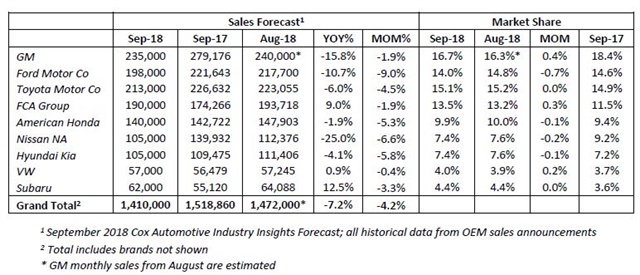 Most vehicle segments should see declining sales versus last year. Car share may make a modest improvement as higher prices in the used market coupled with newer high-volume products from Honda and Toyota could support new sales.

A Slower Fourth Quarter
Cox Automotive is forecasting a slowing sales pace over the remaining months of the year as buying conditions deteriorate due to higher interest rates and elevated gasoline prices. Steel and aluminum tariffs may also be negatively contributing to sales activity, by forcing automakers to hold incentive activity at more modest levels. Production costs are rising as a result of higher metal prices, and margins are being negatively impacted. With less profit margin available, tighter and targeted incentive activity is required. Days supply is also in a relatively stable position, allowing for more pricing discipline.
In addition, off-lease used vehicle volume continues to grow. These gently-used vehicles, selling at a 30- 50 percent discount to their new versions, are a real threat to stronger new-vehicle sales volumes.
However, even with these headwinds, economic conditions for vehicle buyers remain favorable with strong consumer confidence levels and decades-low unemployment rates. The overall demand for personal transportation remains strong. Higher interest rates and new trade tariffs are not chasing away buyers. Cox Automotive's forecast for full-year auto sales in 2018 is a healthy 16.8 million, down from 2017's 17.1 million volume.
Cox Automotive Monthly Sales Call
Cox Automotive will host its monthly automotive sales day call on Tuesday, October 2, at 11 a.m. EDT. Cox Automotive Chief Economist Jonathan Smoke and Michelle Krebs, executive analyst from Autotrader, will join Chesbrough on the call and provide an economic overview, share industry trends and answer questions. To join the call or discuss any automotive-related topic with a Cox Automotive analyst, contact a member of the Public Relations team.
About Cox Automotive
Cox Automotive Inc. makes buying, selling, owning and using cars easier for everyone. The global company's 34,000-plus team members and family of brands, including Autotrader®, Clutch Technologies, Dealer.com®, Dealertrack®, Kelley Blue Book®, Manheim®, NextGear Capital®, VinSolutions®, vAuto® and Xtime®, are passionate about helping millions of car shoppers, 40,000 auto dealer clients across five countries and many others throughout the automotive industry thrive for generations to come. Cox Automotive is a subsidiary of Cox Enterprises Inc., a privately-owned, Atlanta-based company with revenues exceeding $20 billion. www.coxautoinc.com