Economy & Trends
10 Key Market Trends – 2019 Spring Update
Thursday May 23, 2019
Jonathan Smoke, Chief Economist at Cox Automotive, provides an update on the Key Trends that, earlier in the year, were predicted to have the greatest impact on the automotive industry in 2019.
VIDEO HIGHLIGHTS
The Economy – Economic growth has been revised slightly downward from 2.6% to 2.4% GDP due to a softer than expected year-end 2018, plus a slow start in first quarter 2019. Despite the decelerating trend, 2019 is still shaping up to be a decent year of growth. However, pressure on key parts of the economy, including new and used vehicle sales, and the housing market, are expected to continue.
Tax Refunds – Despite concerns that the entire economy could be impacted by slower and lower refunds in 2019, the used car market has fared well. Research shows that the very people who buy used vehicles with their tax refunds were most likely to be positively surprised, thus the anticipated hit to the used car market did not materialize. Nevertheless, tax refunds are down overall and the ensuing disruption to the broader economy may spur the IRS to adjust withholding tables in the future.
Interest Rates – After four years of rate increases — and four increases in 2018 alone — the Federal Reserve indicated that it was unlikely to increase rates in 2019 absent clear signs that the economy is overheating. As a result, bond yields have decreased and interest rates for long-term consumer loans tend to track those rates. But while mortgage rates are now lower than they were a year ago, auto loan rates ticked upward and remained effectively unchanged throughout the first quarter. That's because investors are becoming more risk adverse amid rising auto loan delinquencies. These slightly higher auto rates are also less compelling for consumers and, as a result, vehicle sales were weaker in the first quarter of the year.
Auto Lending – In 2018, banks loosened credit standards for auto consumers, particularly subprime borrowers. This year, the severe delinquency rates for subprime auto loans have soared to numbers not seen since The Great Recession. So while consumers with good credit should have no trouble obtaining a loan, lenders are increasingly wary of the subprime space. In this environment, expect challenges in financing the same amount of loans that occurred last year for both new and used vehicle sales.
Consumer Preference – For several years, consumers have chosen SUVs – namely crossover vehicles – over cars. Although car sales were forecast to reach a new bottom in 2019, so far that hasn't panned out. Car sales have actually ticked up year-to-date, largely driven by affordability concerns. That's because the average MSRP has reached the $40,000 threshold and will remain at that level for the foreseeable future. The increased price point is due in part to the switch to more expensive vehicles like SUVs and trucks, but all vehicles produced today have more technology, which also drives up the cost.
New Vehicle Sales – As expected, new vehicle sales decreased in the first quarter. New vehicle sales are on track for 16.9 million units this year compared to a blockbuster 17.2 million last year but still slightly ahead of forecast of 16.8 million units. The current decline is being offset by fleet sales. As the year progresses, demand is expected to deteriorate.
Used Vehicle Sales – Used vehicles sales are projected to be flat in 2019. The first quarter was unusually weak, impacted by the government shutdown, severe weather, and upwardly tracking interest rates. However, tax refunds came through for the traditional used vehicle consumer, with robust sales in March into April. Although the used vehicle market has room to roam, there's also a supply challenge limiting growth.
Used Vehicle Prices – January and February reflected a decline in used vehicle prices — an abnormal development. Consumer buying sentiment was lower in the first quarter given the political impasse in Washington, DC, polar vortexes, and higher interest rate on auto loans. Fortunately, prices stabilized and then rebounded into spring with tax refund buyers. Still, prices are more affordable than expected at this time of year, which bodes well for strong used vehicle sales as the year progresses. Wildcards include hurricane activity and tariff after-effects.
Affordable Used Cars – Mid-size cars and compact cars were the best performing segments last year, a trend anticipated in 2019. The first quarter showed strength in affordable sedans, with mid-sized cars outperforming every segment. While the type of compact cars on the market dragged down that segment, premium compact cars continued to perform well. With more supply coming onto the market, look for weakness in SUVs and luxury cars. Affordable cars should finish the year strong.
Tariffs – There is a great deal of political uncertainty on the horizon — all with meaningful economic implications for the auto industry. NAFTA — now called USMCA — could result in higher prices, with a slight decline in sales, and shift jobs away from assembly to the parts industry. The White House has threatened to impose tariffs on all imported vehicles and parts, and a delayed Brexit could precipitate a new trade agreement. These unpredictable elements are under watchful consideration.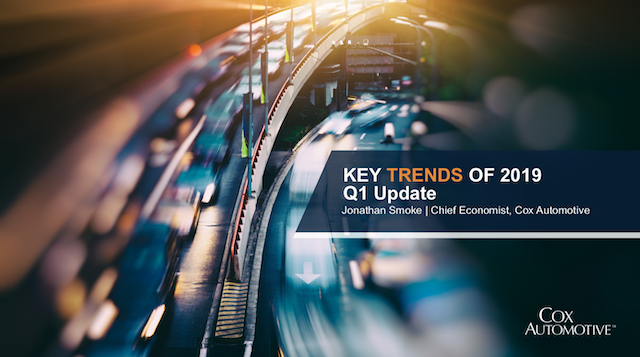 10 Key Market Trends – 2019 Spring Update
Spring update on the Key Trends predicted to have the greatest impact on the automotive industry in 2019.
Download
Tags