Shopper Insights
2014 Autotrader CPO Study
Thursday January 8, 2015
Article Highlights
While overall familiarity is higher in 2014 than in previous years, shopper awareness of which brands offer CPO programs is still relatively low. Therefore, manufacturers should build awareness of CPO with national and regional marketing, along with messaging on a brand's website homepage. Dealers should build awareness and understanding of CPO at the local level, ensuring sales and service personnel can speak to the subject.
CPO buyers spend 75% of their time shopping online. Dealer websites and third-party sites are critical sources of information for CPO shoppers, so it's important to educate them about the value of CPO on these sites to drive influence and preference for CPO inventory and for dealerships.
CPO programs are good for both manufacturers and dealers. Certified programs help keep car buyers in-brand and also supports dealership loyalty and move-ups.
It's a great time to be in the CPO business. Certified Pre-Owned (CPO) car sales continue to gain traction and are up 9% over 2013, and the percentage of shoppers who are aware of CPO and considering it for the first time has also increased significantly over previous years.This brochure provides key data points from the 2014 Autotrader CPO study, including how CPO buyers spend their shopping time, the impact of shopper education on CPO, and the reasons shoppers choose CPO.
ABOUT THIS STUDY
To understand shopper perceptions of CPO vehicles as well as the CPO ownership experience,  Autotrader conducted two quantitative online surveys, which together comprise the 2014 Autotrader CPO Study. For the shopper portion of the study, Autotrader completed a total of 450 interviews among shoppers, split evenly among New, Used and CPO considerers who were planning to purchase a vehicle in the next 6 months. To understand the CPO ownership experience, Autotrader surveyed 1,195 current CPO owners. Both surveys took place in August 2014.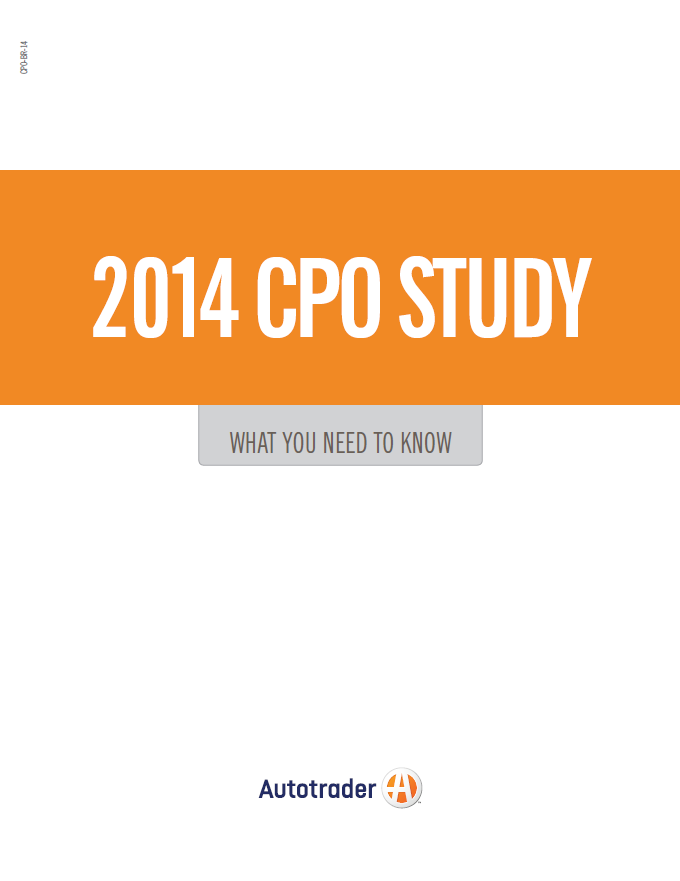 2014 CPO Study
See the full study for a wealth of CPO insights.
Download
Tags